We wrapped up the Murray Spring Trail this past Saturday and concluded another great Spring! We may host an open here and there so be on the look out! Also we have secured the ramps at Dreher Island for this Fall to run our normal Fall Trail! We started the Lake Murray Fall Trail back in 2001 so this will be our 21st year!
Here's the Murray Fall Dates we have secured!
Nov 5
Nov 12
Nov 19
Black Friday Open Nov 25
Dec 3
Dec 10
Dec 17 Fall Final!
We also secured Dec 31st but we will decide soon if we will hold an Open that day!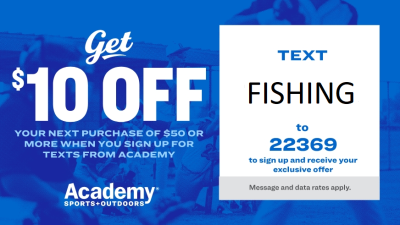 Wesley Sandifer & Jennings Greene took 1st Place at Murray with 5 bass weighing 21.44 lbs! They collected $2,2150.00!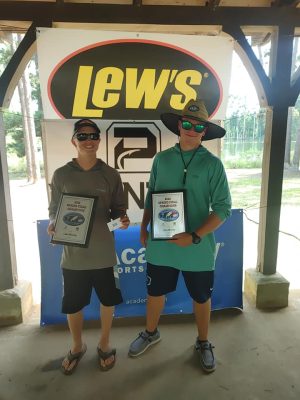 Scott Roton & Johnny Mayer finished 2nd with 20.50 lbs! They took home $1,460.00!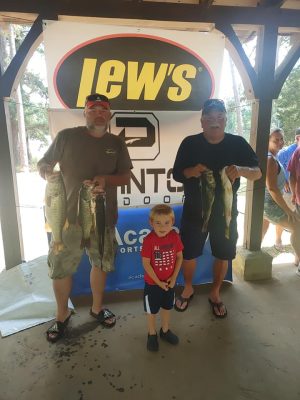 Dave & Gunnar Franklin took 3rd with 19.79 lbs!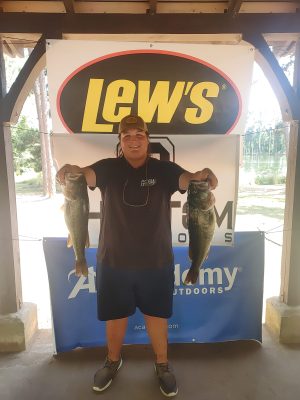 Jeremiah Jensen & Gage Spagnola weighed in the Academy BF at 5.66 lbs and earned a $25 Academy Gift Card!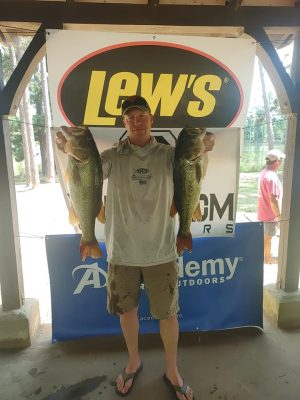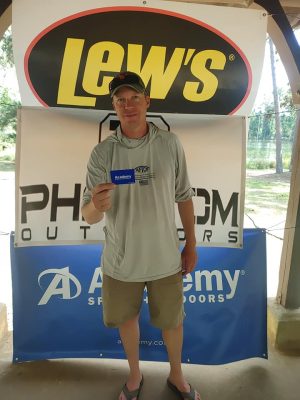 | | | | |
| --- | --- | --- | --- |
| Team | BF | Weight | Winnings |
| Wesley Sandifer – Jennings Greene | 5.21 | 21.44 | $2,250.00 |
| Johhny Mayer – Scott Roton | 5.39 | 20.50 | $1,460.00 |
| Dave Franklin – Gunnar Franklin | 5.31 | 19.79 | $750.00 |
| Will Anderson – Kyle Anderson | 5.38 | 19.31 | $305.00 |
| Jeremiah Jensen – Gage Spagnola | 5.66 | 18.58 | $140.00 |
| Les Westberry | 5.34 | 18.10 | |
| Hampton Anderson – Tyler Alvanos | 4.53 | 17.42 | |
| Kevin Fulmer – Tim Sox | 4.11 | 17.25 | |
| Mark Krengel | 4.14 | 16.72 | |
| Brandon Jeffcoat – Ryan Raley | 3.96 | 16.19 | |
| Winston Husband | 0.00 | 15.14 | |
| Ben Lee | 3.40 | 14.67 | |
| Michael Stribble – Blake Stribble | 3.35 | 14.50 | |
| Jim Davis – Josh Rennebaum | 3.75 | 13.52 | |
| Mark Richardson  & Rhett Richardson | 0.00 | 0.00 | |
| Chad Hastings – Chris Neal | 0.00 | 0.00 | |
| David Farr | 0.00 | 0.00 | |
| Tray Grantham – Jonathan Stokes | 0.00 | 0.00 | |
| Steve Pizzino – Curtis Jones | 0.00 | 0.00 | |
| Bobby Martin – Mike Tyner | 0.00 | 0.00 | |
| Sean Anderson – George Berry | 0.00 | 0.00 | |
| Total Entrys | | | $2,400.00 |
| BONUS $ | | | $400.00 |
| Lake Murray Spring Final Fund | | | $2,115.00 |
| Total Paid At Ramp | | | $5,015.00 |
| Total Paid Spring 2022 Lake Murray | | | $24,530.00 |