Next up on Lake Norman is the Fall Final November 28th at Pinnacle! Bobby Gill wins the Norman Fall Points and will fish the Final Free!
Craig Chambers & Derek Cummings take 1st Place with 5 bass weighing 14.26 lbs and they weighed in the 1st BF at 5.53 lbs!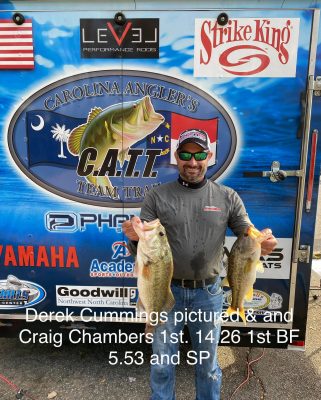 2nd Place George Lauster & Matt Drake with 10.52 lbs!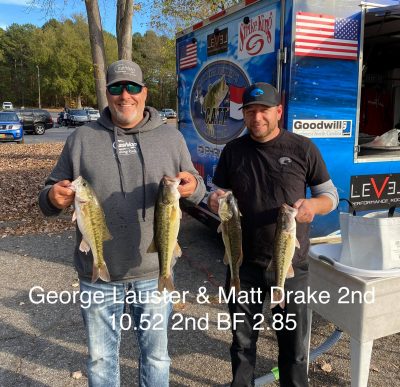 3rd Place Scott Robeson & Doug Hudgens 9.88 lbs!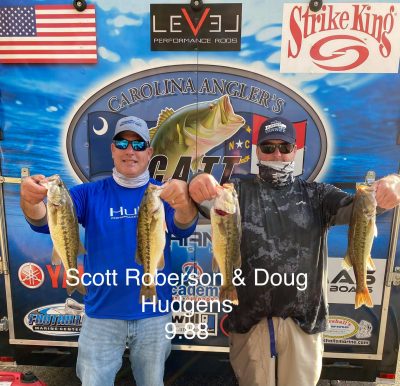 | | | | | |
| --- | --- | --- | --- | --- |
| Team Names | BF | Weight | Winnings | Points |
| Craig Chambers / Derek Cummings | 5.53 | 14.26 | $570.00 | 110 |
| George Lauster / Matt Drake | 2.85 | 10.52 | $180.00 | 109 |
| Scott Robeson / Doug Hudgens | 0.00 | 9.88 | | 108 |
| Matt Stout | 2.46 | 9.53 | | 107 |
| Chris Brown | 2.36 | 8.70 | | 106 |
| Corey Stone / Nick Williams | 1.94 | 8.33 | | 105 |
| Bobby Gill | 0.00 | 3.76 | | 104 |
| Mark Silverthorne | 0.00 | 3.39 | | 103 |
| Joel Marcotte | 0.00 | 2.34 | | 102 |
| Jeff Emmons | 0.00 | 0.00 | | 101 |
| Total Entrys | | | $720.00 | |
| BONUS $ | | | $200.00 | |
| Total Paid At Ramp | | | $750.00 | |
| Norman FALL 2020 Final Fund | | | $115.00 | |
| 2021 CATT Championship/Phantom Fund | | | $25.00 | |
| 2020 Norman Fall Final Fund Total | | | $1,205.00 | |
| 2021 CATT Champ/Phantom  Fund Total | | | $345.00 | |