This will be an annual event! Next CATT Black Friday Open will be Nov 25, 2022 at Pinnacle Access! Next year the entry fee will be $100 per team with an optional side pot of $25!
ALSO when we post the Norman Fall Final Results we will announce what we have planned for the Fall of 2022 at Norman! It's going to be HUGE! Stay tuned!

Thomas Hardwick & Tommy Williams take the win with 5 bass weighing 13.58 lbs!
2nd Place went to Cole Huskins & Hank Cherry with a limit weighing 13.45 lbs!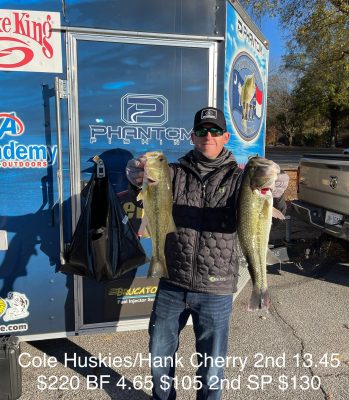 Mike Stephens finished 3rd with 12.13 lbs!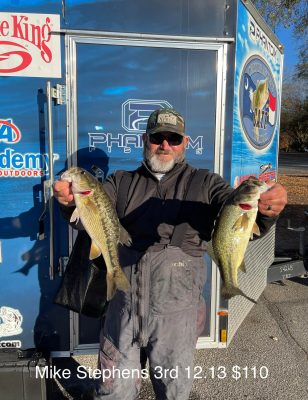 Matt McBee & Matt Haywood took 4th with 11.38 lbs!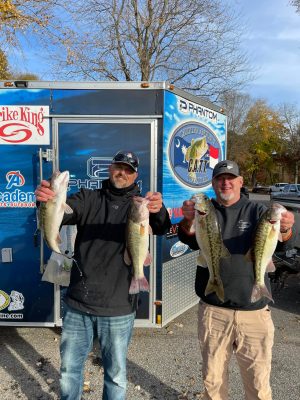 | | | | |
| --- | --- | --- | --- |
| Team | BF | Weight | Winnings |
| Tommy Williams – Thomas Hardwick | 3.88 | 13.58 | $745.00 |
| Cole Huskins – Hank Cherry | 4.65 | 13.45 | $455.00 |
| Mike Stephens | 2.85 | 12.13 | $110.00 |
| Matt Haywood – Matt Mcbee | 2.95 | 11.38 | $65.00 |
| Jason & Brandon Padgett | 3.74 | 10.79 | |
| Nick Miller – Jack Odenward | 3.15 | 10.54 | |
| Adam Parker – Zack Crabb | 2.50 | 10.40 | |
| Maurice Freeze –  Rick Poplin | 2.27 | 10.15 | |
| Gene Webster | 0.00 | 9.52 | |
| Robert Stiltner – Matt McClamrock | 3.12 | 9.50 | |
| Andrew Ruggles – KJ Queen | 0.00 | 9.13 | |
| Steve Addington – Mike Seawright | 0.00 | 9.00 | |
| Matt Stout | 0.00 | 7.41 | |
| Mike Schleicher | 3.38 | 4.68 | |
| John Farmer – Quin Motnely | 0.00 | 3.25 | |
| Scott McGinnis – Chad Bagwell | 0.00 | 0.00 | |
| Russell Hoyle | 0.00 | 0.00 | |
| Jason Land | 0.00 | 0.00 | |
| Chuck & Chase Douthit | 0.00 | 0.00 | |
| Christian Johnson | 0.00 | 0.00 | |
| John Elliott | 0.00 | 0.00 | |