Next Lake Norman CATT is Oct 30 at Pinnacle!
Keith Westrick & Kenny Kannipe took 1st Place with 5 bass weighing 9.64 lbs!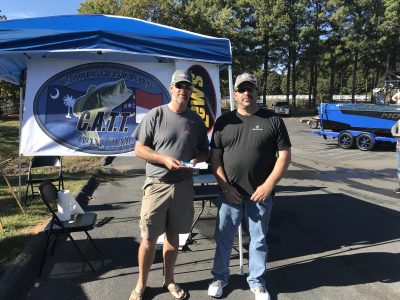 Jason Land finished 2nd with 9.21 lbs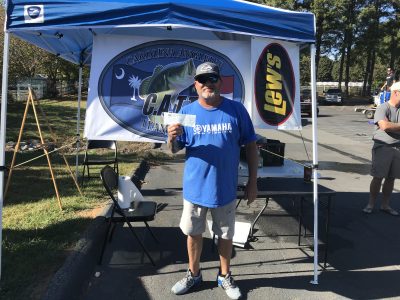 Dwayne Hughes & Jerry Lawson claimed 3rd with 9.01 lbs!
BF was 3.05 lbs weighed in by Mark Carpenter & Andy Keener!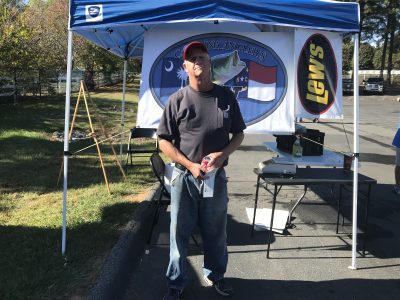 | | | | | |
| --- | --- | --- | --- | --- |
| Team | BF | Weight | Winnings | Points |
| KENNY KANNIPE / KEITH WESTRICK | 2.48 | 9.64 | $750.00 | 110 |
| JASON LAND | 2.43 | 9.21 | $200.00 | 109 |
| DWAYNE HUGHES / JERRY LAWSON | 0.00 | 9.01 | $100.00 | 108 |
| MARK CARPENTER / ANDY KEENER | 3.05 | 8.90 | $90.00 | 107 |
| PRESTON HARRIS / STANTON HARRIS | 2.78 | 8.84 | | 106 |
| KHRIS WILLIAMS / SHANNON WILLIAMS | 0.00 | 8.03 | | 105 |
| MARK COMBS | 0.00 | 7.34 | | 104 |
| JOSH RHYNE / KEVIN CANIPE | 0.00 | 6.90 | | 103 |
| RANDALL GARDNER / TRENT GOINS | 2.93 | 6.63 | | 102 |
| JOEL MARCOTTE | 0.00 | 4.16 | | 101 |
| DEAN LYONS / MIKE SPAH | 1.26 | 1.26 | | 100 |
| DOUG BJORNSON / JOSH BJORNSON | 0.00 | 0.00 | | 90 |
| RUSSELL HOYLE | 0.00 | 0.00 | | 90 |
| JASON RHODES / RUSSELL MCLEAN | 0.00 | 0.00 | | 90 |
| JEFF EMMONS | 0.00 | 0.00 | | 90 |
| MIKE CLARK / CHRIS ANDERSON | 0.00 | 0.00 | | 90 |
| KEITH SPEECE / GEORGE BOST | 0.00 | 0.00 | | 90 |
| JIMMY LESHOCK / ALEX LESHOCK | 0.00 | 0.00 | | 90 |
| Total Entrys | | | $1,080.00 | |
| BONUS $ | | | $400.00 | |
| Total Paid At Ramp | | | $1,140.00 | |
| Norman 2021 Fall Final Fund | | | $135.00 | |
| 2022 CATT Championship/Phantom Fund | | | $25.00 | |
| 2021 Norman Fall Final Fund Total | | | $350.00 | |
| 2022 CATT Championship/Phantom Total | | | $0.00 | |