Next Lake Norman Open is Sept 10 at Pinnacle Safe Daylight blast off and 2 pm weigh in!
The 2022 PHANTOM OUTDOORS Classic will take place on Lake Norman, NC.  December 2-3. 2022 and we are guaranteeing $10,000.00 to 1st Place! (With a minimum 100 Teams entered)

How To Qualify–A team or solo angler must fish 2 CATT events to Qualify! CATT Opens & Phantom Invitationals count! You may fish the Norman Phantom Classic solo or with your partner or alternate partner your team used in any CATT event.
If you have ONLY entered CATT Opens to Qualify you will required to pay the $35 CATT membership the morning of the Classic!
You can get in your 2 events by fishing any CATT Fall 2021, CATT Spring 2022, CATT Summer 2022 & CATT Fall 2022!
If you entered 2 – 2022 CBC Qualifiers, you are eligible to enter!
Guys we had over 200 teams enter the CATT Championship at Kerr Lake, NC this past May! 1st Place took home $29,000.00! Let's make this an annual event on Lake Norman! 
More info go tap on "Divisions and tap on "Phantom Outdoors Invitational Classic"
We had an impressive 34 boats turn out and we paid out to the top 6 teams!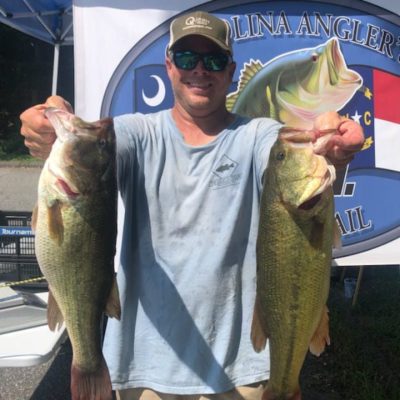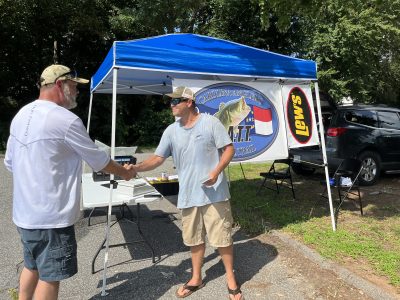 1st place went to Hunter Harwell bringing in an impressive bag weighing 15.63 LBS and a 4.63 big fish earning a well-deserved check for $500.00 PLUS the side pot of $750.00 for a daily total of $1,250.00!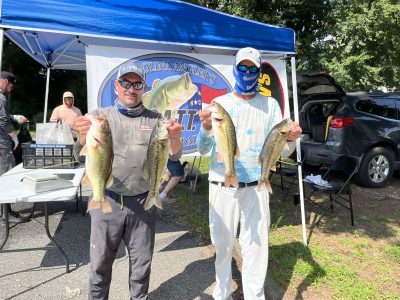 2nd place was grinded out by the team of Derek Cumming & Rodney Tapp taking home a $300.00 check!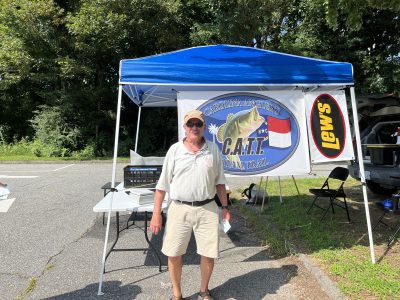 3rd place was earned by Alvin Shaw with a 12.98 LBS sack taking home $200.00.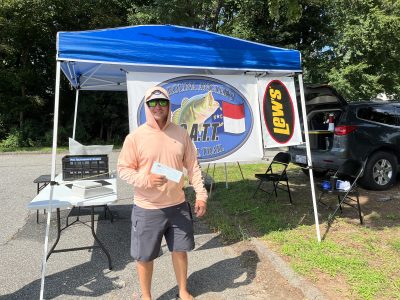 Our 4th place winner was Isaac Ledford with 5 fish weighing in at 10.83 LBS bringing him a check for $140.00.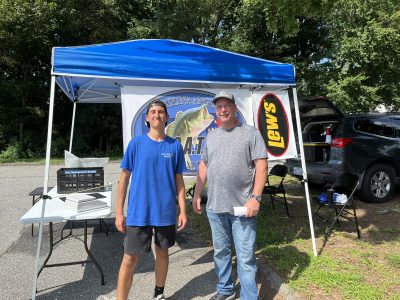 5th place went, by default of a bigger fish, to Andy Keener and Joe Lutz also weighing in a 10.32 bag for $110.00!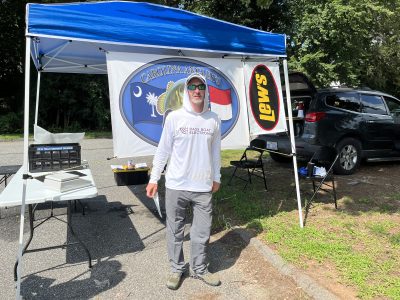 Coming in 6th with a 5 fish limit weighing 10.32 LBS was Michael Wilson for a $100.00 check.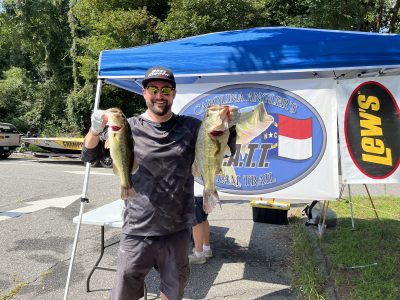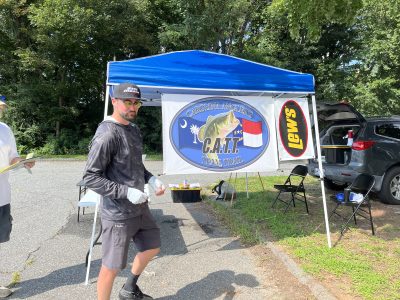 Our biggest fish of the day! That was brought in by Matthew Lewis who found a 5.77 LB fish for that prize. He walked away with a check for $170.00 for that catch.

| | | | |
| --- | --- | --- | --- |
| Team | BF | Weight | Winnings |
| HUNTER HARWELL | 4.63 | 15.63 | $1,250.00 |
| DEREK CUMMINGS / RODNEY TAPP | 3.67 | 14.33 | $300.00 |
| ALVIN SHAW | 4.35 | 12.73 | $200.00 |
| ISAAC LEDFORD | 0.00 | 10.83 | $140.00 |
| ANDY KEENER / JOE LUTZ | 0.00 | 10.32 | $110.00 |
| MICHAEL WILSON | 2.74 | 10.32 | $100.00 |
| MATTHEW LEWIS | 5.77 | 8.93 | $170.00 |
| JOSHUA GOWAN / HAYDEN FOSTER | 0.00 | 10.15 | |
| DAVID HENDRICK / SIDNEY REYNOLDS | 2.49 | 10.08 | |
| STEVE ADDINGTON / CONRAD POGORZELSKI | 0.00 | 9.39 | |
| JERRETT FREEZE / RODNY ADAMS | 0.00 | 9.26 | |
| SCOTT MCGINNIS / CHAD BAGWELL | 2.71 | 9.19 | |
| GARY LITTLE / JERRY GOBLE | 0.00 | 7.93 | |
| JASON LAND | 0.00 | 7.81 | |
| TODD ALEXANDER / HUNTER ALEXANDER | 0.00 | 7.51 | |
| LARRY FLEEMAN / GREG POPE | 0.00 | 5.53 | |
| CORY LASSISTER / COLBY LASSISTER | 0.00 | 0.00 | |
| PHILIP MCCLUNG JR | 0.00 | 0.00 | |
| JOEL MARCOTTE | 0.00 | 0.00 | |
| LOGAN HENDRICK / GAVIN JIMENEZ | 0.00 | 0.00 | |
| CHRIS GOODWIN / RONNIE MURPHY | 0.00 | 0.00 | |
| CARSON BONDS | 0.00 | 0.00 | |
| DALE PHILLIPS | 0.00 | 0.00 | |
| MICHAEL MILLER / ERIC DUNHAM | 0.00 | 0.00 | |
| MICHAEL SCHLEICHER | 0.00 | 0.00 | |
| NICK MILLER | 0.00 | 0.00 | |
| MICHAEL GITTINGS / MARK LONG | 0.00 | 0.00 | |
| QUINN MOTLEY / TYLER SIMMONS | 0.00 | 0.00 | |
| CURT DADDARIO | 0.00 | 0.00 | |
| MICHAEL GOINS / BRANDON BELL | 0.00 | 0.00 | |
| CHRISTIAN JOHNSON | 0.00 | 0.00 | |
| TRAVIS DONALDSON | 0.00 | 0.00 | |
| BRYSON GARLAND | 0.00 | 0.00 | |
| AARON DIGH / NOLAN SANDERS | 0.00 | 0.00 | |