Next Lake Wateree Open is Nov 14th at Clearwater Cove!
Must enter 6 Opens to be eligible to enter the Open Final
Enter 10 Opens and fish the Open Final Free
Must fish Wateree Open Final with your partner or a sub your team used
NO NEW SUBS AT FINAL & NO PAIRING UP AT FINAL WITH ANOTHER MEMBER
Safe Daylight – Weigh in Determined at Ramp
$100 Entry Optional $25 side pot at each event!
Lews Product awarded at Final!
Plaques awarded to Point Winners & Final Winners
1st Place Points – Receive free entry to all 2021 Wateree Open Events
2nd Points -$500
3rd Points – $350
4th Points – $250
5th Points – $200
6th Points – $150
Alan & Tanner Fletcher double up on Wateree! They win  the Open with 13.44 lbs worth $1,153.00!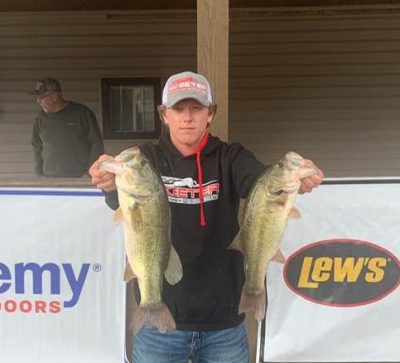 | | | | | |
| --- | --- | --- | --- | --- |
| 20 Teams | BF | Weight | Winnings | Points |
| Alan Fletcher – Tanner Fletcher | 4.95 | 13.44 | $1,153.00 | 110 |
| Craig Haven – Wes Jackson | 3.20 | 13.00 | $357.00 | 109 |
| Donald Hinson – Bubba Baker | 2.55 | 11.40 | $150.00 | 108 |
| Brad Petway – Jerry Freezon | 3.09 | 9.17 | $100.00 | 107 |
| David Ethridge – Butch Williams | 2.25 | 9.09 | | 106 |
| Jacob Norris – Jeff Norris | 2.51 | 8.60 | | 105 |
| Donald Stouffer | 2.90 | 8.30 | | 104 |
| Jeff reynolds – Trent Mclaughlin | 0.00 | 5.17 | | 103 |
| Scott Floyd | 2.78 | 4.97 | | 102 |
| Monroe Clandell – John Mitchell | 2.89 | 4.82 | | 101 |
| Pat Whaley – Dearal Rodgers | 2.20 | 2.92 | | 100 |
| Chris Bowers – Lucas Bowers | 1.85 | 1.85 | | 99 |
| Greg Atkinson – Bo Simon | 0.00 | 0.00 | | 98 |
| Steve Phillips | 0.00 | 0.00 | | 98 |
| Greg Sigmon | 0.00 | 0.00 | | 98 |
| Jarod Upchurch – Jason Byrd | 0.00 | 0.00 | | 98 |
| Brandon West – Tyler Blue | 0.00 | 0.00 | | 98 |
| Shane Cantley | 0.00 | 0.00 | | 98 |
| Jermaine Roach – Steve Gilespie | 0.00 | 0.00 | | 98 |
| Mitchell Gordon – AJ Kavesner | 0.00 | 0.00 | | 98 |
| 2020 Wateree Open Final Fund | | | $400.00 | |
| 2020 Wateree Open Final Fund Total | | | $1,995.00 | |
| 2020 Wateree Open Point Fund | | | $1,000.00 | |
| **2019 Point Winners Free Entry | | | | |
| 2020 Pt Winners Receive Free Entry 2021 | | | | |
| Teams 2-6 In Points Receive $$ | | | | |