Next Wateree Open is this coming Saturday Oct 19 at COLONEL CREEK LANDING!
Remember guys you have to fish 6 Wateree Open to be eligible to enter the Lake Wateree Open Final Nov 23rd! As of now we have $4,005.00 in the Wateree Open Final Fund and $1,500.00 in the Point Fund! The Point race is tight with only 2 points separating the top 2 teams! Point winners fish the 2020 Lake Wateree Open Qualifiers FREE! 
Donald Hinson & Alan Fletcher weighed in 5 bass at 15.01 lbs on a tough day of fishing to take the win! They took home $890.00!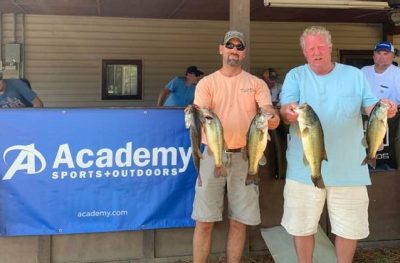 2nd went to Jerry Freezon & Brad Petway with a limit weighing 14.45 lbs!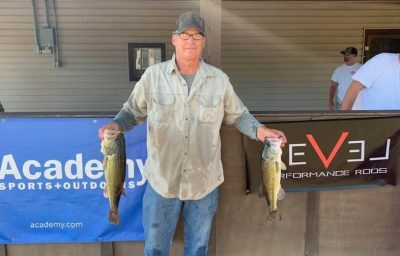 Tim & Craig Haven claimed 3rd with 13.61 lbs!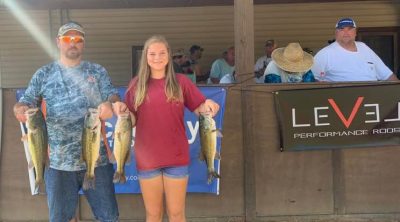 Dearal Rodgers with 2 nice uns!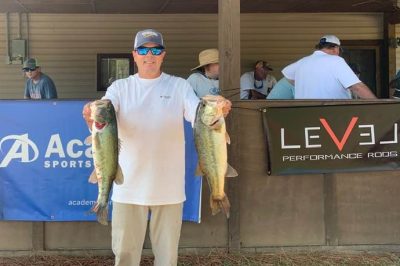 18 Teams
BF
Weight
Winnings
Points
Alan Fletcher – Donald Hinson
4.16
15.01
$890.00
110
Brad Petway – Jerry Freezon
4.44
14.45
$270.00
109
Tim Haven – Craig Haven
3.89
13.61
$120.00
108
Dearal Rodgers
4.76
12.31
$112.00
107
Kevin Malone
2.51
11.18
106
Johnny Player – Freddie Gibbs
3.39
11.17
105
Jason Bateman – Michael Bateman
2.75
10.47
104
Scott Williams – Robbie English
2.40
9.43
103
Jared Upchurch – Randy Wilson
3.74
6.95
102
David Ethridge – Butch Williams
4.69
6.37
$48.00
101
Scott Floyd – Greg Corvin
0.00
3.43
100
Addi Collins – Brett Collins
0.00
2.21
99
Paul Galloway – Jerry Galloway
0.00
0.00
98
Jason McCoy – Casey Stevens
0.00
0.00
98
Matt Nettles – RB Blackman
0.00
0.00
98
Shane Cantley – Michael Richardson
0.00
0.00
98
Jared Griffith – James McMillian
0.00
0.00
98
Lee Royson – Jeff Reynolds
0.00
0.00
98
2019 Wateree Open Final Fund
$440.00
2019 Wateree Open Final Fund Total
$4,005.00
2019 Wateree Open Point Fund
$1,500.00
**2018 Point Winners Free Entry
2019 Pt Winners Receive Free Entry 2020
Teams 2-6 In Points Receive $$