Thanks for fishing with us this past year! Lots of money was awarded at Wateree this past year and we look forward to 2020! 
Of course as many know we hold back a portion of the entry fee that goes into the Final of each trail! It makes for a great payback at the Final and that's help make CATT the most popular bass organization in the Carolinas! Come join us in 2020!
Click on the Caymas logo and check em out guys! HUGE incentive money is out there for the taking!

Butch Williams and David Ethridge won the 2019 Wateree Fall Final with 5 bass weighing 16.24 lbs! They took home $1,775.00! Add in their Wateree Open winnings and they collected a total of $5,025.00!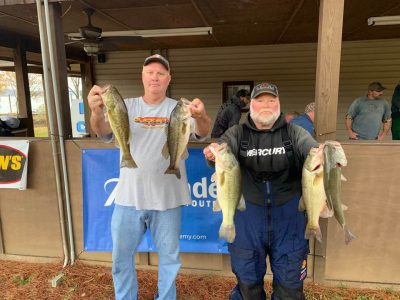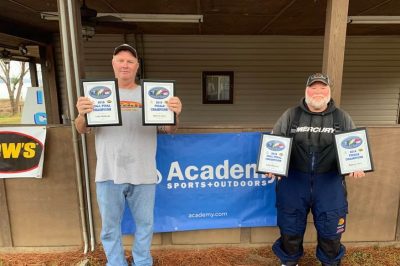 2nd went to Robbie English & Scott Williams with 15.99 lbs! They received $739.00!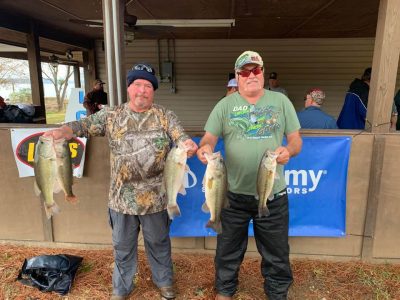 Jacob & Jefff Norris were 4th with 14.73 lbs and won the Fall Wateree Points!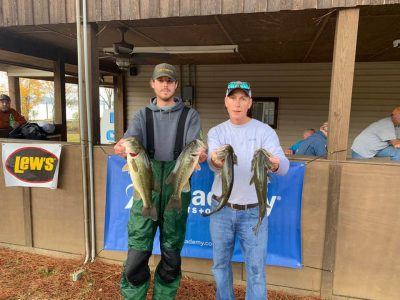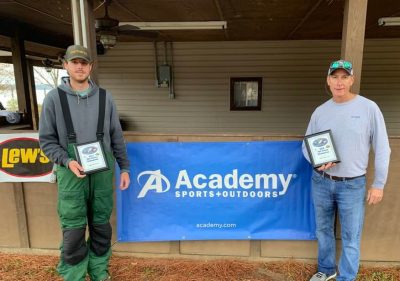 Craig & Tim Haven weighed in the BF at 4.50 lbs and received a Lews Mach Speed Stick and an Academy Gift Card!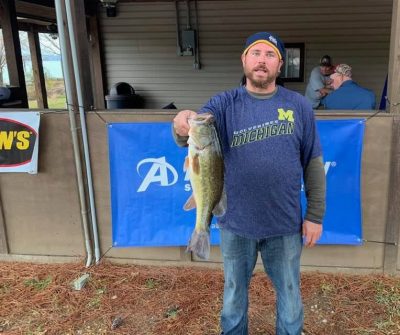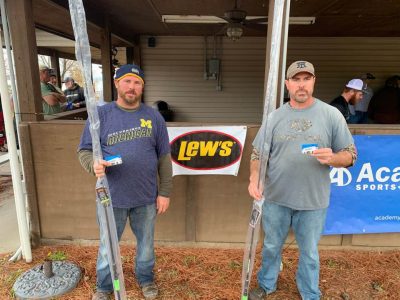 | | | | | |
| --- | --- | --- | --- | --- |
| | 10 Teams | BF | Weight | Winnings |
| 1 | Butch Williams – David Ethridge | 3.82 | 16.24 | $1,775.00 |
| 2 | Scott Williams – Robbie English | 4.26 | 15.99 | $739.00 |
| 3 | Jeff Norris – Jacob Norris | 4.02 | 14.73 | |
| 4 | Stevie Walker | 4.23 | 14.21 | |
| 5 | Tim Haven – Craig Haven | 4.50 | 14.07 | $91.00 |
| 6 | Brett Collins – Brad Petway | 3.47 | 12.34 | |
| 7 | Alan Fletcher – Donald Hinson | 2.99 | 12.11 | |
| 8 | Shane Cantley – Michael Richardson | 3.38 | 11.52 | |
| 9 | Jerry Freezon | 3.59 | 10.28 | |
| 10 | Scott Floyd – Greg Corvin | 0.00 | 3.16 | |
| 11 | Andrew Boykin – Billy Gaines | 0.00 | 0.00 | |
| 12 | Jason Murdock – Gene Winburn | 0.00 | 0.00 | |
| 13 | Greg Sigmon | 0.00 | 0.00 | |
| | Total Entrys | | | $1,440.00 |
| | BONUS $ | | | $250.00 |
| | Wateree Fall Final Fund | | | $1,065.00 |
| | Total Paid At Ramp | | | $2,605.00 |
| | Total Paid Fall 2019 Lake Wateree | | | $10,300.00 |
| | Total Paid 2019 Lake Wateree | | | $75,170.00 |