Next Wateree CATT Spring Qualifier is Feb 26th! We will still be at Molly Creek for this one! The lake level is supposed to start rising the 1st of March so we will look for more suitable locations to finish out the Spring.
Butch William & David Ethridge woke up the Lake Wateree bass Saturday bringing in 5 bass weighing 21.74 lbs! They also weighed in the BF at 5.34 lb and collected a total of $848.00!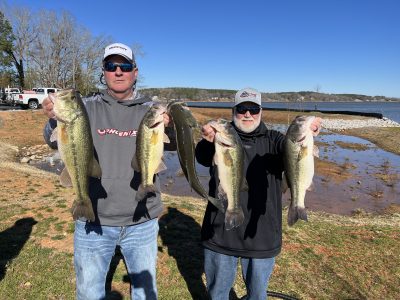 Ray & Channon Dowey brought in 5 bass  at 21.53 lbs to take 2nd Place!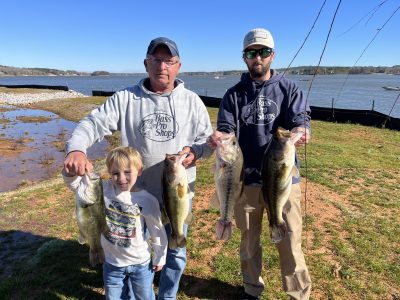 Kenneth McFarland & Landon Jordan weigh in the 2nd BF at 5.17 lbs!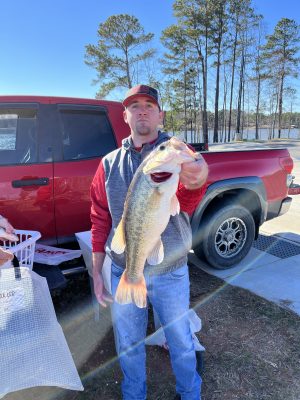 | | | | | |
| --- | --- | --- | --- | --- |
| Team | BF | Weight | Winnings | Points |
| Butch Williams & David Ethridge | 5.34 | 21.74 | $848.00 | 110 |
| Ray Dowey & Channon Dowey | 4.96 | 21.53 | $200.00 | 109 |
| Chad Sinclair & Terry Carswell | 4.86 | 18.03 | | 108 |
| Donald Hinson & John Coward | 4.34 | 16.72 | | 107 |
| Chad Gainey & Mack Kitchens | 4.57 | 16.71 | | 106 |
| Dean Benfield & Donnie Maiers | 0.00 | 16.62 | | 105 |
| Jerry Freezon | 4.45 | 14.52 | | 104 |
| Paul Wells & Craig Haven | 4.32 | 13.89 | | 103 |
| Scott Williams & Robbie English | 3.25 | 13.07 | | 102 |
| Kenneth McFarland & Landon Jordan | 5.17 | 9.33 | $42.00 | 101 |
| Darrell Fenton | 4.52 | 6.13 | | 100 |
| Joshua Osment | 2.33 | 2.33 | | 99 |
| Jermaine Roach & Steve Gillespie | 0.00 | 0.00 | | 89 |
| Scott Floyd | 0.00 | 0.00 | | 89 |
| Total Entrys | | | $1,120.00 | |
| BONUS $ | | | $300.00 | |
| Total Paid At Ramp | | | $1,090.00 | |
| 2022 Wateree Spring Final Fund | | | $250.00 | |
| 2022 CATT Championship/Phantom Fund | | | $30.00 | |
| 2022 Wateree Spring Fund Total | | | $250.00 | |