Next Lake Wateree Spring CATT is this coming weekend March 4 at Clearwater! This is a GOLD $120 entry or $130 at the ramp!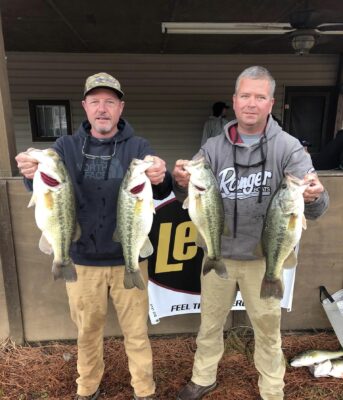 Chad Rabon & Walt Almond won the 2nd Spring CATT on Wateree with 5 bass weighing 20.73 lbs!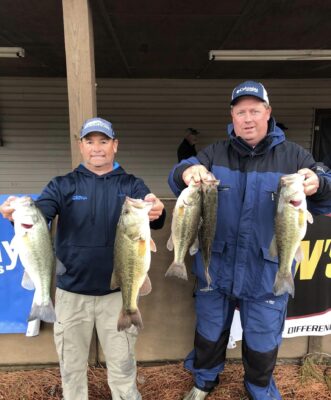 Chad Gainey & Todd Butler 2nd with 18.14 lbs!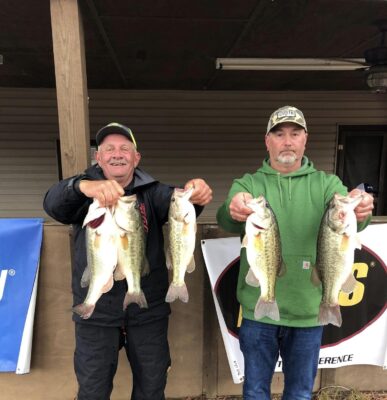 | | | | | |
| --- | --- | --- | --- | --- |
| Team | BF | Weight | Winnings | Points |
| Chad Rabon & Walt Almond | 4.76 | 20.73 | $833.00 | 110 |
| Chad Gainey & Todd Butler | 4.59 | 18.14 | $210.00 | 109 |
| Dean Benfield & Donnie Maiers | 4.19 | 16.45 | $90.00 | 108 |
| Robbie English & Glenn Sparrow | 3.49 | 16.13 | | 107 |
| Butch Williams & Sonny Beam | 5.30 | 15.52 | $112.00 | 106 |
| Darrell Fenton | 3.77 | 15.28 | | 105 |
| Paul Wells & Craig Haven | 3.75 | 14.31 | | 104 |
| Donald Hinson & Shannon Tidwell | 3.41 | 14.23 | | 103 |
| Clark Gibbs & Freddie Gibbs | 3.12 | 12.56 | | 102 |
| Trent McLaughlin & Dearal Rodgers | 2.85 | 11.79 | | 101 |
| Anthony Medlin | 4.67 | 10.86 | | 100 |
| Robert Jackson & Chance Jackson | 0.00 | 3.96 | | 99 |
| Hank Wactor | 2.02 | 2.02 | | 98 |
| Brian Jeffords & Mark Healon | 0.00 | 0.00 | | 88 |
| Andrew Boykin | 0.00 | 0.00 | | 88 |
| Greg Atkinson & Sarah Atkinson | 0.00 | 0.00 | | 88 |
| Total Entrys | | | $1,280.00 | |
| BONUS $ | | | $300.00 | |
| Total Paid At Ramp | | | $1,245.00 | |
| 2023 Wateree Spring Final Fund | | | $250.00 | |
| CATT | | | $50.00 | |
| 2023 CATT Championship | | | $35.00 | |
| 2023 Wateree Spring Fund Total | | | $330.00 | |