Next Lake Wateree Sumer CATT is June 19 at Clearwater Cove Marina!
Mack Kitchens & Chad Gainey doubled up with 18.28 lbs taking the win in the CATT Wateree Summer Qualifier! They took home $951.00!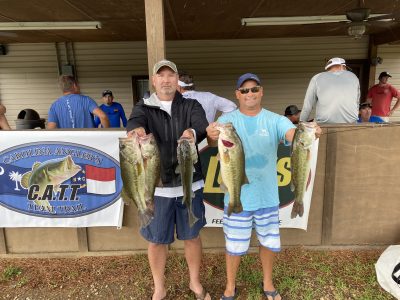 Chad took home an Academy Gift Card for weighing in the 4.94 lb BF!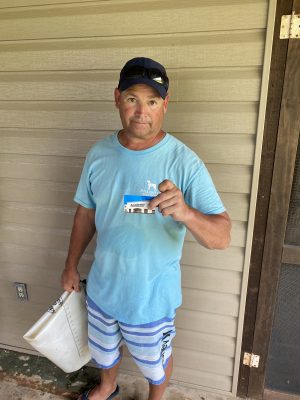 Jacob & Jeff Norris 2nd with 16.23 lbs!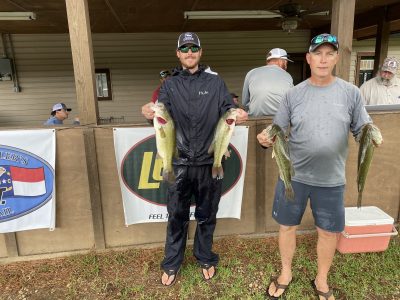 | | | | | |
| --- | --- | --- | --- | --- |
| Team | BF | Weight | Winnings | Points |
| Chad Gainey & Mack Kitchens | 4.94 | 18.28 | $951.00 | 110 |
| Jeff Norris & Jacob Norris | 4.02 | 16.23 | $279.00 | 109 |
| Jay Adams | 4.00 | 14.94 | $100.00 | 108 |
| Paul Wells & Greg Sigmon | 3.22 | 13.38 | | 107 |
| Shane Cantley & Michael Richardson | 3.54 | 13.10 | | 106 |
| Walt Almond & Seth Almond | 3.60 | 12.68 | | 105 |
| Allan Fletcher & Tanner Fletcher | 3.62 | 11.57 | | 104 |
| Mike King & Trent Griffin | 3.35 | 11.53 | | 103 |
| Ron Talbert & Kyle Aarliqe | 3.27 | 10.94 | | 102 |
| Butch Williams & Max Price | 2.96 | 10.57 | | 101 |
| Patrick Williams & Reece Williams | 0.00 | 4.68 | | 100 |
| Dean Heasley & Tyler Speakman | 0.00 | 3.24 | | 99 |
| Steve Phillips & Freddie Faulkenberry | 0.00 | 0.00 | | 89 |
| Jason Ries & Roger McKee | 0.00 | 0.00 | | 89 |
| Mark Healon & Ella Healon | 0.00 | 0.00 | | 89 |
| Mark Richardson & Rhett Richardson | 0.00 | 0.00 | | 89 |
| Will Allen & Roy Lowe | 0.00 | 0.00 | | 89 |
| Robbie English & Scott Williams | 0.00 | 0.00 | | 89 |
| Total Entrys | | | $1,440.00 | |
| BONUS $ | | | $325.00 | |
| Total Paid At Ramp | | | $1,330.00 | |
| 2021 Wateree Summer Final Fund | | | $335.00 | |
| 2021 CATT Championship/Phantom Fund | | | $0.00 | |
| 2021 Wateree Summer Fund Total | | | $915.00 | |
| 2021 CATT Championship/Phantom Fund Total | | | $0.00 | |