Next Wateree CATT is June 29 at Clearwater Cove Marina!
The fishing continues to be very good this Summer! 
Walt Almond & Chad Rabon weighed in 5 bass at 20.13 lbs and took home $1,014.00!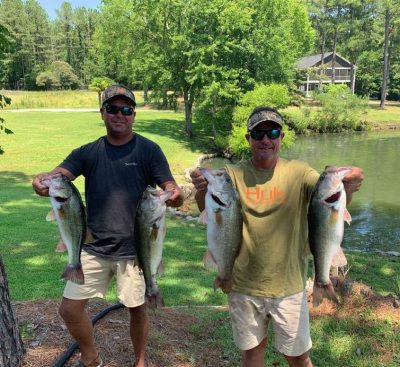 2nd Place went to Robert Ross & Lee Morris with 19.30 lbs!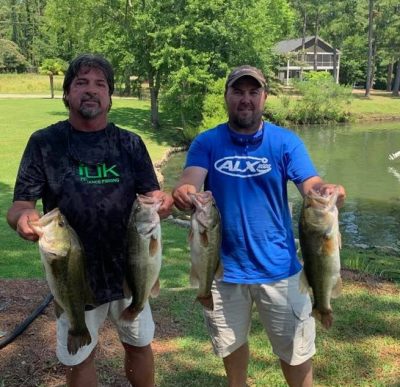 Chad Gainey & Jeffrey Furr weigh in 18.84 lbs and the BF at 5.23 lbs!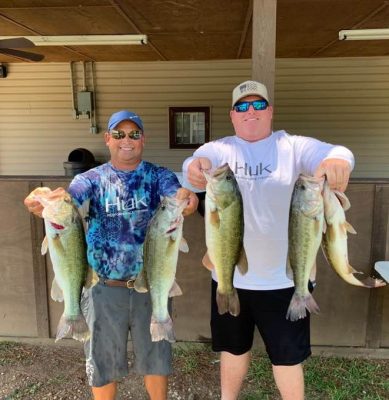 | | | | | |
| --- | --- | --- | --- | --- |
| | Big | Total | Total | |
| 13 Teams | Fish | Weight | Winnings | Points |
| Chad Rabon – Walt Almond | 4.83 | 20.13 | $1,014.00 | 110 |
| Lee Morris – Robert Ross | 4.55 | 19.30 | $325.00 | 109 |
| Jeffrey Furr – Chad Gainey | 5.23 | 18.84 | $91.00 | 108 |
| Brett Collins – Brad Petway | 4.15 | 17.37 | | 107 |
| Allen Fletcher – Donald Hinson | 4.77 | 16.13 | | 106 |
| Mike King – Mike Traynum | 4.22 | 15.89 | | 105 |
| Thomas Richmond – Dibb Wylie | 3.70 | 15.55 | | 104 |
| Max Price – David Ethridge | 3.32 | 14.99 | | 103 |
| Bubba Jackson – Wesley Jackson | 3.86 | 14.67 | | 102 |
| Jason Bateman – Steve Phillips | 3.05 | 13.41 | | 101 |
| Bobby Purvis – Matt Ross | 0.00 | 9.44 | | 100 |
| David Canupp – David Canupp | 0.00 | 8.09 | | 99 |
| Scott Floyd | 4.00 | 7.99 | | 98 |
| Total Entrys | | | $1,560.00 | |
| BONUS $ | | | $325.00 | |
| Total Paid At Ramp | | | $1,430.00 | |
| Wateree 2019 Summer Final Fund | | | $350.00 | |
| 2020 CATT Championships | | | $75.00 | |
| 2019 Wateree Summer Final Fund Total | | | $1,510.00 | |
| 2019 CATT Championship Fund Total | | | $1,530.00 | |