Next Lake Wateree Summer Qualifier is July 11th at Clearwater Cove Marina!
Phillip Anderson & Russ Padgett brought in 5 bass at 16.64 lbs to take 1st Place worth $1,597.00! They also weighed in the Academy BF at 4.21 lbs and received an Academy Gift Card valued at $25!!

John Paul George & Jason Quinn finished 2nd with 15.76 lbs!
Kevin & Jacob Compton took 3rd with 14.76 lbs!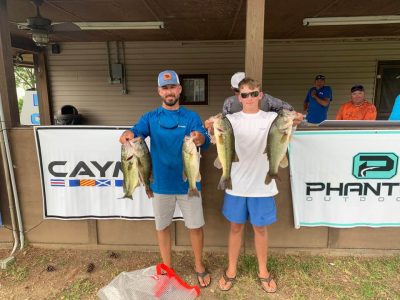 Cody Johnson & Vinson Blanton with some fat Lake  Wateree bass!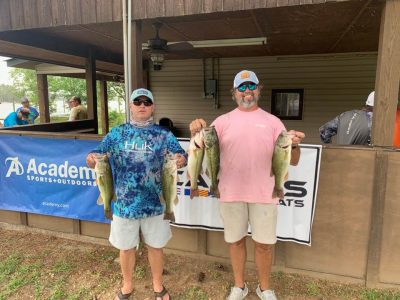 | | | | | |
| --- | --- | --- | --- | --- |
| 21 Teams | BF | Weight | Winnings | Points |
| Phillip Anderson – Russ Padgett | 4.21 | 16.64 | $1,597.00 | 110 |
| John Paul George – Jason Quinn | 4.07 | 15.76 | $538.00 | 109 |
| Kevin Compton – Jacob Comptom | 3.59 | 14.76 | $200.00 | 108 |
| Todd Butler – Mack Kitchens | 3.13 | 13.61 | $140.00 | 107 |
| Mike King – Mike Traynum | 3.51 | 13.60 | $147.00 | 106 |
| Vinson Blanton – Cody Johsnon | 3.10 | 13.48 | | 105 |
| Brett Collins | 3.49 | 13.25 | | 104 |
| Jeff Knight – Alex Griffin | 3.27 | 13.16 | | 103 |
| Chad Rabon – Walt Almond | 3.29 | 12.87 | | 102 |
| Ray Dowey – Chanon Dowey | 3.58 | 12.69 | | 101 |
| Jess Williams – Jim Smoak | 3.24 | 12.66 | | 100 |
| Gary Michaud – Dustin Compton | 3.18 | 12.22 | | 99 |
| Tim Haven – Craig Haven | 3.42 | 10.25 | | 98 |
| Allen Fletcher – Tanner Fletcher | 3.44 | 9.90 | | 97 |
| Scott Floyd | 3.01 | 7.75 | | 96 |
| Paul Wells | 0.00 | 0.00 | | 95 |
| Gabe Hopkins – Tal Lucas | 0.00 | 0.00 | | 95 |
| Randy Robson | 0.00 | 0.00 | | 95 |
| Steve Phillips | 0.00 | 0.00 | | 95 |
| Jay Adams – Tony C | 0.00 | 0.00 | | 95 |
| Total Entrys | | | $2,520.00 | |
| BONUS $ | | | $475.00 | |
| Total Paid At Ramp | | | $2,475.00 | |
| Wateree 2020 Summer Final Fund | | | $420.00 | |
| 2020 CATT Championships | | | $50.00 | |
| 2020 Wateree Summer Final Fund Total | | | $420.00 | |
| 2020 CATT Championship Fund Total | | | $3,775.00 | |