We wrapped up the Spring CATT Trail Saturday with 22 competing! The Wateree Spring Final will be this coming Saturday! Alan Fletcher & Tanner Fletcher win the points and will fish the Final Free! The CATT Wateree Summer Trail will start up June 20th!
Johnathan Strickland & Dustin Compton took 1st Place with 5 bass weighing 17.32 lbs! They collected $1,000.00!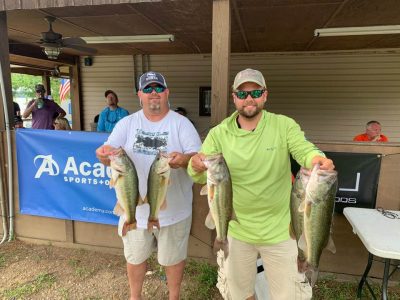 Steve Phillips took 2nd with 5 bass weighing 15.96 lbs!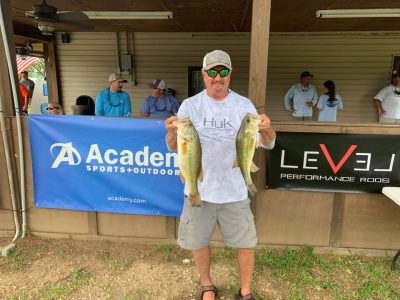 Ron Catoe & Bo Simon 3rd with 15.19 lbs!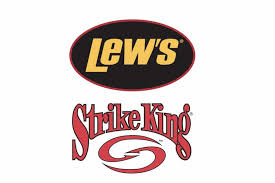 | | | | | |
| --- | --- | --- | --- | --- |
| 22 Teams | BF | Weight | Winnings | Points |
| Dustin Compton –  Jonathan Strickland | 4.09 | 17.32 | $1,000.00 | 110 |
| Steve Phillips | 3.90 | 15.96 | $300.00 | 109 |
| Ron Catoe – Bo Simon | 4.20 | 15.19 | $266.00 | 108 |
| John Mitchell – Monroe | 3.97 | 14.94 | $100.00 | 107 |
| RB Blackmon – Matt Nettles | 3.35 | 14.42 | | 106 |
| Walt Almond – Chad Rabon | 3.50 | 13.75 | | 105 |
| Mark Healon – Ella Healon | 3.88 | 13.33 | | 104 |
| Mark Richardson – Rhett Richardson | 2.96 | 13.33 | | 103 |
| Alan Fletcher – Taylor Fletcher | 4.45 | 13.06 | $154.00 | 102 |
| Pat Whaley – Dearl Rodgers | 3.19 | 12.93 | | 101 |
| Chad Gainey – Todd Butler | 3.95 | 12.53 | | 100 |
| Greg Nettles – Paul Wilkie | 2.68 | 12.32 | | 99 |
| Bryan Holmes- Mike Ware | 3.23 | 12.21 | | 98 |
| Butch Williams – David Ethridge | 2.63 | 11.65 | | 97 |
| Jeff Reynolds – Trent McLaughlin | 3.73 | 10.98 | | 96 |
| Lewis Thompson – Jared Thompson | 2.50 | 10.59 | | 95 |
| James Gibbons | 4.07 | 9.04 | | 94 |
| Craig Haven – Tim Haven | 2.46 | 7.99 | | 93 |
| Chris Sullivan | 3.41 | 5.28 | | 92 |
| Jason Quinn – John Paul George | 0.00 | 0.00 | | 91 |
| Darryl Watson – Ken McFarland | 0.00 | 0.00 | | 91 |
| DJ Bullock – Parrish Deans | 0.00 | 0.00 | | 91 |
| Total Entrys | | | $1,760.00 | |
| BONUS $ | | | $500.00 | |
| Total Paid At Ramp | | | $1,820.00 | |
| Wateree 2020 Spring Final Fund | | | $340.00 | |
| 2020 CATT Championship Fund | | | $50.00 | |
| 2020 Wateree Spring Final Fund Total | | | $1,040.00 | |
| 2020  CATT Championship Fund Total | | | $3,500.00 | |