Next Wateree CATT is June 15th at Clearwater Cove Marina! The fishing is still on fire! Good fish are being brought in and the topwater bite is great!
Lee Morris & Robert Ross win their 2nd CATT Wateree Summer Qualifier with 5 bass weighing 19.79 lbs! They collected $1,225.00!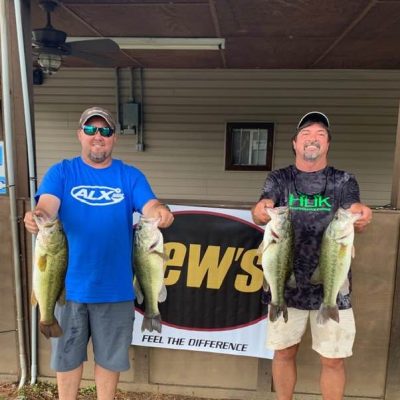 2nd went to Scott Floyd & Bob Weaver with 5 bass weighing 18.72 lbs!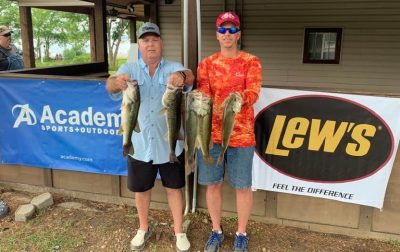 3rd went to Brad Petway & Brett Collins with 17.18 lbs and the BF at 5.90 lbs!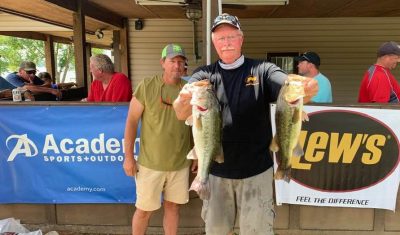 2nd BF went to Marshall Finch& Tripp Poplin with a 5.40 lbs!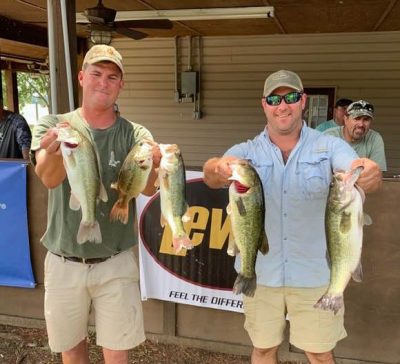 | | | | | |
| --- | --- | --- | --- | --- |
| | Big | Total | Total | |
| 16 Teams | Fish | Weight | Winnings | Points |
| Lee Morris – Robert Ross | 5.02 | 19.79 | $1,225.00 | 110 |
| Scott Floyd – Bob Weaver | 5.27 | 18.72 | $400.00 | 109 |
| Brad Petway – Brett Collins | 5.90 | 17.18 | $252.00 | 108 |
| Bubba Jackson – Wesley Jackson | 4.69 | 16.14 | | 107 |
| Max Price – David Ethridge | 3.87 | 15.99 | | 106 |
| Trip Poplin – Marshall Finch | 5.40 | 15.15 | $48.00 | 105 |
| Chad Rabon – Walt Almond | 3.65 | 15.10 | | 104 |
| Allen Fletcher – Peanut Hinson | 3.35 | 14.25 | | 103 |
| Jason Bateman – Steve Phillips | 3.35 | 14.25 | | 102 |
| Thomas Richmond – Dibb Wylie | 3.88 | 13.40 | | 101 |
| David Canupp & David Canupp | 3.00 | 12.89 | | 100 |
| Bobby Purvis – Matt Ross | 2.77 | 11.01 | | 99 |
| Chad Gainey – Todd Butler | 0.00 | 9.88 | | 98 |
| Toby Robson – Randy Robson | 0.00 | 6.15 | | 97 |
| Mike King – Mike Traynum | 0.00 | 0.00 | | 96 |
| Tony Talford – Christian Wylie | 0.00 | 0.00 | | 96 |
| Total Entrys | | | $1,920.00 | |
| BONUS $ | | | $400.00 | |
| Total Paid At Ramp | | | $1,825.00 | |
| Wateree 2019 Summer Final Fund | | | $295.00 | |
| 2020 CATT Championships | | | $75.00 | |
| 2019 Wateree Summer Final Fund Total | | | $915.00 | |
| 2019 CATT Championship Fund Total | | | $1,255.00 | |