Next Wateree CATT is March 14 at Clearwater Cove! It's a GOLD $130 entry at the ramp!
To view the Lake Wateree Spring Points click on the Wateree Division page and scroll to the bottom!
Jeff & Jacob Norris win with 21.21 lbs! Weigh in the 2nd BF at 5.83 lbs! Great catch guys! They take home $1,091.00!
Greg Nettles & Paul Wilkinson take 2nd with 20.17 lbs and weigh in the Academy BF at 6.34 lbs!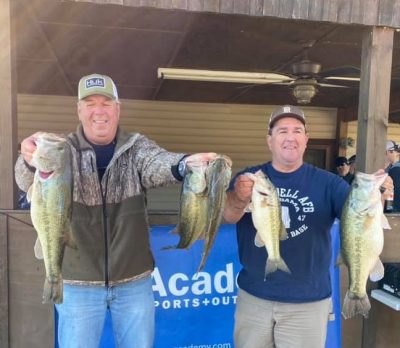 Mike King & Mark Healon 3rd with 18.62 lbs!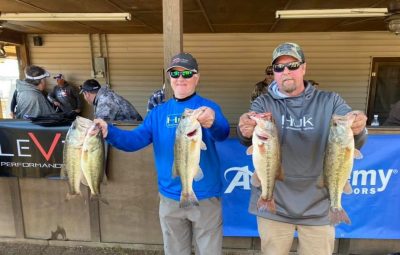 Robbie Usher & Greg Sigmon 4th with 18.32 lbs!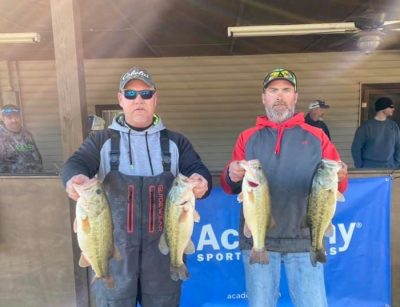 Shane Cantley & Michael Richardson 5th 17.62 lbs!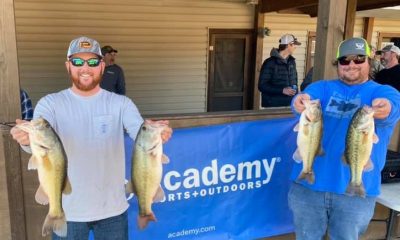 Paul & Donald Wells with 17.22 lbs!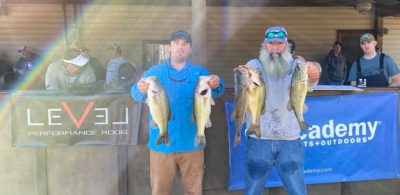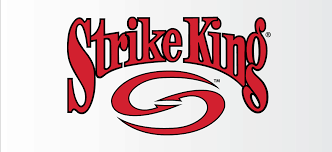 | | | | | |
| --- | --- | --- | --- | --- |
| 22 Team | BF | Weight | Winnings | Points |
| Jeff Norris-Jacob Norris | 5.83 | 21.21 | $1,091.00 | 110 |
| Greg Nettles-Paul Wilkinson | 6.34 | 20.17 | $454.00 | 109 |
| Mike King-Mark Healon | 4.49 | 18.62 | $200.00 | 108 |
| Greg Sigmon-Robbie Usher | 4.69 | 18.32 | $100.00 | 107 |
| Shane Cantley-Michael Richardson | 4.49 | 17.62 | | 106 |
| Donald Wells-Paul Wells | 4.09 | 17.22 | | 105 |
| Dustin Compton-Johnathan Strickland | 4.21 | 16.94 | | 104 |
| Jonathan Hilton-Michael Hilton | 4.37 | 16.76 | | 103 |
| Jim Davis-Mike Allman | 4.97 | 16.35 | | 102 |
| Bob Weaver-Scott Floyd | 4.50 | 16.00 | | 101 |
| Thomas Richmond-Tony Tatford | 4.71 | 15.99 | | 100 |
| Alan Fletcher-Tanner Fletcher | 4.67 | 15.59 | | 99 |
| Donnie Maiers-Dean Beanfield | 4.16 | 14.79 | | 98 |
| Scott Williams-Robbie English | 4.52 | 14.65 | | 97 |
| Chad Gainey-Mack Kitchens | 4.11 | 14.37 | | 96 |
| Chad Rabon-Walt Almond | 3.86 | 13.64 | | 95 |
| Skeebo Kelly-Earl McAbee | 2.91 | 12.32 | | 94 |
| Daniel Jordan-Kyle Jordan | 5.34 | 11.61 | | 93 |
| Craig Haven-Tim Haven | 3.18 | 11.19 | | 92 |
| Max Price-Brent Neal | 0.00 | 0.00 | | 91 |
| Butch Williams-David Ethridge | 0.00 | 0.00 | | 91 |
| Greg Atkinson-James Brinson | 0.00 | 0.00 | | 91 |
| Total Entrys | | | $1,760.00 | |
| BONUS $ | | | $525.00 | |
| Total Paid At Ramp | | | $1,845.00 | |
| Wateree 2020 Spring Final Fund | | | $340.00 | |
| 2020 CATT Championship Fund | | | $50.00 | |
| 2020 Wateree Spring Final Fund Total | | | $670.00 | |
| 2020  CATT Championship Fund Total | | | $2,710.00 | |