Next Wateree is March 21st at Clearwater Cove Marina!
To view the Lake Wateree Points go to the Wateree Division Page and scroll down to the bottom!
Shane Cantley & Michael Richardson claimed 1st Place this past Saturday with 5 bass weighing 21.24 lbs! They also weighed in the 2nd BF at 5.87 lbs! All total they took home $1,956.00!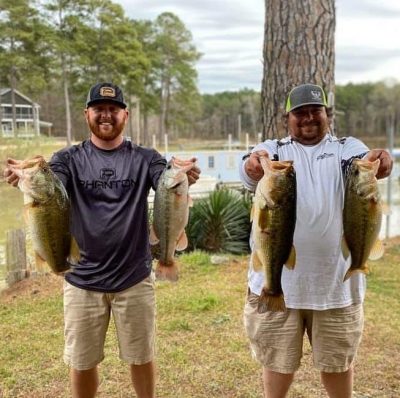 Donnie Maiers & Dean Benfield took 2nd with 5 bass weighing 20.95 lbs!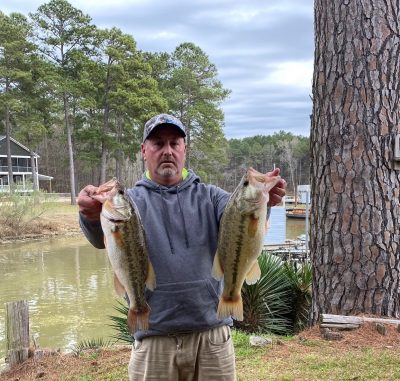 Dustin Compton & Jonathan Strickland finished 3rd with 18.55 lbs! They weighed in the Academy BF at 6.82 lbs and received an Academy Gift Card!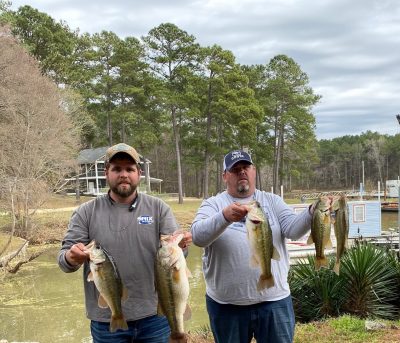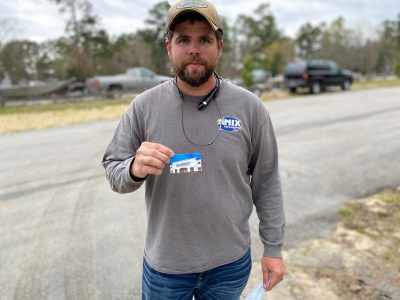 Scott Williams & Robbie English 4th with 18.37 lbs!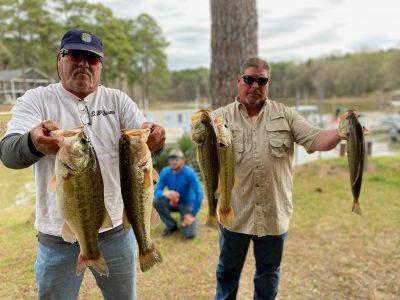 Sam Hopkins & Craig Mathews 5th 18.28 lbs!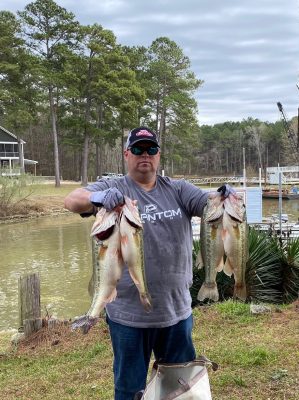 Jason Quinn & John Paul George 6th 17.55 lbs!

| | | | | |
| --- | --- | --- | --- | --- |
| 27 Teams | BF | Weight | Winnings | Points |
| Shane Cantley – Michael Richardson | 5.87 | 21.24 | $1,956.00 | 110 |
| Donnie Maiers – Dean Benfield | 4.98 | 20.95 | $600.00 | 109 |
| Dustin Compton –  Jonathan Strickland | 6.82 | 18.55 | $489.00 | 108 |
| Scott Williams – Robbie English | 4.45 | 18.37 | $200.00 | 107 |
| Sam Hopkins – Craig Matthews | 5.87 | 18.28 | $150.00 | 106 |
| Jason Quinn – John Paul George | 4.24 | 17.55 | | 105 |
| Chad Rabon – Walt Almond | 4.44 | 17.36 | | 104 |
| Chad Gainey – Jeffrey Furr | 4.04 | 16.55 | | 103 |
| Alan Fletcher | 3.29 | 16.26 | | 102 |
| Jim Davis –  Mike Allman | 4.69 | 15.74 | | 101 |
| Bryan Holmes- Mike Ware | 3.25 | 15.27 | | 100 |
| Greg Atkinson – Garrett Cappell | 5.51 | 14.91 | | 99 |
| Craig Haven – Tim Haven | 4.37 | 14.73 | | 98 |
| Butch Williams – David Ethridge | 3.77 | 14.72 | | 97 |
| Doc McDaniel – Gary Michaud | 2.93 | 13.77 | | 96 |
| Mike King – Lewis Thompson | 3.02 | 12.31 | | 95 |
| Jeff Norris – Jacob Norris | 2.93 | 12.06 | | 94 |
| Steve Watterson – Ben Bagwell | 3.58 | 9.50 | | 93 |
| Bubba Baker – Colden Baker | 2.67 | 9.17 | | 92 |
| Scott Floyd – Greg Corbin | 3.60 | 8.02 | | 91 |
| Hunter Williams – Nick Thomas | 2.15 | 6.78 | | 90 |
| Donald Wells- Paul Wells | 2.73 | 6.30 | | 89 |
| Lee Royson – Jeff Reynolds | 0.00 | 0.00 | | 88 |
| Marke Healon – Ella Healon | 0.00 | 0.00 | | 88 |
| Greg Sigmon | 0.00 | 0.00 | | 88 |
| Greg Nettles – Paul Wilkie | 0.00 | 0.00 | | 88 |
| Garrett Brown – Douglas Bassard | 0.00 | 0.00 | | 88 |
| Total Entrys | | | $3,240.00 | |
| BONUS $ | | | $650.00 | |
| Total Paid At Ramp | | | $3,395.00 | |
| Wateree 2020 Spring Final Fund | | | $370.00 | |
| 2020 CATT Championship Fund | | | $75.00 | |
| 2020 Wateree Spring Final Fund Total | | | $1,040.00 | |
| 2020  CATT Championship Fund Total | | | $2,905.00 | |