Next Lake Wateree CATT will be this coming weekend March 26th! We will move to the Lake Wateree State Park until further notice!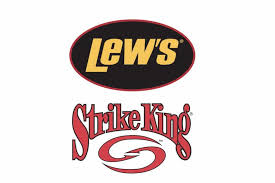 Sonny Beam & Butch Williams brought in 5 bass weighing 21.05 lbs  good enough for the win and  also they weighed the Academy BF at 4.71 lbs! Sonny & Butch took home $1,419.00!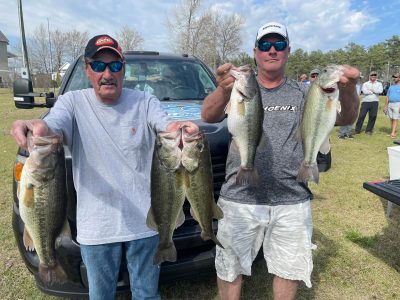 Jeff & Jacob Norris finished 2nd with 5 bass weighing 17.34 lbs!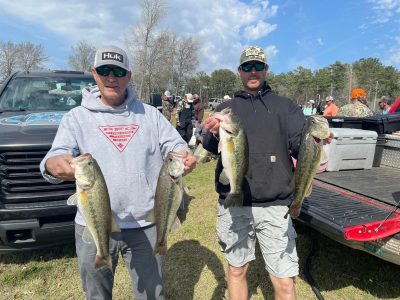 3rd went to Donald Hinson & John Coward with 16.64 lbs!
Greg Sigmon with some good ones!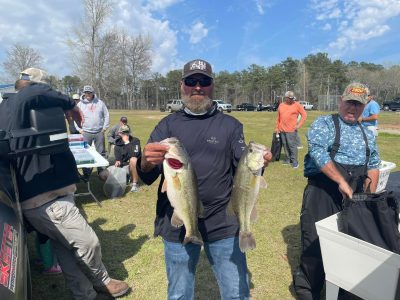 | | | | | |
| --- | --- | --- | --- | --- |
| Team | BF | Weight | Winnings | Points |
| Butch Williams & Sonny Beam  | 4.71 | 21.05 | $1,419.00 | 110 |
| Jeff Norris & Jacob Norris | 4.05 | 17.34 | $400.00 | 109 |
| Donald Hinson & John Coward | 4.13 | 16.64 | $226.00 | 108 |
| Brent Neal & Max Price | 3.23 | 14.50 | | 107 |
| Donnie Maiers & Dean Benfield | 3.91 | 14.34 | | 106 |
| Greg Sigmon – Jeff Reynolds | 3.88 | 13.64 | | 105 |
| Chad Gainey & Mack Kitchens | 3.55 | 13.04 | | 104 |
| Alan Fletcher – Tanner Fletcher | 2.52 | 12.55 | | 103 |
| Danny Gibson – Steve Funderburk | 3.07 | 11.30 | | 102 |
| Shane Cantley & Michael Richardson | 3.20 | 11.29 | | 101 |
| Mark Healon – Ella Healon | 3.84 | 11.23 | | 100 |
| Paul Wells & Craig Haven | 3.91 | 10.51 | | 99 |
| Scott Floyd & Bob Weaver | 3.98 | 9.39 | | 98 |
| Landon Murray – Ken Murray | 2.70 | 6.81 | | 97 |
| Robbie English & Scott Williams | 0.00 | 5.12 | | 96 |
| Jason McCoy – Casey Stevens | 0.00 | 0.00 | | 86 |
| David Winters – Derek Lilly | 0.00 | 0.00 | | 86 |
| Total Entrys | | | $2,040.00 | |
| BONUS $ | | | $400.00 | |
| Total Paid At Ramp | | | $2,045.00 | |
| 2022 Wateree Spring Final Fund | | | $300.00 | |
| 2022 CATT Championship/Phantom Fund | | | $50.00 | |
| 2022 Wateree Spring Fund Total | | | $775.00 | |