Butch Williams & Max Price collected $1,029.00 for their 1st Place finish with 5 bass weighing 16.90 lbs! They also weighed in the Academy BF at 4.67 lbs!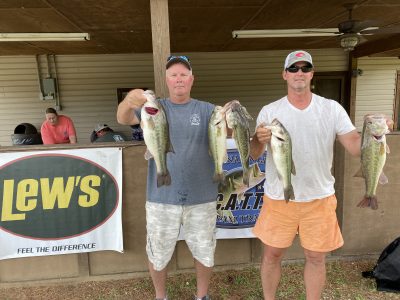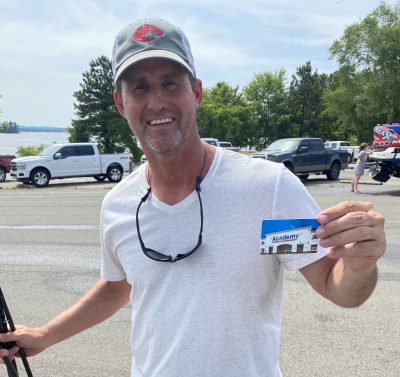 Jeff & Jacob Norris claimed 2nd with 16.09 lbs!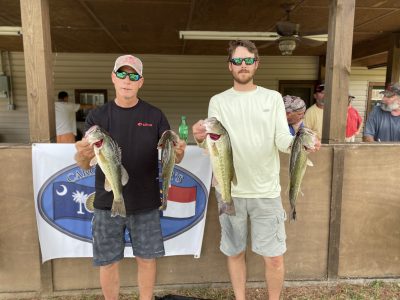 Chad Gainey & Todd Bulter earned 3rd with 16.08 lbs!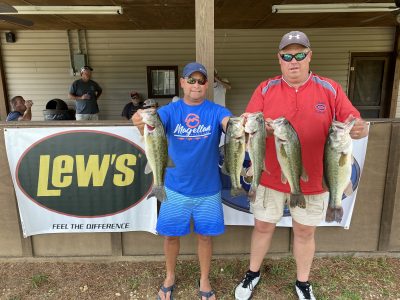 Paul Wells & Greg Sigmon took 4th with 14.92 lbs!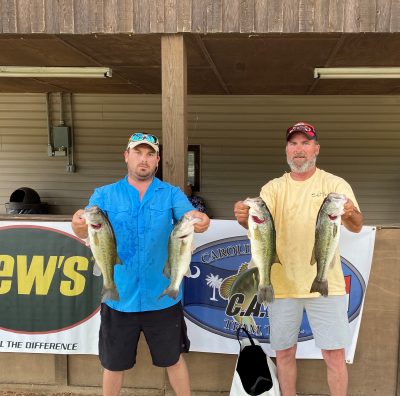 Michael Richardson weighed in the 2nd BF at 4.48 lbs!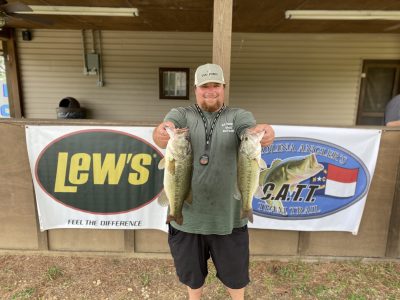 Sarah & Greg Atkinson with some nice uns!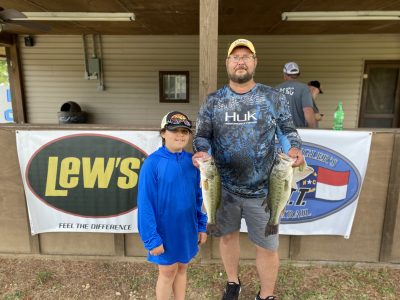 | | | | | |
| --- | --- | --- | --- | --- |
| Team | BF | Weight | Winnings | Points |
| Butch Williams & Max Price | 4.67 | 16.90 | $1,029.00 | 110 |
| Jeff Norris & Jacob Norris | 4.00 | 16.09 | $300.00 | 109 |
| Chad Gainey & Todd Butler | 4.27 | 16.08 | $200.00 | 108 |
| Paul Wells & Greg Sigmon | 3.56 | 14.92 | $100.00 | 107 |
| Michael Richardson | 4.48 | 13.48 | $66.00 | 106 |
| Chad Rabon & Walt Almond | 3.83 | 13.43 | | 105 |
| Greg Atkinson & Sarah Atkinson | 3.98 | 12.74 | | 104 |
| Tim Haven & Hunter Haven | 3.56 | 11.55 | | 103 |
| Tanner Fletcher & AJ Atkinson | 2.99 | 10.75 | | 102 |
| Darrell Fenton & Stacey Seagars | 2.41 | 10.72 | | 101 |
| Jacob Compton & Kevin Compton | 3.10 | 10.02 | | 100 |
| Donald Black | 2.88 | 8.77 | | 99 |
| Jason Ries & Roger McKee | 0.00 | 6.45 | | 98 |
| Patrick Williams | 0.00 | 5.10 | | 97 |
| Steve Phillips | 0.00 | 0.00 | | 87 |
| Mike King & Trent Griffin | 0.00 | 0.00 | | 87 |
| Chad Hastings | 0.00 | 0.00 | | 87 |
| Jay Adams & Tony Cola | 0.00 | 0.00 | | 87 |
| Jay Adams Jr. | 0.00 | 0.00 | | 87 |
| Jeff Reynolds & Trent McLaughlin | 0.00 | 0.00 | | 87 |
| Scott Floyd | 0.00 | 0.00 | | 87 |
| Mark Healon & Ella Healon | 0.00 | 0.00 | | 87 |
| Total Entrys | | | $1,760.00 | |
| BONUS $ | | | $375.00 | |
| Total Paid At Ramp | | | $1,695.00 | |
| 2021 Wateree Summer Final Fund | | | $340.00 | |
| 2021 CATT Championship/Phantom Fund | | | $0.00 | |
| 2021 Wateree Summer Fund Total | | | $340.00 | |
| 2021 CATT Championship/Phantom Fund Total | | | $0.00 | |