Next Lake Wateree Summer CATT is June 12th at Clearwater Cove Marina! The CBC will be at Lake Wateree June 5th!
Chad Rabon & Walt Almond take 1st place with 5 bass weighing 19.90 lbs! They collected $750.00!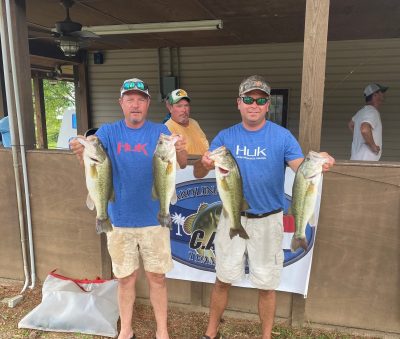 2nd Place went to Butch Williams & Max Price with 16.69 lbs!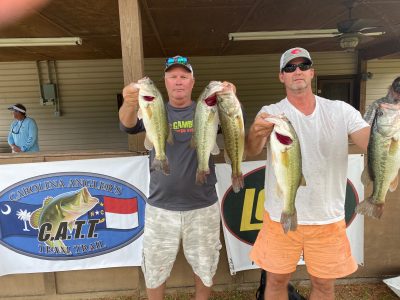 RB Blackmon & Matt Nettles 3rd with 16.26 lbs!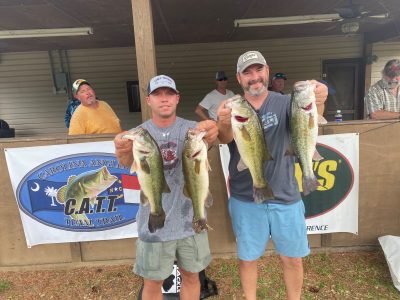 Jeffrey Furr & Chad Gainey 4th 15.57 lbs!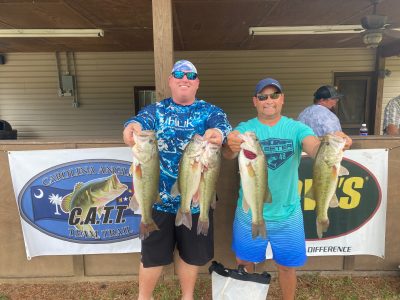 Jeff & Jacob Norris 5th 15.56 lbs!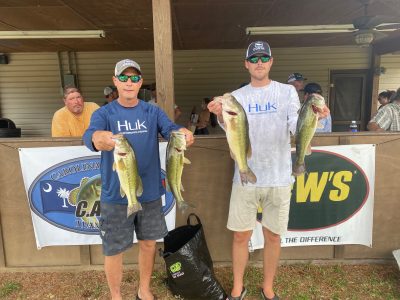 Jimmy McFarland & Calvin Griggs 6th 14.38 lbs!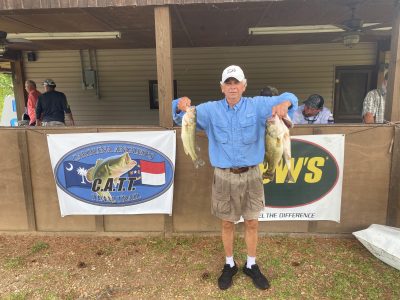 1st BF Casey & Carter Stanley with a 5.88 lb bass!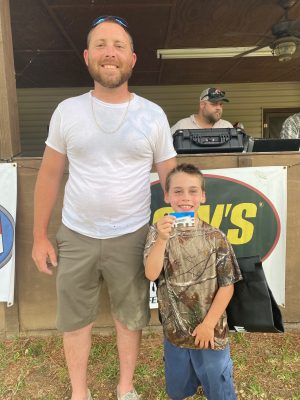 2nd BF Michael Richardson with a 5.16 lb bass!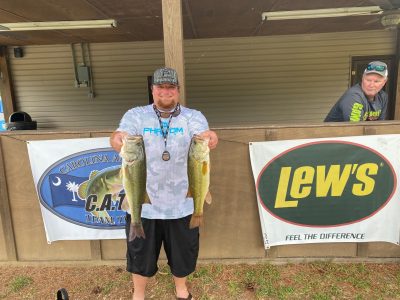 Team
BF
Weight
Winnings
Points
Walt Almond & Chad Rabon
4.74
19.90
$750.00
110
Butch Williams & Max Price
4.46
16.69
$200.00
109
Matt Nettles & RB Blackmon
4.54
16.26
$80.00
108
Chad Gainey & Jeffrey Furr
4.33
15.57
107
Jeff Norris & Jacob Norris
4.22
15.56
106
Jimmy McFarland & Calving Griggs
4.19
14.38
105
Michael Richardson
5.16
14.21
$45.00
104
Casey Stamey & Carter Stamey
5.88
13.99
$105.00
103
Greg Sigmon & Paul Wells
4.31
13.76
102
Allan Fletcher & Tanner Fletcher
4.48
13.30
101
Dalton Haven & Eric Werhesman
4.07
11.16
100
Jason Ries & Roger McKee
3.22
9.93
99
Steve Phillips
0.00
0.00
89
Jeff Reynolds & Trent McLaughlin
0.00
0.00
89
Wesley Bilton & Andrew Bull
0.00
0.00
89
Total Entrys
$1,200.00
BONUS $
$300.00
Total Paid At Ramp
$1,180.00
2021 Wateree Summer Final Fund
$240.00
2021 CATT Championship/Phantom Fund
$0.00
2021 Wateree Summer Fund Total
$580.00
2021 CATT Championship/Phantom Fund Total
$0.00