Next Lake Wateree Fall CATT is October 30th at Clearwater Cove Marina! Fishing is tough and it's anybody's game!
Butch Williams & David Ethridge took 1st Place with a limit  weighing 10.96 lbs!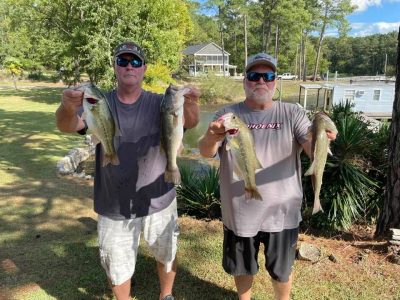 Barry Brown & Paul Galloway 2nd with 9.27 lbs & the BF at 4.50 lbs!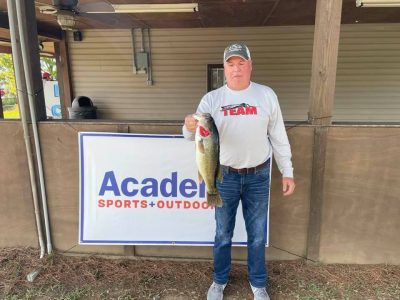 Samantha Bryant & Tyler Jackson with some nice ones!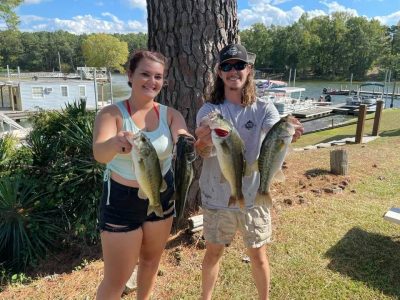 | | | | | |
| --- | --- | --- | --- | --- |
| Team | BF | Weight | Winnings | Points |
| Butch Williams & David Ethridge | 3.00 | 10.96 | $700.00 | 110 |
| Barry Brown & Paul Galloway | 4.50 | 9.27 | $305.00 | 109 |
| Greg Sigmon – Jeff Knight | 2.19 | 8.88 | $100.00 | 108 |
| Tyler Jackson & Samantha Bryant | 2.62 | 8.25 | | 107 |
| Bubba Baker & Colden Baker | 3.64 | 7.90 | $45.00 | 106 |
| Steve Phillips | 2.31 | 6.20 | | 105 |
| Jason Reis & Roger McKee | 2.49 | 5.93 | | 104 |
| Jay Adams – Tony Colacercio | 0.00 | 5.70 | | 103 |
| Duke Kuhn | 3.41 | 5.14 | | 102 |
| Danny Gibson – Wesley Funderburke | 0.00 | 3.14 | | 101 |
| Jermaine Roach – Steve Gelespe | 0.00 | 0.00 | | 91 |
| Jeff Norris | 0.00 | 0.00 | | 91 |
| Mark Richardson – Rhett Richardson | 0.00 | 0.00 | | 91 |
| Alan Fletcher | 0.00 | 0.00 | | 91 |
| Mike Weir – Josh Finley | 0.00 | 0.00 | | 91 |
| Total Entrys | | | $1,200.00 | |
| BONUS $ | | | $250.00 | |
| Total Paid At Ramp | | | $1,150.00 | |
| Wateree FALL 2021 Final Fund | | | $230.00 | |
| 2022 CATT Championship/Phantom Fund | | | $30.00 | |
| 2021 Wateree Fall Final Fund Total | | | $505.00 | |
| 2022 CATT Champ/Phantom  Fund Total | | | $0.00 | |