Next Wateree Open is Mar 21st!
To view the Lake Wateree Points go to the Lake Wateree Open Division page and scroll down to the bottom!
Use PHANTOMCATT15 at checkout and receive 15% off your Phantom Gear order!
Jeff & Jacob Norris win the open making it 2 in a row! 21.21 lbs!

Dillon Locklear finished 2nd with 19.82 lbs!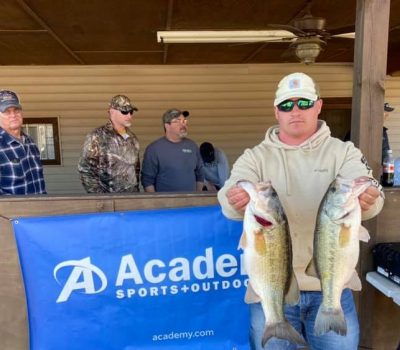 | | | | | |
| --- | --- | --- | --- | --- |
| 24 Team | BF | Weight | Winnings | Points |
| Jeff Norris-Jacob Norris | 5.83 | 21.21 | $1,351.00 | 110 |
| Dillon Locklear | 5.33 | 19.82 | $429.00 | 109 |
| Mike King-Mark Healon | 4.49 | 18.62 | $210.00 | 108 |
| Greg Sigmon-Robbie Usher | 4.69 | 18.32 | $150.00 | 107 |
| Shane Cantley-Michael Richardson | 4.49 | 17.62 | | 106 |
| Jerry Freezon | 4.99 | 17.15 | | 105 |
| Jim Davis-Mike Allman | 4.97 | 16.35 | | 104 |
| Alan Fletcher-Tanner Fletcher | 4.67 | 15.59 | | 103 |
| Jermaine Roach-Steve Gelpsie | 3.43 | 14.73 | | 102 |
| Scott Williams-Robbie English | 4.52 | 14.65 | | 101 |
| Chad Gainey-Mack Kitchens | 4.11 | 14.37 | | 100 |
| Chad Rabon-Walt Almond | 3.86 | 13.64 | | 99 |
| Greg Corbin-Jay Avery | 4.58 | 11.47 | | 98 |
| Craig Haven-Tim Haven | 3.18 | 11.19 | | 97 |
| Garret Brown-David Mates | 3.04 | 11.02 | | 96 |
| Steve Phillips-Jason Bateman | 0.00 | 3.95 | | 95 |
| Jimmy McFarland-Mike Byrd | 0.00 | 0.00 | | 94 |
| Greg Atkinson-James Brunson | 0.00 | 0.00 | | 94 |
| Daniel Jordan-Kyle Jordan | 0.00 | 0.00 | | 94 |
| Butch Williams-David Ethridge | 0.00 | 0.00 | | 94 |
| Grady Oliver-Mike Jennings | 0.00 | 0.00 | | 94 |
| Matt Nettles-RB Blackmon | 0.00 | 0.00 | | 94 |
| Will Brewer-Brogen Moore | 0.00 | 0.00 | | 94 |
| Brian Sweeney-Dan Sweeney | 0.00 | 0.00 | | 94 |
| 2020 Wateree Open Final Fund | | | $300.00 | |
| 2020 Wateree Open Final Fund Total | | | $615.00 | |
| 2020 Wateree Open Point Fund | | | $180.00 | |
| **2019 Point Winners Free Entry | | | | |
| 2020 Pt Winners Receive Free Entry 2021 | | | | |
| Teams 2-6 In Points Receive $$ | | | | |