Next Lake Wateree Open is this coming Saturday at Clearwater Cove Marina!
Open Tournaments – $100 Entry, $25 Sidepot
Final Tournament – $130 Entry, $50 Sidepot
Must enter 6 Opens to be eligible to enter the Open Final
Must fish Wateree Open Final with your partner or a sub your team used
NO NEW SUBS AT FINAL & NO PAIRING UP AT FINAL WITH ANOTHER MEMBER
Safe Daylight – Weigh in Determined at Ramp
$100 Entry Optional $25 side pot at each event!
Plaques awarded to Point Winners & Final Winners
1st Place Points – Receive free entry to all 2022 Wateree Open Events
2nd Points -$500
3rd Points – $350
4th Points – $250
5th Points – $200
6th Points – $150
Jim Davis & Kyle Westerman double up and win the Wateree Open with 21.10 lbs!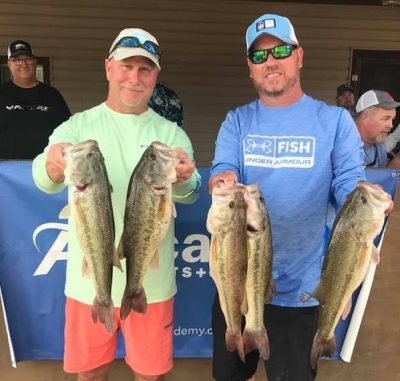 | | | | | |
| --- | --- | --- | --- | --- |
| 24 Teams | BF | Weight | Winnings | Points |
| Jim Davis & Kyle Westerman | 4.72 | 21.10 | $1,215.00 | 110 |
| Jason Quinn & John Paul George | 4.79 | 19.13 | $360.00 | 109 |
| Allan Fletcher & Tanner Fletcher | 4.64 | 17.41 | $210.00 | 108 |
| Lorenzo Portee & Gary Cunningham | 3.99 | 17.14 | $150.00 | 107 |
| Jacob Norris & Jeff Norris | 4.28 | 16.48 | | 106 |
| Dean Benfield & Donnie Maiers | 4.36 | 16.10 | | 105 |
| Brad Petway & Jerry Freezon | 3.93 | 15.55 | | 104 |
| Chad Gainey & Jeffrey Furr | 3.75 | 14.76 | | 103 |
| Jeff Reynolds & Trent McLaughlin | 5.19 | 13.95 | $69.00 | 102 |
| Butch Williams & David Ethridge | 3.43 | 13.48 | | 101 |
| Shane Cantley | 4.37 | 13.20 | | 100 |
| Jermaine Roach & Steve Gelespie | 3.81 | 12.17 | | 99 |
| Bryan Holmes & Mike Ware | 5.29 | 9.85 | $161.00 | 98 |
| Greg Corbin & Jay Avery | 5.05 | 8.77 | | 97 |
| Scott Williams & Robbie English | 3.12 | 7.38 | | 96 |
| Paul Wells | 0.00 | 0.00 | | 86 |
| Max Price & Brent Neal | 0.00 | 0.00 | | 86 |
| Craig Haven | 0.00 | 0.00 | | 86 |
| Mark Healon & Ella Healon | 0.00 | 0.00 | | 86 |
| Jimmy Bass | 0.00 | 0.00 | | 86 |
| Brennon West & Harrison West | 0.00 | 0.00 | | 86 |
| David Winters & Tim Chapman | 0.00 | 0.00 | | 86 |
| Rodney Cromer | 0.00 | 0.00 | | 86 |
| Dalton Haven & Tim Haven | 0.00 | 0.00 | | 86 |
| | | | | |
| 2021 Wateree Open Points | | | $400.00 | |
| 2021 Wateree Open Final | | | $700.00 | |