Next Lake Wateree Open is March 19th at Molly Creek!
Jacob & Jeff Norris swept the CATT events on Lake Wateree Saturday! They won the CATT Qualifier and the Open with 21.62 lbs! The Open win was worth $1,165.00!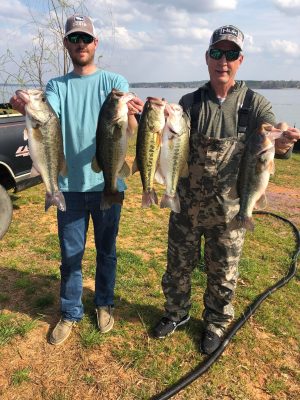 Bubba & Cole Jackson took 2nd with 5 bass weighing 20.80 lbs!
Stacy Seagars & Jonathan Hilton finished 3rd with 18.78 lbs!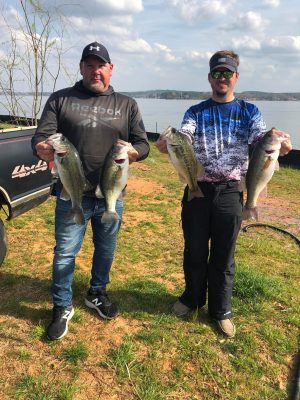 Trent McLaughlin & Dearal Rogers claimed 4th with 18.06 lbs!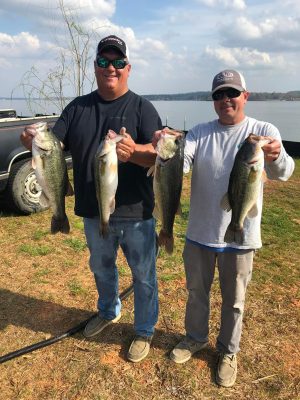 Robbie English & Scott Williams weighed in the 2nd BF at 5.50 lbs!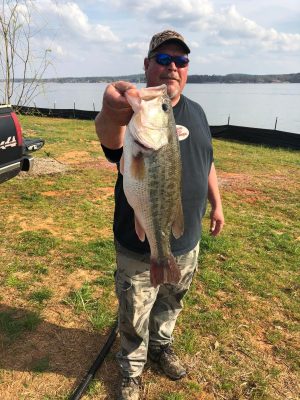 | | | | | | |
| --- | --- | --- | --- | --- | --- |
| Team | BF | Weight | Winnings | Points | |
| Jeff Norris & Jacob Norris | 5.62 | 21.62 | $1,165.00 | 110 | 1st, 1st Big Fish, Side Pot |
| Cole Jackson & Bubba Jackson | 4.88 | 20.80 | $320.00 | 109 | 2nd |
| Stacy Seagars & Jonathan Hilton | 4.72 | 18.78 | $160.00 | 108 | 3rd |
| Trent McLaughlin & Dearal Rogers | 4.65 | 18.06 | $120.00 | 107 | 4th |
| Pat Whaley | 4.08 | 17.91 | | 106 | |
| Donald Hinson & John Coward | 3.80 | 16.26 | | 105 | |
| Paul Wells & Craig Haven | 3.72 | 14.60 | | 104 | |
| Robbie English & Scott Williams | 5.50 | 14.06 | $60.00 | 103 | 2nd Big Fish |
| Phillip Anderson & Russ Padgett | 3.53 | 14.03 | | 102 | |
| Jerry Freezon | 3.79 | 13.83 | | 101 | |
| Shane Cantley & Michael Richardson | 3.17 | 13.68 | | 100 | |
| Jay Adams Jr. | 3.35 | 12.67 | | 99 | |
| Brent Neal & Max Price | 3.94 | 11.92 | | 98 | |
| Rick Corn & Drew Faulkenberry | 3.42 | 11.83 | | 97 | |
| Zack Clayton & Preston Wilkes | 3.19 | 11.79 | | 96 | |
| John Mitchell & Blake Tucker | 2.96 | 10.95 | | 95 | |
| Tim Haven & Dalton Haven | 2.92 | 10.43 | | 94 | |
| Kareem White & Jaylon White | 2.60 | 10.30 | | 93 | |
| Butch Williams & David Ethridge | 3.04 | 9.97 | | 92 | |
| Jared Upchurch & Jason Upchurch | 3.69 | 7.87 | | 91 | |
| Jay Adams & Tony C | 0.00 | 0.00 | | 81 | |
| | | | | | |
| 2022 Wateree Open Points | | | $215.00 | | |
| 2022 Wateree Open Final | | | $400.00 | | |