Next Wateree Open is May 29th at Clearwater Cove Marina!
David Ethridge & Butch Williams earned 1st Place with 5 bass weighing 19.25 lbs!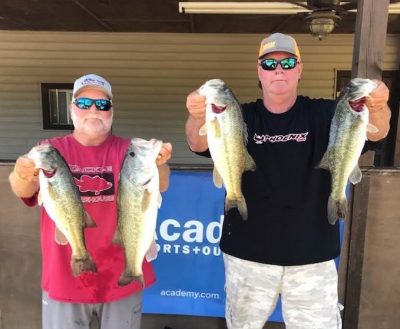 Matt Nettles & George Nettles 2nd Place 18.31 lbs!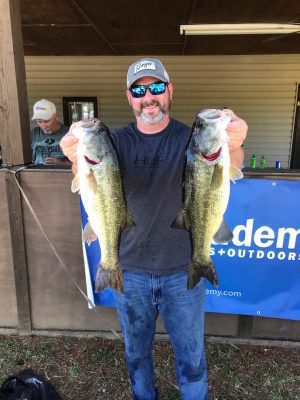 Dean Benfield & Donnie Maiers 3d 17.32 lbs!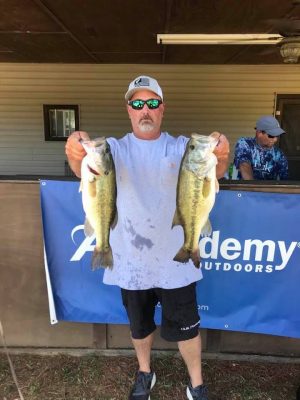 Greg Nettles & Paul Wilkie 4th with 16.68 lbs!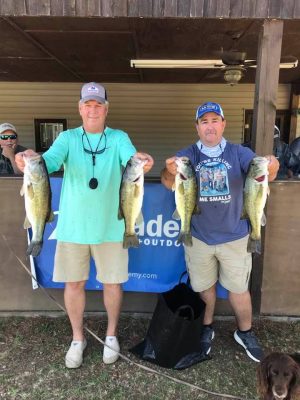 Jacob & Jeff Norris 5th 16.66 lbs!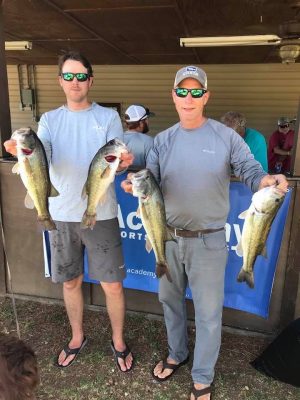 Barry Hollman & Joey Bramlett 6th with 16.64 lbs!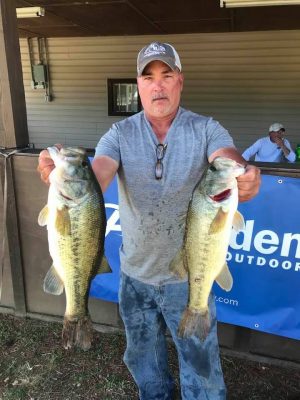 | | | | | |
| --- | --- | --- | --- | --- |
| Team | BF | Weight | Winnings | Points |
| Butch Williams & David Ethridge | 5.29 | 19.25 | $1,247.00 | 110 |
| Matt Nettles & George Nettles | 4.02 | 18.31 | $330.00 | 109 |
| Dean Benfield & Donnie Maiers | 4.72 | 17.32 | $175.00 | 108 |
| Paul Wilkie & Greg Nettles | 4.17 | 16.68 | $130.00 | 107 |
| Jeff Norris & Jacob Norris | 3.96 | 16.66 | | 106 |
| Barry Holloman & Joey Bramlett | 4.67 | 16.64 | | 105 |
| Scott Williams & Robbie English | 4.89 | 15.73 | $63.00 | 104 |
| Michael Criminger & Brian Herd | 3.85 | 14.88 | | 103 |
| Chad Gainey | 3.46 | 14.63 | | 102 |
| Shane Cantley & Michael Richardson | 0.00 | 13.29 | | 101 |
| Allan Fletcher & Tanner Fletcher | 3.55 | 13.17 | | 100 |
| Ray Dowey & Chanon Dowey | 3.69 | 12.71 | | 99 |
| Trent McLaughlin & Jeff Reynolds | 0.00 | 12.51 | | 98 |
| Craig Haven | 3.22 | 12.25 | | 97 |
| Tim Haven & Abby Haven | 3.02 | 10.51 | | 96 |
| Michael Hilton & Jonathan Hilton | 3.46 | 8.66 | | 95 |
| Scott Floyd & Greg Corvin | 2.77 | 7.05 | | 94 |
| William Hester & Monte Greg | 0.00 | 6.57 | | 93 |
| Rusty Ballard | 0.00 | 0.00 | | 83 |
| Steve Phillips | 0.00 | 0.00 | | 83 |
| Greg Sigmon | 0.00 | 0.00 | | 83 |
| Kenneth McFarland | 0.00 | 0.00 | | 83 |
| | | | | |
| 2021 Wateree Open Points | | | $300.00 | |
| 2021 Wateree Open Final | | | $1,115.00 | |