Next Lake Wateree Open is June 10th at Clearwater Cove Marina!
Must enter 3 Opens to be eligible to enter the Open Final
Fishing an Open solo will count for your teams Final Qualification
Must fish Wateree Open Final with your partner or a sub your team used
NO NEW SUBS AT FINAL & NO PAIRING UP AT FINAL WITH ANOTHER MEMBER
Safe Daylight – Weigh in Determined at Ramp
$100 Entry Optional $25 side pot at each event!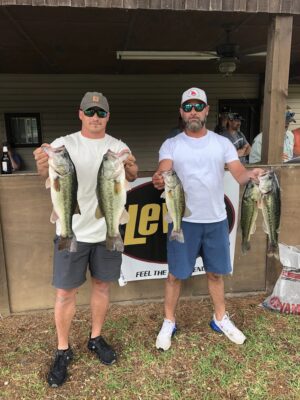 Jonathan Dailey & Dylan Locklear win Wateree with 5 bass weighing 16.75 lbs!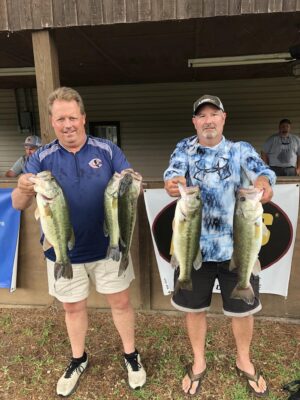 Todd Butler & Mack Kitchens 2nd with 16.50 lbs!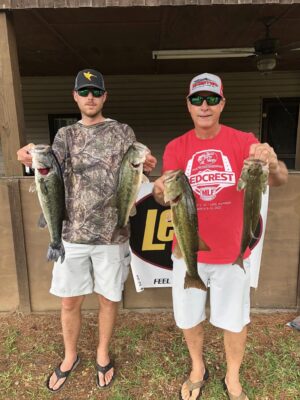 3rd Jeff & Jacob Norris with 16.41 lbs!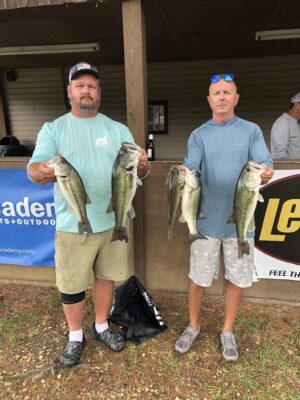 Robert Jackson & Darrell Fenton 4th with 14.41 lbs! They also weighed in the BF at 5.10 lbs!
| | | | | |
| --- | --- | --- | --- | --- |
| Team | BF | Weight | Winnings | Points |
| Jonathan Dailey – Dylan Locklear | 4.53 | 16.75 | $765.00 | 110 |
| Todd Butler – Mack Kitchens | 3.80 | 16.50 | $225.00 | 109 |
| Jeff Norris – Jacob Norris | 4.00 | 16.41 | | 108 |
| Darrell Fenton – Robert Jackson | 5.10 | 14.59 | $91.00 | 107 |
| Donald Hinson – Tyler Hinson | 2.93 | 14.41 | | 106 |
| Jess Williams – Mark Healon | 4.35 | 14.35 | | 105 |
| Butch Williams – Sonny Beam | 3.37 | 14.06 | | 104 |
| Greg Nettles – Matt Nettles | 4.67 | 13.81 | $39.00 | 103 |
| Steve Phillips – Chad Sims | 3.33 | 13.52 | | 102 |
| Craig Haven – Paul Wells | 4.45 | 13.19 | | 101 |
| Bob Weaver – Scott Floyd | 2.95 | 13.00 | | 100 |
| David Weatherford – Brian Kicker | 3.24 | 11.83 | | 99 |
| Jason Ries – Roger McKee | 2.69 | 11.36 | | 98 |
| Scott Williams – Robbie English | 0.00 | 0.00 | | 88 |
| | | | | |
| 2023 Wateree Open Points | | | $955.00 | |
| 2023 Wateree Open Final | | | $715.00 | |