Next Wateree Open is Oct 1st at Clearwater Cove Marina! No membership $100 entry & $25 optional side pot!
Wateree has been tough on most but not the Norris boys! They brought in 5 bass weighing 17.59 lbs and took home $630.00!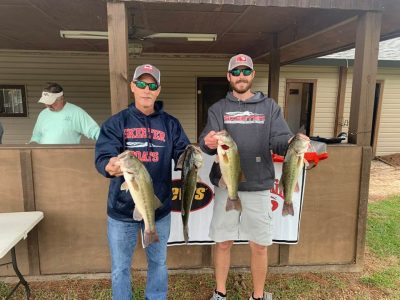 2nd went to Craig Haven & Wes Jackson with a limit weighing 13.84 lbs!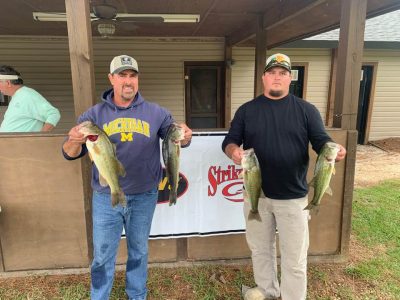 Greg Atkinson & Abby Atkinson grabbed 3rd with 13.61 lbs and the 1st BF at 5.05 lbs!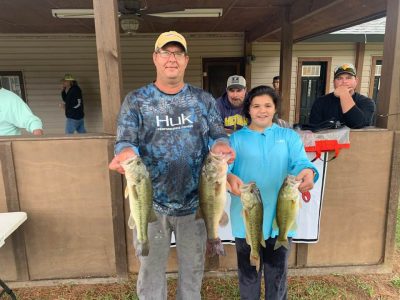 | | | | | |
| --- | --- | --- | --- | --- |
| Team | BF | Weight | Winnings | Points |
| Jacob Norris – Jeff Norris | 3.98 | 17.59 | $630.00 | 110 |
| Craig Haven – Wes Jackson | 3.64 | 13.84 | $140.00 | 109 |
| Greg Atkinson – Abby Atkinson | 5.05 | 13.61 | $70.00 | 108 |
| Scott Williams – Robbie English | 3.25 | 13.02 | | 107 |
| Brad Petway – Jerry Freezon | 3.18 | 8.65 | | 106 |
| Steve Phillips | 0.00 | 3.59 | | 105 |
| Scott Floyd – Greg Corvin | 0.00 | 2.58 | | 104 |
| Alan Fletcher – Tanner Fletcher | 0.00 | 0.00 | | 103 |
| Sonny Beam – Butch Williams | 0.00 | 0.00 | | 103 |
| 2020 Wateree Open Final Fund | | | $100.00 | |
| 2020 Wateree Open Final Fund Total | | | $1,595.00 | |
| 2020 Wateree Open Point Fund | | | $1,000.00 | |
| **2019 Point Winners Free Entry | | | | |
| 2020 Pt Winners Receive Free Entry 2021 | | | | |
| Teams 2-6 In Points Receive $$ | | | | |