We wrapped up another great Spring season on Lake Wateree with 34 teams vying for a total purse of $7,265.00! Check out the upcoming Wateree Summer Trail starting May 25th!
Lews provided us with a Mach Speed Stick for the 1st Place BF winner and Academy Sports for providing the 2nd Place BF winner a $25 Academy Gift Card!
Ken McFarland weighed in a 6.32 lb bass and received a Lews Mach Speed Stick!
Sonny Beam with his $25 Academy Gift Card for weighing in the 2nd BF at 4.91 lbs!
Sonny has been fishing CATT since we started in 1997!
Darryl Watson & Ken McFarland grabbed the Big Money Saturday at Wateree with 5 bass weighing 17.80 lbs! They also weighed in the 1st BF at 6.32 lbs and took home a total of $3,981.00!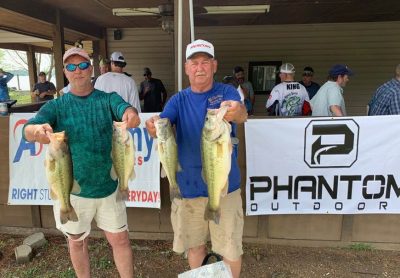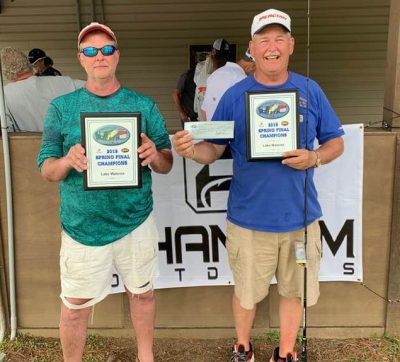 Lewis Thompson & Mike King finished 2nd with 16.21 lbs and they collected $1,450.00!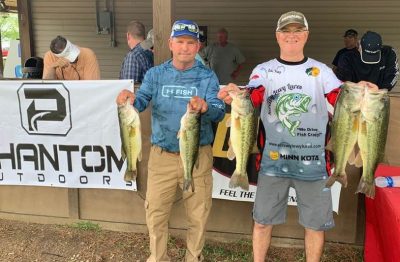 Jacob & Jeff Norris 3rd with 16.02 lbs! $610.00!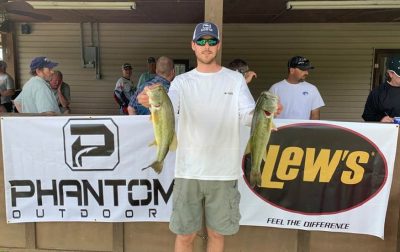 Sonny Beam & Dean Benfield 4th 15.33 lbs! $499.00!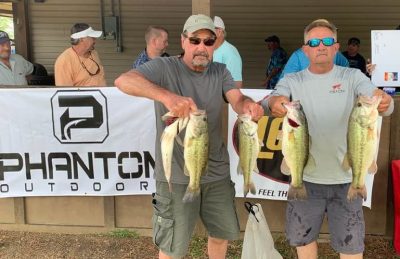 Jonathan Strickland & Dustin Compton 5th 15.39 lbs! $300.00!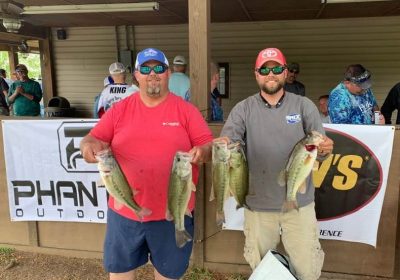 Scott Williams & Robbie English 6th 15.22 lbs! $200.00!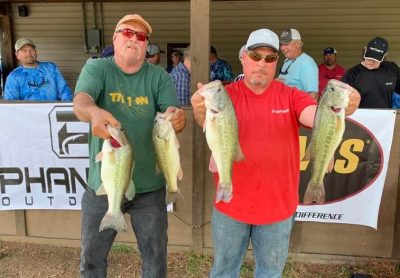 Chad Gainey & Mack Kitchens were the 2019 Lake Wateree Spring Point Winners!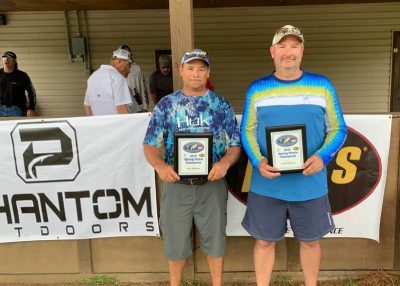 | | | | |
| --- | --- | --- | --- |
| | Big | Total | Total |
| 34 teams | Fish | Weight | Winnings |
| Darryl Watson – Ken McFarland | 6.32 | 17.80 | $3,981.00 |
| Mike King – Lewis Thompson | 3.95 | 16.21 | $1,450.00 |
| Jacob Norris – Jeff Norris | 4.06 | 16.02 | $610.00 |
| Dean Benfield – Sonny Beam | 4.91 | 15.53 | $499.00 |
| Dustin Compton – Jonathan Strickland | 3.84 | 15.39 | $300.00 |
| Scott Williams – Robbie English | 3.76 | 15.22 | $200.00 |
| Greg Atkinson – Ron Catoe | 3.86 | 14.79 | |
| Alan Fletcher – Donald Hinson | 3.16 | 13.69 | |
| David Ethridge – Butch Williams | 3.40 | 13.43 | |
| Cleve Yarborough – Craig Mathews | 3.16 | 13.13 | |
| Bobby Purvis – Matt Ross | 3.59 | 12.89 | |
| Casey Stevens – Jason McCoy | 3.29 | 12.28 | |
| Sam Dowey – Tommy Moak | 4.33 | 12.03 | |
| Chad Gainey – Mack Kitchens | 3.89 | 11.96 | |
| Bryan Holmes –  Mike Ware | 0.00 | 10.84 | |
| Andrew Boykin | 2.82 | 10.62 | |
| Max Price – Brent Neal | 3.45 | 9.97 | |
| Tim Haven – Craig Haven | 3.84 | 9.60 | |
| Zane Ross – Skeebo Kelly | 0.00 | 8.87 | |
| David Canupp – David Canupp | 4.03 | 7.54 | |
| Barry Brown – Steven Walker | 2.51 | 5.52 | |
| Brad Petway – Brett Collins | 0.00 | 4.83 | |
| Bob Weaver – Scott Williams | 4.20 | 4.20 | |
| Matt Nettles – Greg Nettles | 0.00 | 0.00 | |
| Paul Geddings – Bruce Peavy | 0.00 | 0.00 | |
| Greg Sigmon | 0.00 | 0.00 | |
| Donald Wells – Paul Wells | 0.00 | 0.00 | |
| Lee Royson – Jeff Reynolds | 0.00 | 0.00 | |
| Chad Rabon – Walt Almond | 0.00 | 0.00 | |
| Jim Davis – Mike Allman | 0.00 | 0.00 | |
| Mark Healon – Tony Truett | 0.00 | 0.00 | |
| Wesley Jackson | 0.00 | 0.00 | |
| Jerry Freezon | 0.00 | 0.00 | |
| Kirk Crump – Eric Dry | 0.00 | 0.00 | |
| Total Entrys | | | $3,960.00 |
| BONUS $ | | | $750.00 |
| Wateree Spring Final Fund | | | $2,380.00 |
| Total Paid At Ramp Cash & Prizes | | | $7,265.00 |
| Total Paid Spring 2019 Lake Wateree | | | $21,120.00 |