Next up is the CATT Wateree Summer Trail! Starts this coming weekend June 20 at Clearwater Cove Marina!
Even with the shortened Spring season we still paid out over $12,000.00 at the Wateree Spring Trail and the fishing has been pretty good! Jonathan Strickland & Dustin Compton made it 2 in a row weighing 5 bass at 18.15 lbs! They also weighed in the 2nd BF of the Final at 4.93 lbs and took home $2,703.00 in cash and an Academy Gift Card valued at $25! Great job guys!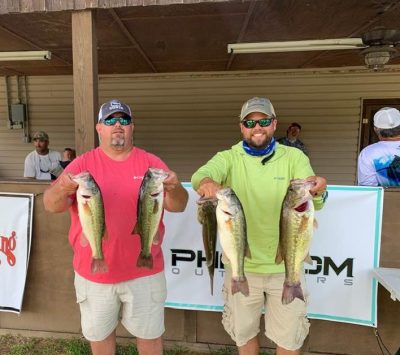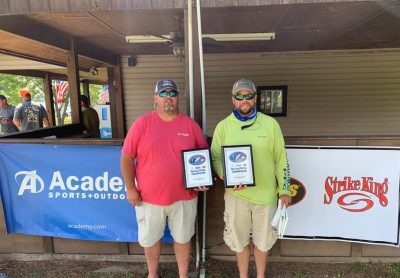 Paul & Donald  Wells earned 2nd Place with 5 bass weighing 16.17 lbs and took home $1,000.00!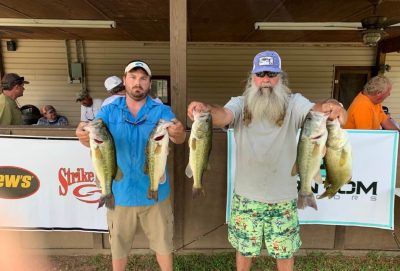 Tanner & Alan Fletcher finished 3rd with 16.11 lbs worth $500.00! They also won the Wateree Spring Points!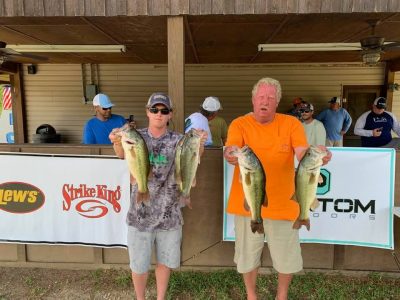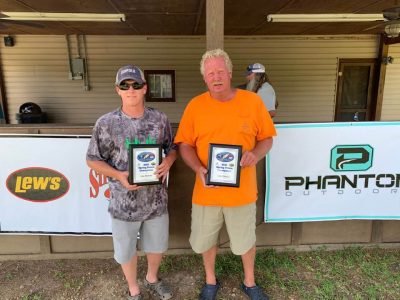 Michael Richardson weighed in the Lews BF at 5.50 lbs and took home $182.00 plus a Lews Baitcast Reel!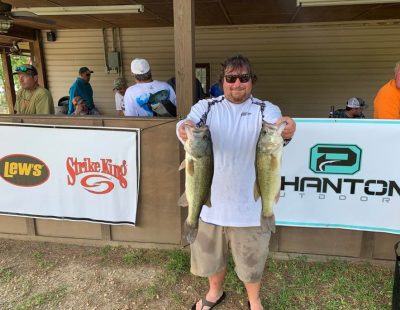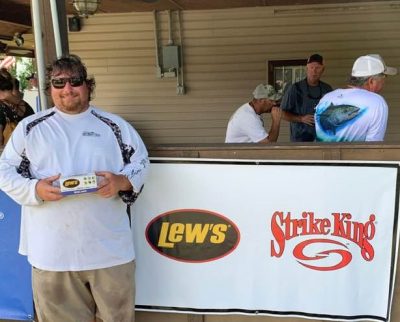 | | | | |
| --- | --- | --- | --- |
| | Big | Total | Total |
| 24 teams | Fish | Weight | Winnings |
| Dustin Compton – Jonathan Strickland | 4.93 | 18.15 | $2,703.00 |
| Donald Wells – Paul Wells | 3.85 | 16.17 | $1,000.00 |
| Alan Fletcher – Tanner Fletcher | 4.24 | 16.11 | $500.00 |
| David Ethridge – Butch Williams | 4.65 | 15.76 | $250.00 |
| Gary Michaud | 4.52 | 14.98 | $150.00 |
| Michael Richardson | 5.50 | 14.89 | $182.00 |
| Donald Hinson – Carl Smith | 4.69 | 14.69 | |
| Matt Nettles – RB Blackmon | 3.73 | 14.63 | |
| Mike Ware | 4.20 | 14.52 | |
| John George – Jason Quinn | 3.52 | 13.94 | |
| Chad Rabon – Walt Almond | 3.62 | 13.92 | |
| Tim Haven – Craig Haven | 2.93 | 13.74 | |
| Chad Gainey – Jeffrey Furr | 3.03 | 12.48 | |
| Jacob Norris | 3.02 | 11.78 | |
| Greg Sigmon | 3.11 | 11.32 | |
| Greg Nettles – Paul Wilkie | 2.55 | 11.14 | |
| Max Price – Brent Neal | 0.00 | 11.07 | |
| James Gibbons | 2.66 | 11.02 | |
| Trent McLaughlin – Jeff Reynolds | 2.92 | 10.45 | |
| Mike King – Mark Healon | 3.00 | 9.80 | |
| John Mitchell – Monroe | 2.36 | 9.61 | |
| Bubba Baker – Colden Baker | 2.79 | 9.48 | |
| Chris Sullivan | 0.00 | 8.97 | |
| Steve Phillips | 0.00 | 7.56 | |
| Scott  Floyd – Greg Corvin | 2.18 | 2.18 | |
| Darryl Watson – Ken McFarland | 0.00 | 0.00 | |
| Ron Catoe – Bo Simon | 0.00 | 0.00 | |
| Total Entrys | | | $3,120.00 |
| BONUS $ | | | $625.00 |
| Wateree Spring Final Fund | | | $1,040.00 |
| Total Paid At Ramp Cash & Prizes | | | $5,010.00 |
| Total Paid Spring 2020 Lake Wateree | | | $12,670.00 |