The Next lake Wylie Spring CATT is March 30th at Buster Boyd Bridge!
Guys remember 1st Place at the Wylie Final is taking home $3,000.00!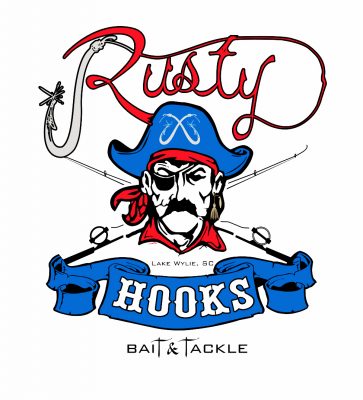 Sponsored by Rusty Hooks Bait & Tackle located at 4070 Charlotte Hwy, Lake Wylie
$100 Rusty Hooks Bait & Tackle Gift Certificate awarded at each Wylie Event!
(Old HuntFishPaddle Location)
****Highest finishing team at the Final with a Level Performance Rod in their boat receives 2 FREE Level Performance Rods! $400 value!
****(Level Rods must be purchased from Rusty Hooks Bait & Tackle) Proof of Purchase Must be Shown!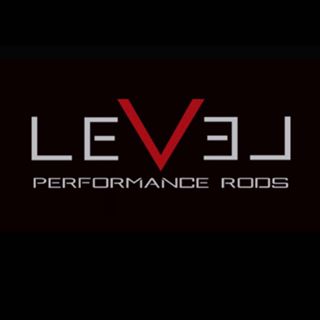 Enter 2 Lake Wylie Qualifiers & Qualify for the Wylie Final!
Fish 2 as a team – Also Fishing a Qualifier solo once or with a sub once counts toward Final Qualification!
Jason Curtis and Rankin Chapman took 1st Place with 5 bass weighing 14.32 lbs!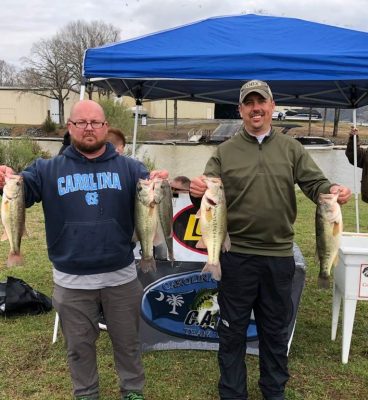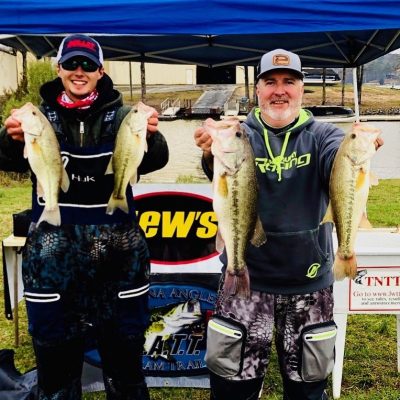 | | | | | |
| --- | --- | --- | --- | --- |
| 27 Teams | Big | Total | Total | |
| Team | Fish | Weight | Winnings | Points |
| Rankin Chapman/Jason Curtis | 3.88 | 14.32 | $1,050.00 | 110 |
| Thomas Richmond/Artie Phillips | 3.74 | 14.14 | $350.00 | 109 |
| Pug and James Clements | 4.65 | 13.56 | $225.00 | 108 |
| Seth Rainy/Justin Bushue | 3.90 | 13.22 | $125.00 | 107 |
| Nathan Webber/Hunter Harwell | 2.84 | 12.53 | $100.00 | 106 |
| Grayson Cook/ Mark Cook | 4.76 | 12.27 | $90.00 | 105 |
| Mark and Zach Leech | 4.70 | 11.96 | | 104 |
| Jay Adams/Jay Adams Jr | 4.90 | 11.83 | $190.00 | 103 |
| Tim Chapman | 4.67 | 10.97 | | 102 |
| David Redman/Clay Williams | 0.00 | 10.94 | | 101 |
| David Winters/Mike Buschue | 0.00 | 10.61 | | 100 |
| Brandon Grahm/Alex Palomba | 2.39 | 10.19 | | 99 |
| Eddie Smith | 3.43 | 10.12 | | 98 |
| Ben Lattimore/Roger Hamrick | 0.00 | 9.35 | | 97 |
| Alex and Will Dewey | 0.00 | 8.69 | | 96 |
| David Calbert/Bill Carothers | 0.00 | 6.17 | | 95 |
| Adam Filmore/Josh Goode | 0.00 | 5.80 | | 94 |
| Christian Beaumont/Ron W | 0.00 | 4.01 | | 93 |
| Donald Black/Chis Cook | 0.00 | 3.91 | | 92 |
| Terry Carteret | 0.00 | 0.00 | | 91 |
| Brent Kwkowski/Todd Farris | 0.00 | 0.00 | | 91 |
| Joe Floyd/Mike Stone | 0.00 | 0.00 | | 91 |
| Randy Coleman | 0.00 | 0.00 | | 91 |
| Scott McGinnis/Caleb Propst | 0.00 | 0.00 | | 91 |
| steven Sutton/Stan Jimson | 0.00 | 0.00 | | 91 |
| Jason Quinn/John Paul | 0.00 | 0.00 | | 91 |
| Robert Fowler/Angela Mayfield | 0.00 | 0.00 | | 91 |
| Total Entrys | | | $2,160.00 | |
| BONUS $ | | | $500.00 | |
| Total Paid At Ramp | | | $2,130.00 | |
| Wylie 2019 Spring Final Fund | | | $450.00 | |
| 2019 CATT Championship Fund | | | $50.00 | |
| 2019 Wylie Spring Final Fund Total | | | $955.00 | |
| 2019 CATT Championship Fund Total | | | $3,600.00 | |