Next Lake Wylie CATT is March 18th at Buster Boyd Bridge! The fish are biting!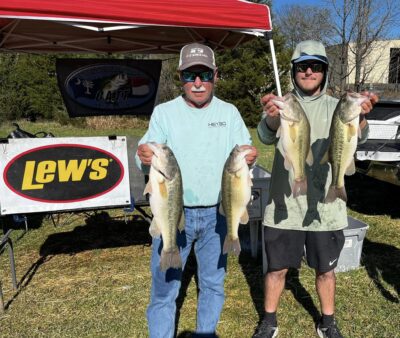 2
Mike Seawright & Kaden Buchmann make it 2 in a row on Wylie weighing in 5 bass at 19.92 lbs!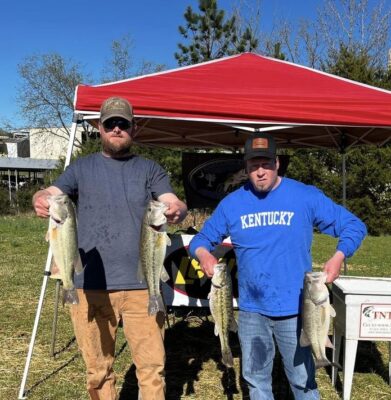 Jody Black & Jason Rhodes took 2nd Place with 17.43 lbs!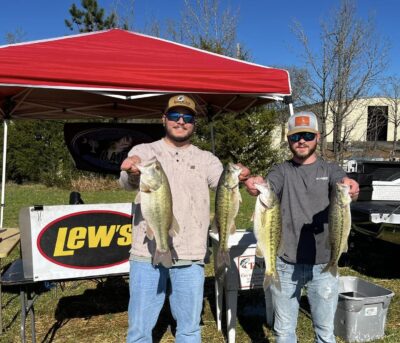 Stephen & Sawyer Sparrow 3rd with 17.02 lbs!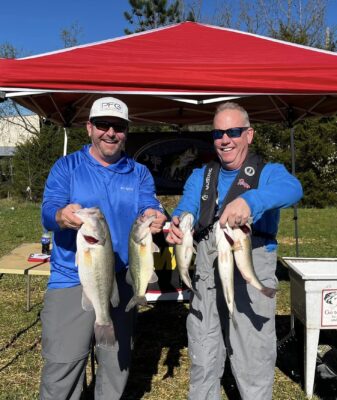 Tony Colacurcio & Jay Adams 4th with 15.23 lbs and weighed in the Academy BF at 5.71 lbs!
| | | | | |
| --- | --- | --- | --- | --- |
| Team | BF | Weight | Winnings | Points |
| Mike Seawright/Kaden Buchmann | 4.92 | 19.92 | $870.00 | 110 |
| Jody Black/Jason Rhodes | 5.02 | 17.43 | $279.00 | 109 |
| Stephen Sparrow/Sawyer Sparrow | 4.98 | 17.02 | $100.00 | 108 |
| Jay Adams/Tony Colacurcio | 5.71 | 15.23 | $126.00 | 107 |
| David Winters/Derek Lilly | 0.00 | 14.83 | | 106 |
| Glenn Sparrow/Chris B. | 0.00 | 13.26 | | 105 |
| Randy and Clay Williams | 0.00 | 11.58 | | 104 |
| Max Price/Hunter Denton | 0.00 | 10.39 | | 103 |
| Dave Calbert/Bill Carothers | 0.00 | 9.07 | | 102 |
| Paul McNeilly/Tracy Kale | 0.00 | 0.00 | | 92 |
| Tim Chapman/Eddie Smith | 0.00 | 0.00 | | 92 |
| Russell Mclean/Will Johnson | 0.00 | 0.00 | | 92 |
| Joe Floyd/Steve Roosen | 0.00 | 0.00 | | 92 |
| Cody Young | 0.00 | 0.00 | | 92 |
| Zach Whisonant/Mikayla Whisonant | 0.00 | 0.00 | | 92 |
| Brian Huskins/Thomas Vickers | 0.00 | 0.00 | | 92 |
| Joe Hansil/Dave Golding | 0.00 | 0.00 | | 92 |
| Hunter Hiers | 0.00 | 0.00 | | 92 |
| Total Entrys | | | $1,440.00 | |
| BONUS $ | | | $370.00 | |
| Total Paid At Ramp | | | $1,375.00 | |
| Wylie 2023 Spring Final Fund | | | $335.00 | |
| CATT | | | $50.00 | |
| 2023 CATT Championship Fund | | | $50.00 | |
| 2023 Wylie Spring Final Fund Total | | | $585.00 | |