Next Lake Wylie CATT is this coming Saturday! If we have over 40 teams at the Final the total purse will be well over $10,000.00! We have 33 teams as of now!
Enter 2 Lake Wylie Qualifiers & Qualify for the Wylie Final!
Fish 2 as a team and Fishing a Qualifier solo once or with a sub once counts toward Final Qualification!
Buster Boyd Bridge Landing! 
Spring Membership $35 Per Person
Optional $25 Side Pot 
Qualifiers $80 Entry Per Team – $90 at the Ramp
Final Entry $120 Per Team – $130 at the Ramp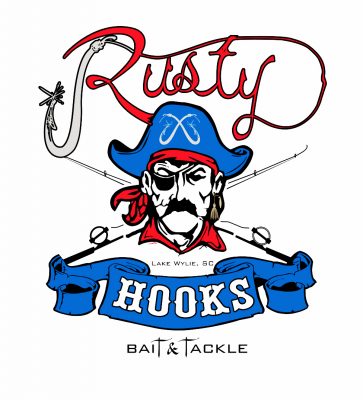 You can pay at Rusty Hooks Bait & Tackle any weekday!
Blastoff # is determined by order of payment!
Mike Seawright & Jason Eaker win Saturday at Wylie with 5 bass weighing 16.61 lbs and took home a total of $950.00!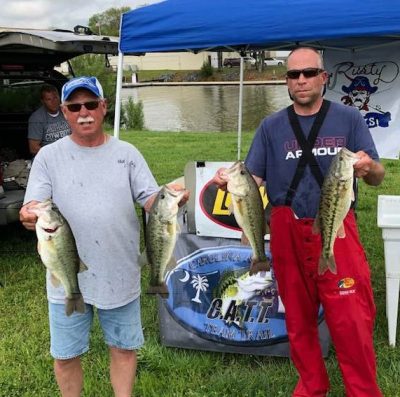 Scott Hamrick & Jeff Bracket 2nd with 14.32 lbs!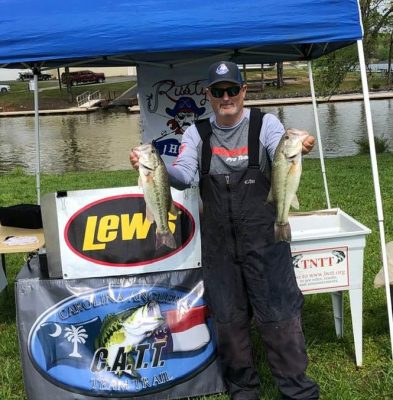 3rd David Redman & Clay Williams 12.92 lbs!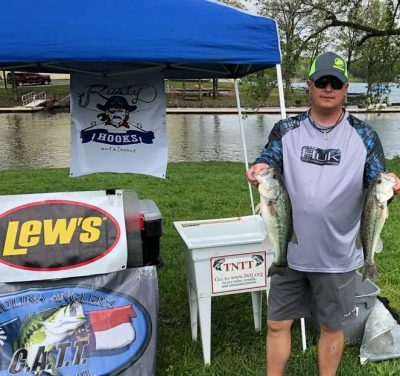 Robert Fowler & Angela Mayfield 4th 12.60 lbs and BF 5.32 lbs!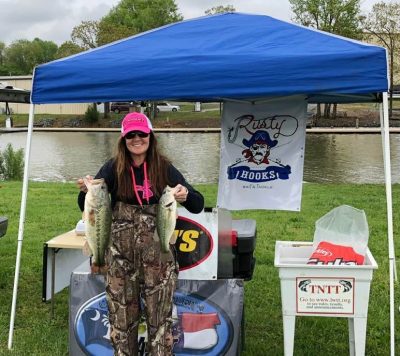 | | | | | |
| --- | --- | --- | --- | --- |
| | Big | Total | Total  | |
| 23 Teams | Fish | Weight | Winnings | Points |
| Mike Seawright – Jason Eaker | 3.88 | 16.61 | $950.00 | 110 |
| Scott Hamrick/Jeff Bracket | 3.52 | 14.32 | $300.00 | 109 |
| David Redman/Clay Williams | 3.41 | 12.92 | $200.00 | 108 |
| Robert Fowler/Angela Mayfield | 5.32 | 12.60 | $280.00 | 107 |
| Reggie Pollock/Marvin Godarb | 4.80 | 11.49 | $70.00 | 106 |
| David Winters/Brian Huskins | 3.05 | 11.38 | | 105 |
| Ron Wyesburg | 3.24 | 10.58 | | 104 |
| Tom Russell/Adam Freeman | 3.66 | 10.20 | | 103 |
| Will and Alex Dewey | 2.80 | 10.20 | | 102 |
| Todd Farris/Brent Keukowski | 4.02 | 10.02 | | 101 |
| Sawyer and Steven Sparrow | 0.00 | 9.89 | | 100 |
| Brandon Graham/Alex Palomba | 2.85 | 9.83 | | 99 |
| Ben Lattimore/Haden Pruit | 3.35 | 9.33 | | 98 |
| Nick Maples /Chis Cook | 1.82 | 8.18 | | 97 |
| Tim Chapman | 2.86 | 7.96 | | 96 |
| Joe Hansil/Jason Humphries | 2.66 | 5.74 | | 95 |
| David Calbert/Bill Carothers | 0.00 | 4.86 | | 94 |
| Collins Janus/Ryan Garaghty | 2.86 | 2.86 | | 93 |
| Ricky and Rick Corn | 0.00 | 0.00 | | 92 |
| Chris Dover | 0.00 | 0.00 | | 92 |
| Parks Jones/Peyton Copeland | 0.00 | 0.00 | | 92 |
| Johny Parker/Randy Moss | 0.00 | 0.00 | | 92 |
| Thomas Richmond/Dibb Wylie | 0.00 | 0.00 | | 92 |
| Total Entrys | | | $1,840.00 | |
| BONUS $ | | | $425.00 | |
| Total Paid At Ramp | | | $1,800.00 | |
| Wylie 2019 Spring Final Fund | | | $375.00 | |
| 2019 CATT Championship Fund | | | $50.00 | |
| 2019 Wylie Spring Final Fund Total | | | $2,150.00 | |
| 2019 CATT Championship Fund Total | | | $4,690.00 | |