Next up is the Lake Wylie Fall Final Dec 14th at Buster Boyd Bridge! Fishing has been tough on Lake Wylie as you can see! David Winters & Mike Allman win the Wylie Points and will fish the Wylie Free!
Joe Floyd & Mike Stone take the win with 9.46 lbs!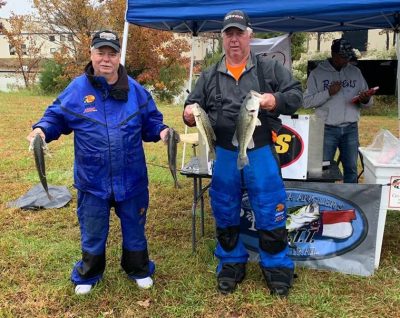 2nd went to Mike Allman & David Winters with 9.43 lbs!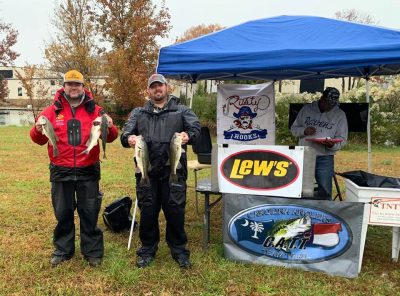 | | | | | | |
| --- | --- | --- | --- | --- | --- |
| | 15 Teams | BF | Weight | Winnings | Points |
| 1 | Mike Stone/Joe Floyd | 2.81 | 9.46 | $805.00 | 110 |
| 2 | David Winters/Mike Allman | 2.36 | 9.43 | $245.00 | 109 |
| 3 | Brent Kukowski/Pat Carter | 2.10 | 8.93 | $80.00 | 108 |
| 4 | Clay Williams/Mike Thompson | 1.68 | 7.68 | | 107 |
| 5 | Gordon Smith | 1.50 | 5.85 | | 106 |
| 6 | Michael Yokem/Jeff Wilson | 2.28 | 5.29 | | 105 |
| 7 | Glenn Sparrow/Chris Bumgardner | 0.00 | 4.16 | | 104 |
| 8 | John Walker/Brad Zeigler | 0.00 | 0.00 | | 103 |
| 9 | Jeff Ozman/Cason Causey | 0.00 | 0.00 | | 103 |
| 10 | Tim Chapman | 0.00 | 0.00 | | 103 |
| 11 | Artie Phillips/Thomas Richmond | 0.00 | 0.00 | | 103 |
| 12 | Mike Stephens | 0.00 | 0.00 | | 103 |
| 13 | Dave Calbert/Bill Carothers | 0.00 | 0.00 | | 103 |
| 14 | Todd Garner/Jeff Raby | 0.00 | 0.00 | | 103 |
| 15 | Derek Lilley/ Eric Barsche | 0.00 | 0.00 | | 103 |
| | Total Entrys | | | $1,200.00 | |
| | BONUS $ | | | $250.00 | |
| | Total Paid At Ramp | | | $1,130.00 | |
| | Wylie 2019 Fall Final Fund | | | $260.00 | |
| | 2020 CATT Championship/Phantom Fund | | | $30.00 | |
| | 2019 Wylie Fall Final Fund Total | | | $1,005.00 | |
| | 2020 CATT Championship/Phantom Total | | | $1,755.00 | |