Next Lake Wylie FALL CATT is Dec 11 at Buster Boyd Bridge! This is the last Fall qualifier and you  only have to enter 1 Qualifier to be eligible to enter the Final!
Britt & Meyers & Britt Meyers Jr took 1st Place with 5 bass weighing 16.92 lbs!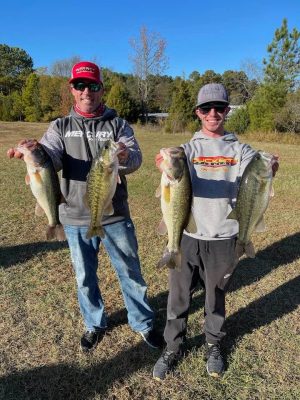 Josh Warren took 2nd with 14.01 lbs!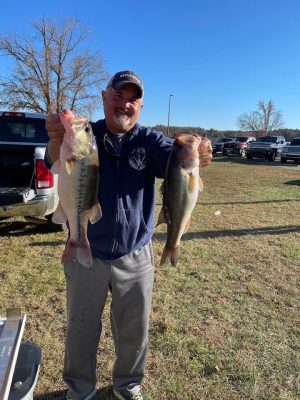 | | | | | |
| --- | --- | --- | --- | --- |
| Team | BF | Weight | Winnings | Points |
| Britt Meyers/Britt Meyers Jr | 3.97 | 16.92 |  $671.00 | 110 |
| Josh Warren | 3.74 | 14.01 |  $180.00 | 109 |
| Ron and Roger Farrow | 4.18 | 12.45 | $84.00 | 108 |
| Gene Webster | 3.94 | 12.15 | | 107 |
| David Winters/Brandon Williams | 3.06 | 11.98 | | 106 |
| Glen Sparrow/Chris B | 2.79 | 9.99 | | 105 |
| Clay and Randy Williams | 2.16 | 9.10 | | 104 |
| Brent Long/Sydney Weaver | 3.74 | 6.29 | | 103 |
| Dave Calbert/Bill Carothers | 0.00 | 4.80 | | 102 |
| Tom Russell/Adam Freeman | 0.00 | 3.49 | | 101 |
| Brent Kukowski/Pat Carter | 0.00 | 0.00 | | 91 |
| Josh Cannon | 0.00 | 0.00 | | 91 |
| Total Entrys | | | $960.00 | |
| BONUS $ | | | $275.00 | |
| Total Paid At Ramp | | | $935.00 | |
| Wylie 2021 Fall Final Fund | | | $200.00 | |
| 2022 CATT Championship Fund | | | $50.00 | |
| 2021 Wylie Fall Final Fund Total | | | $615.00 | |