Next Wateree Open is June 11 at Clearwater Cove Marina!
Chad Gainey & Mack Kitchens win the May 28th Lake Wateree Open with 5 bass weighing 16.33 lbs! They collected $1,020.00!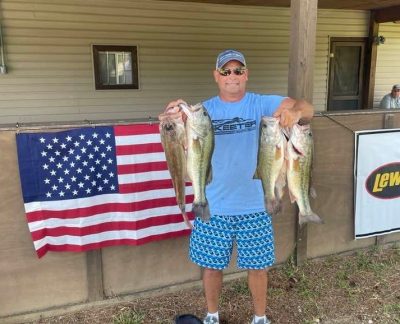 Rick Corn & Drew Faulkenberry took 2nd with 14.81 lbs!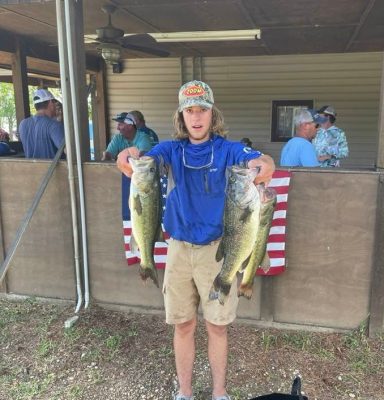 Alex Griffin & Jeff Knight finished 3rd with 14.69 lbs!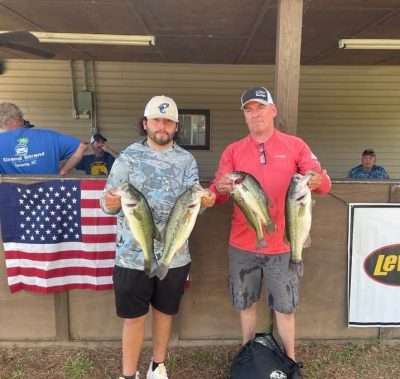 Thomas Richmond & Tony Talford claimed 4th with 14.37 lbs!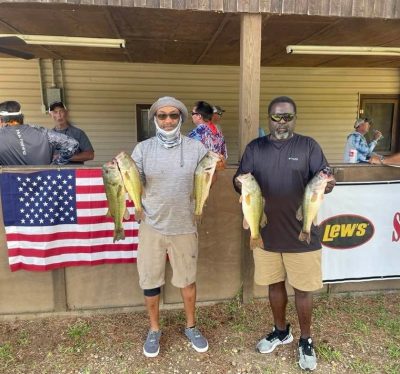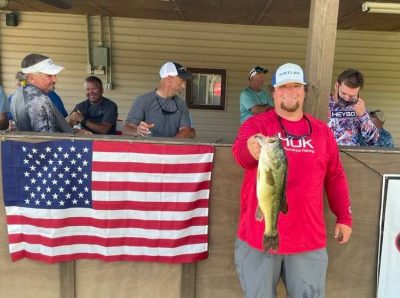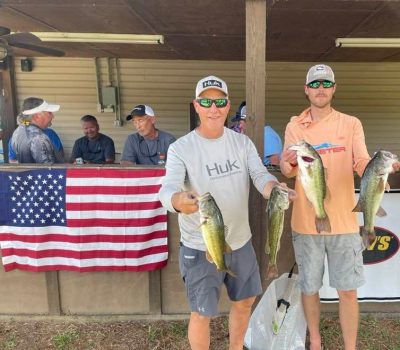 | | | | | |
| --- | --- | --- | --- | --- |
| Team | BF | Weight | Winnings | Points |
| Chad Gainey & Mack Kitchens | 4.09 | 16.33 | $1,020.00 | 110 |
| Rick Corn – Drew Faulkenberry | 4.22 | 14.81 | $257.00 | 109 |
| Alex Griffin – Jeff Knight | 4.35 | 14.69 | $283.00 | 108 |
| Thomas Richmond – Tony Talford | 3.54 | 14.37 | $100.00 | 107 |
| Jacob Norris & Jeff Norris | 3.95 | 13.18 | | 106 |
| Steve Phillips – Chad Sims | 3.16 | 12.60 | | 105 |
| Michael Richardson | 4.11 | 12.42 | | 104 |
| Butch Williams – Max Price | 2.80 | 11.65 | | 103 |
| Bubba Baker – Colden Baker | 3.30 | 10.91 | | 102 |
| Alan Fletcher – Tanner Fletcher | 3.26 | 10.64 | | 101 |
| Paul Wells & Craig Haven | 2.28 | 10.05 | | 100 |
| Carson Coates – Blake Johnson | 2.79 | 9.95 | | 99 |
| Walt Almond – Chad Rabon | 0.00 | 9.20 | | 98 |
| David F Canupp – David L Canupp | 0.00 | 7.98 | | 97 |
| Brett Collins – Brad Petway | 0.00 | 3.42 | | 96 |
| Scott Williams – Robbie English | 0.00 | 2.84 | | 95 |
| Walter Knotts – Walt Coker | 0.00 | 0.00 | | 85 |
| Tim Haven | 0.00 | 0.00 | | 85 |
| Jerry Freezon | 0.00 | 0.00 | | 85 |
| David Cassidy – Coy Cassidy | 0.00 | 0.00 | | 85 |
| | | | | |
| 2022 Wateree Open Points | | | $835.00 | |
| 2022 Wateree Open Final | | | $1,100.00 | |