Next Leesville Lake CATT is August 8 at Leesville Lake Marina!
Jeff Taylor & Mike Connelly win a tough one on Leesville Lake with 5 bass weighing 10.88 lbs!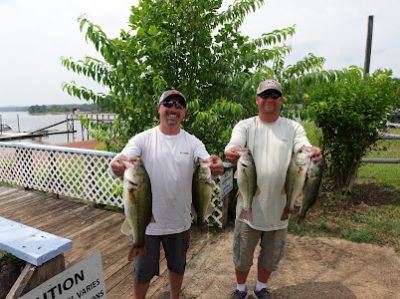 2nd Place Steve Crist & Dennis Stump with 1083. lbs!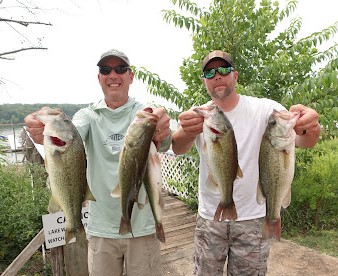 3rd Place Matt Atkins & Stephen Costa with 10.48 lbs!

BF at 4.02 lbs weighed in by Charlie Davis & Scotty Howard!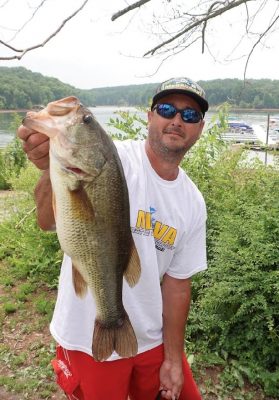 | | | | | |
| --- | --- | --- | --- | --- |
| TEAM | BF | Weight | Winnings | Points |
| Michael Connelly/Jeff Taylor | 3.96 | 10.88 | $320.00 | 110 |
| Steve Crist/Dennis Stump | 0.00 | 10.83 | $330.00 | 109 |
| Matt Atkins/Stephen Costa | 2.39 | 10.48 | $190.00 | 108 |
| Jessie Cofflin/Brian Hall | 2.60 | 10.25 | | 107 |
| Charlie Davis/Scotty Howard | 4.02 | 9.18 | $120.00 | 106 |
| Henry Camper | 3.28 | 6.78 | | 105 |
| Joey Dawson(Greg Dawson sub)/Kevin Dawson | 3.43 | 4.80 | | 104 |
| Paul Watson/Melissa Watson | 0.00 | 3.54 | | 103 |
| Larry Witt/Peyton Thompson | 0.00 | 0.00 | | 93 |
| Kevin Lankford | 0.00 | 0.00 | | 93 |
| Brendan Kent/Amanda Kent | 0.00 | 0.00 | | 93 |
| Jeremy Kent/Shannon Kent | 0.00 | 0.00 | | 93 |