We had 30 boats enter the 1st 2018 Lake Murray Qualifier which is basically an Open. The membership doesn't kick in until the 3rd Qualifier. Next weekend January 27 we will hold Murray Qualifier #2 and the entry fee is $60. Membership is delayed for this one so come on out! Last year at the 2nd Murray Qualifier we had 57 teams and we expect more this year! The CBC is Feb 3rd at Murray and next weekend will be a great warm up!
  www.levelrods.com
Todd Garner & Robert Fowler took 1st Place at Murray with 5 bass weighing 20.59 lbs! They earned $500.00!
2nd went to Kevin Fulmer & Clay Riddle with a limit weighing 18.78 lbs! They took home the BONUS $ also pushing their total winnings to $780.00!
Thomas Hardwick & Tommy Williams finished 3rd with 5 bass weighing 17.87 lbs and they weighed the BF at 6.48 lbs good enough for $330.00!
Bradley Rhodes & Chris Doran took 4th with a limit weighing 16.65 lbs and took home $130.00.
5th and $100.00 went to Doug Lown & Rhett Manus with 14.59 lbs.
The last money paying place went to Johnny Mayer & Scott R. with 14.23 lbs. They took home $70.00!
| | | | | |
| --- | --- | --- | --- | --- |
| | Big | Total | Total | |
| Team | Fish | Weight | Winnings | Points |
| Todd Garner – Robert Fowler | 0.00 | 20.59 | $500.00 | 110 |
| Clay Riddle – Kevin Fulmer    BONUS $ | 4.43 | 18.78 | $780.00 | 109 |
| Thomas Hardwick – Tommy Williams   BF | 6.48 | 17.87 | $330.00 | 108 |
| Bradley Rhodes – Chris Dorlan | 0.00 | 16.65 | $130.00 | 107 |
| Doug Lown – Rhett Manus | 5.82 | 14.59 | $100.00 | 106 |
| Johnny Mayer – Scott R. | 5.21 | 14.23 | $70.00 | 105 |
| Jim Davis – Josh Rennebaum | 4.29 | 13.67 | | 104 |
| Roger Farr – Clyde Livingston | 0.00 | 11.87 | | 103 |
| Paul Selle – Gabe Fugel | 0.00 | 11.45 | | 102 |
| Earl Purcell – Lee Hannon | 0.00 | 8.83 | | 101 |
| Sandy Oilver | 0.00 | 8.29 | | 100 |
| Mark Wingate – Nick Young | 5.81 | 7.63 | | 99 |
| Phillip Stutts – Bobb Edwards | 3.24 | 6.05 | | 98 |
| Ryan Buttermore – Sean Seigfried | 0.00 | 2.76 | | 97 |
| Bobby Mcpherson – Wayne Blackwell | 2.20 | 2.20 | | 96 |
| Chase Mount | 0.00 | 0.00 | | 95 |
| Zach Tesser – Christain Reed | 0.00 | 0.00 | | 95 |
| Ronnie Prosser – Geral Bennett | 0.00 | 0.00 | | 95 |
| Frankie Taylor – Robert Taylor | 0.00 | 0.00 | | 95 |
| Tim Slice – Jake Wright | 0.00 | 0.00 | | 95 |
| Ryan Thompson – Casey Warren | 0.00 | 0.00 | | 95 |
| Justin Hadden – Jason Hadden | 0.00 | 0.00 | | 95 |
| Wade Amick – Ellett Lavisky | 0.00 | 0.00 | | 95 |
| Hampton Anderson – Zach D | 0.00 | 0.00 | | 95 |
| Gene Gibbs – Richard M. | 0.00 | 0.00 | | 95 |
| Keith Chichester – Baylen Moore | 0.00 | 0.00 | | 95 |
| John Parker – Ric Rhyne | 0.00 | 0.00 | | 95 |
| Dean Chapman – Les Westbury | 0.00 | 0.00 | | 95 |
| Mark Krengel – Ron Wood | 0.00 | 0.00 | | 95 |
| Brandon Causey – Justin Collet | 0.00 | 0.00 | | 95 |
| | | | | |
| Total Entrys | | | $1,500.00 | |
| BONUS $ | | | $500.00 | |
| Total Paid At Ramp | | | $1,910.00 | |
| Murray Spring 2018 Fall Final Fund | | | $90.00 | |
| 2018 CATT Championship Fund | | | $0.00 | |
| | | | | |
| 2018 Murray Spring Final Fund Total | | | $90.00 | |
| 2018  CATT Championship Fund Total | | | $2,315.00 | |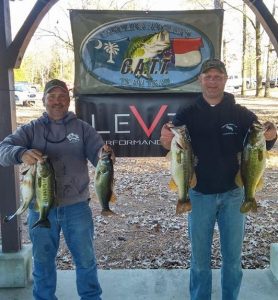 2nd Place Kevin Fulmer & Clay Riddle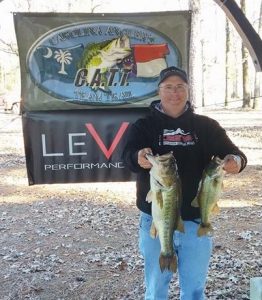 3rd & BF Tommy Williams & Thomas Hardwick