Next Lake Murray CATT is this Saturday at Dreher! This is your last chance to be eligible to enter the Murray Final April 14th!
Rhett Manus & Doug Lown took 1st with 5 bass weighing 18.97 lbs! They weighed the 2nd BF at 5.43 lbs and tok home the BONUS $. All total they earned $1,153.00!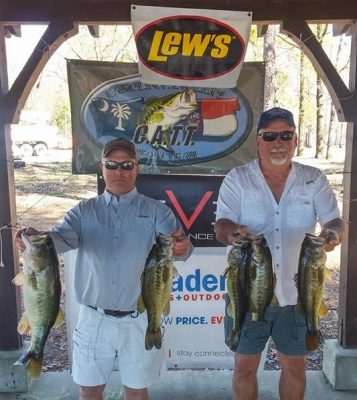 2nd went to Phillip Anderson & Russ Padgett with a limit weighing 18.14 lbs and they took home $400.00!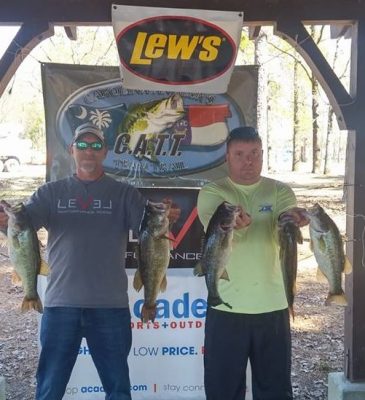 1st BF Tim & Neil Huffstetler 7.23 lbs! They received an Academy Gift Card!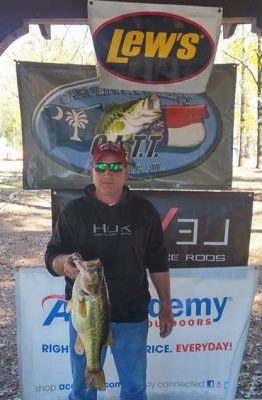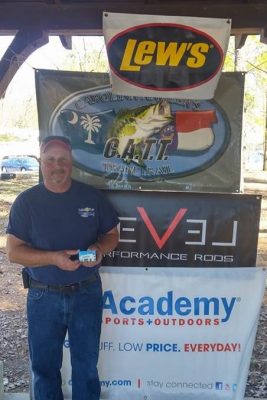 | | | | | |
| --- | --- | --- | --- | --- |
| 16 Teams | Big | Total | Total |   |
| Team | Fish | Weight | Winnings | Points |
| Doug Lown – Rhett Manus  2nd BF & BONUS $ | 5.43 | 18.97 | $1,153.00 | 110 |
| Phillip Anderson – Russ Padgett | 5.24 | 18.14 | $400.00 | 109 |
| Clay Riddle – Dave Franklin | 4.54 | 17.65 | $140.00 | 108 |
| Niel Huffstetler – Tim Huffstetler   1st BF | 7.23 | 17.14 | $112.00 | 107 |
| Keith Chichester – Baylen Moore | 4.57 | 16.56 | | 106 |
| Roger Farr – Brad Thompson | 4.50 | 15.96 | | 105 |
| Wayne Jeffcoat – Hunter Jeffcoat | 0.00 | 13.80 | | 104 |
| Dean Chapman – Les Westberry | 3.12 | 11.85 | | 103 |
| Scott Martin – Ryan Martin | 2.21 | 7.52 | | 102 |
| Dean Plunkett – Heath Plunkett | 2.61 | 4.22 | | 101 |
| Jonathan Meetze – Kenny Prebeck | 2.80 | 2.80 | | 100 |
| Zachery Linowski – Tom Linowski | 0.00 | 0.00 | | 99 |
| Phillip Stutts – Sean Valintini | 0.00 | 0.00 | | 98 |
| Mark Krengel – Ron Wood | 0.00 | 0.00 | | 97 |
| Will Anderson – Tim Edwards | 0.00 | 0.00 | | 96 |
| Matt Arms – Zach Blair | 0.00 | 0.00 | | 95 |
| Total Entrys |   |   | $1,920.00 | |
| BONUS $ |   |   | $280.00 | |
| Total Paid At Ramp |   |   | $1,805.00 | |
| Murray Spring 2018 Fall Final Fund |   |   | $375.00 | |
| 2018 CATT Championship Fund |   |   | $75.00 | |
|   |   |   |   | |
| 2018 Murray Spring Final Fund Total |   |   | $1,390.00 | |
| 2018  CATT Championship Fund Total |   |   | $3,725.00 | |