We had another great crowd on the Neuse River! 23 teams entered this past weekend with several new teams joining So far we have 35 teams eligible to enter the Neuse River Spring Final! The next and last Neuse River Spring CATT Qualifier is April 16th at Lawsons Creek Park! We surely will pick up a few more teams! If we have at least 30 team enter the Neuse River Spring Final 1st will take home a minimum of $2,000 with 2nd taking $1,000! Of course more places will be paid! Thanks for fishing and we look forward to the next to CATT events on the Neuse River!

Zach Wallace &Ronald Jones earned 1st place this past weekend with a limit weighing 18.82 lbs! Add in the side pot and the 1st BF and Zach collected $986.00!

2nd Place went to Wayne Stallings with 17.85 lbs!
Randy and Josh Brown claimed 3rd with 17.31 lbs!
20221 CATT Academy Championship is May 21-22! Enter 2 any 2 CATT events and you're eligible to enter! Look under Divisions for more info!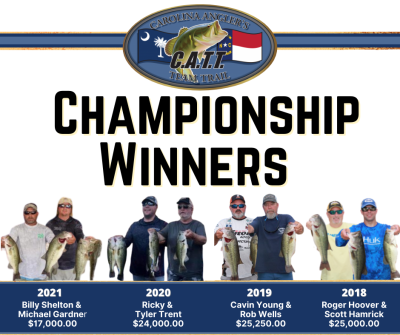 | | | | | |
| --- | --- | --- | --- | --- |
| TEAM | BF | Weight | Winnings | Points |
| ZACH WALLACE & RONALD JONES | 7.34 | 18.82 | $986.00 | 110 |
| WAYNE STALLINGS | 5.41 | 17.85 | $425.00 | 109 |
| JACOB BROWN JOSH BROWN | 4.02 | 17.31 | $200.00 | 108 |
| BRYAN LINK DAVE BELL | 6.08 | 16.23 | $189.00 | 107 |
| BILLY PADERICK JESSE GRUDY | 5.76 | 14.74 | | 106 |
| ROBIN BOWEN DREW JONES | 5.14 | 13.37 | | 105 |
| PAUL KING BRADLEY STAIN | 4.85 | 11.00 | | 104 |
| GERALD HERRING JEFF HILL | 2.76 | 8.97 | | 103 |
| LUKE FARLEY ROBB MOORE | 0.00 | 8.68 | | 102 |
| CODY TYNDALL JEREMY GAY | 3.24 | 8.47 | | 101 |
| DANIEL BOSEMAN | 2.23 | 7.80 | | 100 |
| JASON THEIS | 0.00 | 7.36 | | 99 |
| COURTLAND WILLIAMS DAVID GRANTHAM | 0.00 | 5.66 | | 98 |
| ROGER THOMAS ZEB WEST | 2.42 | 4.84 | | 97 |
| CHRISTOPHER CAMPBELL ZACHERY SIMMONS | 0.00 | 4.28 | | 96 |
| CHIS COX MONTE MORGAN | 0.00 | 0.00 | | 86 |
| BRENDON HUGHES | 0.00 | 0.00 | | 86 |
| ANTWOON MOORE ANTWOON MOORE JR | 0.00 | 0.00 | | 86 |
| READ SAMPLES JOHN TEDDER | 0.00 | 0.00 | | 86 |
| | | | | |
| RYAN KILLINGER DICKIE KILLINGER | 0.00 | 0.00 | | 86 |
| JIMBO TYNDALL COLTON TYNDALL | 0.00 | 0.00 | | 86 |
| TRAVIS MEWBORN RICKY FOSS | 0.00 | 0.00 | | 86 |
| Total Entrys | | | $1,840.00 | |
| BONUS $ | | | $425.00 | |
| Total Paid At Ramp | | | $1,800.00 | |
| 2022 Neuse River Spring Final Fund | | | $365.00 | |
| 2022 CATT Championship/Phantom Fund | | | $50.00 | |
| 2022 Neuse River Spring Fund Total | | | $805.00 | |