We concluded our 1st CATT Spring Trail on the Neuse River with 23 teams entering the Neuse River Spring Final! When all was wrapped up after weigh in this past Saturday the 2022 Neuse River Spring Trail had paid back $10,300.00! We will host a Fall Trail and have the schedule posted soon. CATT also has a FALL membership and allows you to enter multiple CATT Trails in your area! Keep in mind qualification for the 2023 CATT Academy Championship on Kerr May 20-21, 2023 starts now! Shout out to David Grantham for getting CATT going on the Neuse River and running a smooth trial!
Parker Mills & Brock Rouse took 1st Place at the Neuse River Spring Final with 5 bass weighing 17.41 lbs! Kick in the 1st Place Side Pot & 2nd BF at 4.96 lbs and they took home $2,516.00! Parker & Brock also received a $25 Academy Gift Card!
Jeremy Miller & Chase Miller earned 2nd Place with 5 bass weighing 16.80 lbs! They also brought in the BF at 5.66 lbs! With the 2nd Side Pot added they took home $1,324.00! Jeremy & Chase also received a $100 Strike King/Lews!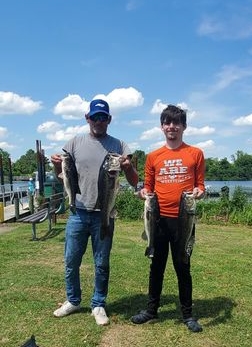 3rd Place went to Travis Mewborn & Ricky Foss with a limit weighing 14.83 lbs! They took home $500.00!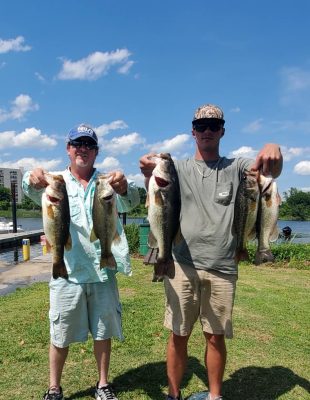 Last money spot went to Paul King & Brad Stain with 14.20 lbs worth $200.00!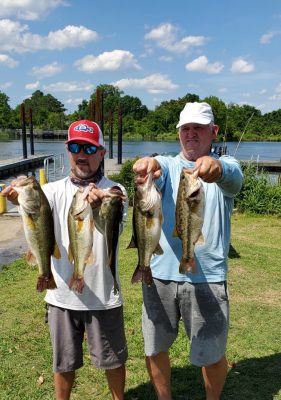 | | | | |
| --- | --- | --- | --- |
| TEAM | BF | WEIGHT | WINNINGS |
| PARKER MILLS BROCK ROUSE | 4.96 | 17.41 | $2,516.00 |
| JEREMY MILLER CHASE MILLER | 5.66 | 16.80 | $1,324.00 |
| TRAVIS MEWBORN RICKY FOSS | 4.63 | 14.83 | $500.00 |
| PAUL KING BRAD STAIN | 3.36 | 14.20 | $200.00 |
| ANTWAN MOORE ANTWAN MOORE JR | 4.39 | 14.00 | |
| TOM WARNER | 4.84 | 12.76 | |
| CHRIS COX MONTE MORGAN | 3.30 | 12.70 | |
| RONALD JONES BRADLEY TURNER | 2.51 | 9.06 | |
| BILLY PADERICK JESSE GRUDY | 2.75 | 8.54 | |
| JOSH BROWN JACOB BROWN | 0.00 | 7.32 | |
| JIMBO TYDALL COLTON TYDALL | 1.70 | 7.31 | |
| CHRISTOPHER CAMPBELL ZACHARY SIMMONS | 4.16 | 6.54 | |
| BRYAN LINK DAVE BELL | 2.20 | 4.37 | |
| WAYNE STALLINGS JUSTIN EVERETT | 0.00 | 0.00 | |
| ROGER THOMAS ZEB WEST | 0.00 | 0.00 | |
| MATT MAINHART | 0.00 | 0.00 | |
| COURTLAND WILLIAMS DAVID GRANTHAM | 0.00 | 0.00 | |
| RYAN KILLINGER DICKIE KILLINGER | 0.00 | 0.00 | |
| GERALD HERRING | 0.00 | 0.00 | |
| ROBERT MONROE | 0.00 | 0.00 | |
| BUBBA BARNETT TIMMY BRASEH | 0.00 | 0.00 | |
| BOBBY LASSITER | 0.00 | 0.00 | |
| JORDON BROWN BRANDON CARTER | 0.00 | 0.00 | |
| Total Entrys | | | $2,520.00 |
| BONUS $ | | | $1,205.00 |
| Neuse River Spring Final Fund | | | $500.00 |
| Total Paid At Ramp | | | $4,540.00 |
| Total Paid Spring 2022 Neuse River | | | $10,300.00 |