To enter the Jan 12th Norman Fall Final you must have entered 3 CATT Fall Norman Qualifiers BUT if you entered the CAGE Tournament that counts as 1 qualifier! 
Keith Westrick wins the Veteran Points and $500.00
Kevin Toler & Rodney Lambert 2nd $380.00
Orlando Giles 3rd $260.00
Marty Williams 4th $126.00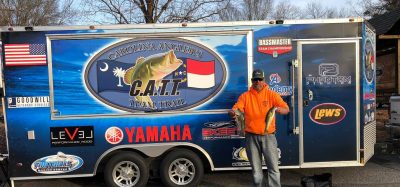 Adam Jordan & Adam Locklear win the Norman Points and will receive free entry and blast of #1 at the Final!
Boo Whitaker & John Miller take 1st Place this past Saturday with 5 bass weighing 12.58 lbs and $550.00!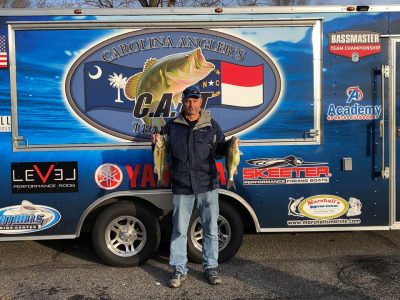 2nd went to Craig Chambers & Derrick Cummings 12.15 lbs and they earned $775.00 with the BONUS $ added in!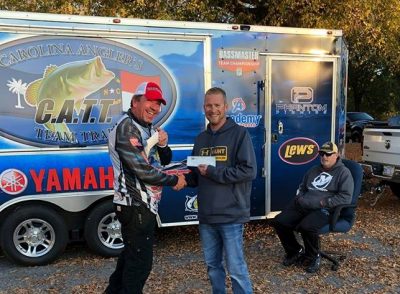 Steve Addington claimed 3rd with 10.96 lbs and collected $200.00!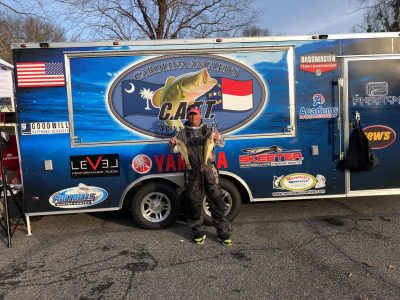 | | | | | |
| --- | --- | --- | --- | --- |
| | Big | Total | Total | |
| 24 Teams | Fish | Weight | Winnings | Points |
| Boo Whitaker – John Miller | 3.33 | 12.58 | $550.00 | 220 |
| Craig Chambers – Derrick Cummings | 0.00 | 12.15 | $775.00 | 218 |
| Steve Addington | 2.82 | 10.96 | $200.00 | 216 |
| Tim Chapman – Mike Stephens | 2.67 | 10.92 | $120.00 | 214 |
| Maurice Freeze – Rick Poplin | 4.11 | 9.93 | $168.00 | 212 |
| Matt McBee – Charlie Brock | 3.39 | 9.54 | | 210 |
| Keith Westrick – Jonathan Foster | 2.33 | 8.99 | | 208 |
| Aaron Jordan – Adam Lockler | 1.86 | 8.59 | | 206 |
| Dale Phillips | 0.00 | 8.10 | | 204 |
| Marty Williams – Phillip Hedrick | 3.89 | 7.88 | $72.00 | 202 |
| Roger Hoover – Scott Hamrick | 3.14 | 7.85 | | 200 |
| Kevin Toler – Rodney Lambert | 2.95 | 7.11 | | 198 |
| David & Kenny Beard | 0.00 | 6.56 | | 196 |
| Erroll Duckett – Zoie Vazques | 0.00 | 6.33 | | 194 |
| Mike Ray – Orlando Giles | 2.20 | 3.87 | | 192 |
| Jimmy LeShock – Chris Baumgardner | 0.00 | 0.00 | | 190 |
| Morris Elliott – Chris Tarbush | 0.00 | 0.00 | | 190 |
| Luke Helms | 0.00 | 0.00 | | 190 |
| Josh & Gen Hall | 0.00 | 0.00 | | 190 |
| Jason Land – David Burgess | 0.00 | 0.00 | | 190 |
| Nathan Dellinger | 0.00 | 0.00 | | 190 |
| Jack R. Marcotte | 0.00 | 0.00 | | 190 |
| Bill Grier – Nick Wood | 0.00 | 0.00 | | 190 |
| Adam Waters – Dylan Fulk | 0.00 | 0.00 | | 190 |
| Total Entrys | | | $1,920.00 | |
| BONUS $ | | | $475.00 | |
| Total Paid At Ramp | | | $1,885.00 | |
| Norman Fall 2018 Final Fund | | | $460.00 | |
| 2019 CATT Championship Fund | | | $50.00 | |
| 2018 Norman Fall Final Fund Total | | | $2,920.00 | |
| 2019  CATT Championship Fund Total | | | $2,440.00 | |