Next Saturday at Queens we will host the 5th Lake Norman Fall CATT Qualifier. This will be a GOLD Qualifier which is $120! The extra $40 is added in and the payout is boosted!
CATT GOLD WILL PAY— 
20 Boats – 1st Place $1,000
40 Boats – 1st Place $1,600
60 Boats 0 1st Place $2,000
Come join us..you only have to enter 3 Norman Fall Qualifiers to make the Final Jan 12th and Jan 12th we will pay 1st Place a MINIMUM of $5,000!
Craig Chambers & Derrik Cumming took home 1st Place and $1,464.00 Saturday with 5 bass weighing 12.06 lbs!
2nd went to John Allen with 11.41 lbs!
3rd Place was Errol Duckett & Jimmy LeShock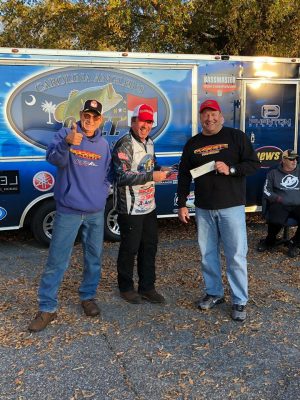 Kelly Logan & Jason Wilson 5th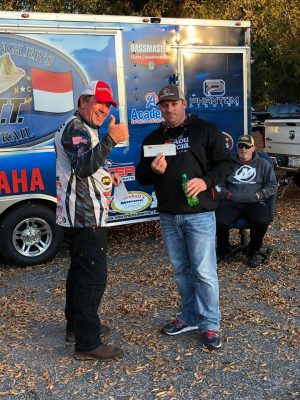 Tracy Brown & Scott Hamrick 5th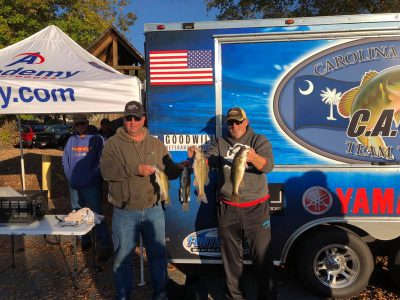 | | | | | |
| --- | --- | --- | --- | --- |
| | Big | Total | Total | |
| 32 Teams | Fish | Weight | Winnings | Points |
| Craig Chambers – Derrik Cummings BONUS $ | 3.54 | 12.06 | $1,464.00 | 110 |
| John Allen | 2.90 | 11.41 | $375.00 | 109 |
| Jimmy LeShock – Errol Duckett | 2.40 | 9.78 | $275.00 | 108 |
| Kelly Logan – Jason Wilson | 3.05 | 9.74 | $246.00 | 107 |
| Scott Hamrick – Tracy Brown | 2.31 | 9.15 | $115.00 | 106 |
| Tim Chapman – Marcus Leech | 2.28 | 8.98 | $100.00 | 105 |
| Matt McBee – Matt Haywood | 2.06 | 8.92 | | 104 |
| Bill Grier – Nick Wood | 1.76 | 8.45 | | 103 |
| Scott Beattie – Dwight Beattie | 2.15 | 8.34 | | 102 |
| Nick Miller – Brandon Brickweg | 2.85 | 8.16 | | 101 |
| Aaron Jordan – Adam Locklear | 0.00 | 6.66 | | 100 |
| Michael Hoffman – Todd Hammond | 0.00 | 6.31 | | 99 |
| Travis Kilby – Nathan Scronce | 2.73 | 5.94 | | 98 |
| George Lauster – CJ Adarie | 1.57 | 5.30 | | 97 |
| Keith Westrick – Jonathan Foster | 2.78 | 2.78 | | 96 |
| Andy Brode – Herb Brammel | 0.00 | 0.00 | | 95 |
| Chris Tarbush – Morris Elliot | 0.00 | 0.00 | | 95 |
| Jay & Jody Wright | 0.00 | 0.00 | | 95 |
| Warren Ray – Ronnie Jennings | 0.00 | 0.00 | | 95 |
| Steve Addington | 0.00 | 0.00 | | 95 |
| Mike Ray – Orlando Giles | 0.00 | 0.00 | | 95 |
| Dale Phillips | 0.00 | 0.00 | | 95 |
| John Miller | 0.00 | 0.00 | | 95 |
| Tate Fogleman – Camden Gullie | 0.00 | 0.00 | | 95 |
| Wayne Houser – Greg Mauldin | 0.00 | 0.00 | | 95 |
| John Donnegan – Derrick Bristle | 0.00 | 0.00 | | 95 |
| David Beard – Kenny Beard | 0.00 | 0.00 | | 95 |
| Spencer Taylor – Brandon Kendall | 0.00 | 0.00 | | 95 |
| Allen & Byron Tuttle | 0.00 | 0.00 | | 95 |
| Scott Faulkner – Tony Brewer | 0.00 | 0.00 | | 95 |
| Rick Poplin – Maurice Freeze | 0.00 | 0.00 | | 95 |
| Greg Fox – Chris Teague | 0.00 | 0.00 | | 95 |
| Total Entrys | | | $2,560.00 | |
| BONUS $ | | | $540.00 | |
| Total Paid At Ramp | | | $2,575.00 | |
| Norman Fall 2018 Final Fund | | | $475.00 | |
| 2019 CATT Championship Fund | | | $50.00 | |
| 2018 Norman Fall Final Fund Total | | | $1,520.00 | |
| 2019  CATT Championship Fund Total | | | $2,165.00 | |