Next up on Lake Norman is December 8th at Queens! We have decided to cancel the Open schedule and encourage everyone to come fish the Cage Tournament! BUT...by entering the Cage Tournament it will count as a CATT Norman Fall Qualifier which will go toward qualification for the Lake Norman Final which is Guaranteeing $5,000 to 1st Place! You only have to enter 3 CATT Norman Fall Events to be eligible to enter the Norman Fall Final!
Matt McBee & Charlie Brock took 1st Place with 5 bass weighing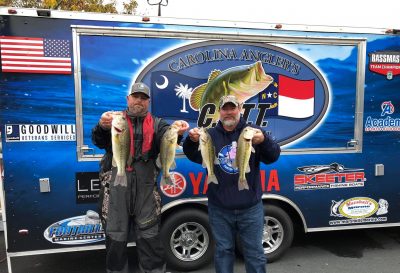 Derrick Cummings & Jack Pollio 2nd Place!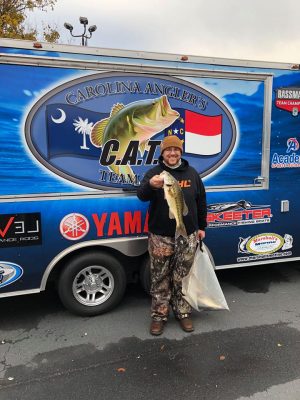 Nick Miller with a Lake Norman Smallmouth!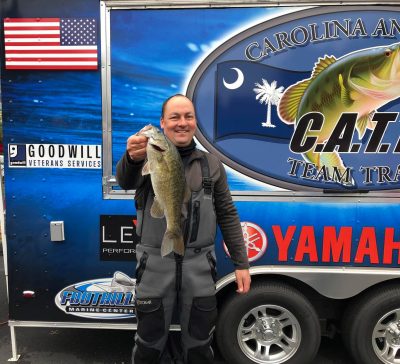 | | | | | |
| --- | --- | --- | --- | --- |
| | Big | Total | Total | |
| 12 Teams | Fish | Weight | Winnings | Points |
| Matt McBee – Charlie Brock | 3.54 | 13.15 | $883.00 | 110 |
| Derrick Cummings – Jack Pollio | 3.66 | 11.83 | $352.00 | 109 |
| Nick Miller – Brandon Brickweg | 3.36 | 9.71 | | 108 |
| Travis Kilby – Nathan Scronce | 3.36 | 8.52 | | 107 |
| Aaron Jordan – Adam Locklear | 2.60 | 8.12 | | 106 |
| Jody & Jay Wright | 0.00 | 7.51 | | 105 |
| Dale Phillips | 1.86 | 6.44 | | 104 |
| Keith Westrick – Jonathan Foster | 2.52 | 5.93 | | 103 |
| Steve Addington | 0.00 | 0.00 | | 102 |
| Chris Tarbush – Morris Elliot | 0.00 | 0.00 | | 102 |
| Tyger Elton | 0.00 | 0.00 | | 102 |
| Jimmy LeShock – Chris Baumgardner | 0.00 | 0.00 | | 102 |
| Total Entrys | | | $1,440.00 | |
| BONUS $ | | | $300.00 | |
| Total Paid At Ramp | | | $1,235.00 | |
| Norman Fall 2018 Final Fund | | | $465.00 | |
| 2019 CATT Championship Fund | | | $0.00 | |
| 2018 Norman Fall Final Fund Total | | | $1,985.00 | |
| 2019  CATT Championship Fund Total | | | $2,215.00 | |