We wrapped up the Old North Fall Season this past weekend on Falls Lake! we look forward to 2023 with a lot of excitement! The Old North Spring Trail is posted, and we are accepting entries so get signed up and let's fish for some BIG MONEY in 2023!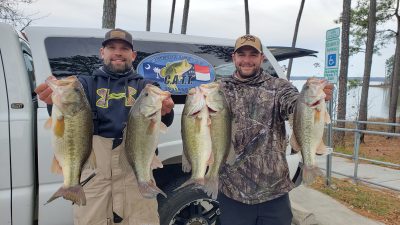 Chad Fara & Steven Lasher win the Old North Fall Final with 5 bass weighing 18.19 lbs and take home $2,230.00!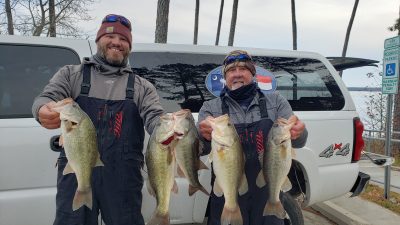 Seth Ellis & Doug Stallings take 2nd Place with 17.98 lbs worth $1,170.00!
| | | | |
| --- | --- | --- | --- |
| Team | BF | Weight | Winnings |
| Chad Fara Steven Lasher | 4.91 | 18.19 | $2,230.00 |
| Doug Stallings Seth Ellis | 4.57 | 17.98 | $1,170.00 |
| Dennis Reedy Scott Smith | 0.00 | 16.10 | $450.00 |
| Allen White Mike Vaughan | 4.05 | 12.58 | |
| Hunter Strickland Sted Strickland | 4.39 | 11.84 | |
| James Davis | 0.00 | 9.47 | |
| John McClelland Larry Godfrey | 2.67 | 2.67 | |
| Tony Stanley Chase Stanley | 1.86 | 1.86 | |
| Todd Sumner Keith Harrison | 0.00 | 0.00 | |
| Clay Ausley Ken McNeil | 0.00 | 0.00 | |
| Chuck Byrd Jerry Marshburn | 0.00 | 0.00 | |
| Brett Winborn Brent Ward | 0.00 | 0.00 | |
| Timothy Parker | 0.00 | 0.00 | |
| Charles Christman James Mcdougal | 0.00 | 0.00 | |
| Jeff Brown Dustin Morgan | 0.00 | 0.00 | |