Next Old North CATT will be April 10th at Kerr! Should be a good one!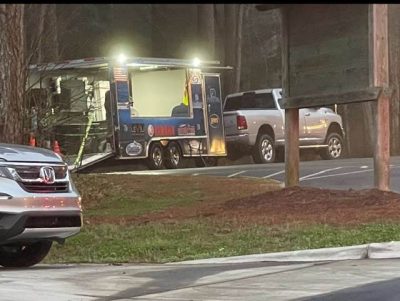 1st Place at the 2021 Old North Final is a MINIMUM of $5,000! Depending upon the number of boats entered at the Old North Final the purse will increase! You only have to enter 2 Old North Qualifiers to be eligible to enter the Old North Final! Enter 2 CATT events combined from any of the CATT Trails and you will be eligible to enter the 2021 CATT Championship on Kerr May 22-23, 2021! $10,000 1st Place! Any CATT event you entered after 1st week of June of 2020 to now also counts toward 2021 CATT Championship Qualification!
2021 CATT Academy Championship May 22-23, 2021 $10,000 1st Place
2018, 2019, & 2020 CATT Championship winners took home $25,000.00!
Tap on the link for more info!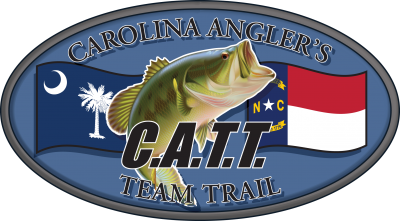 We had 41 teams enter at Falls Lake this past Saturday with the total purse at $6,965.00! Check out the cash the top 3 Teams took home! What a payback!
Dane Butler & Derick Wright took home their share of the hefty purse with 5 bass weighing 22.83 lbs! They took home $2,770.00 with ONLY 41 boats entered!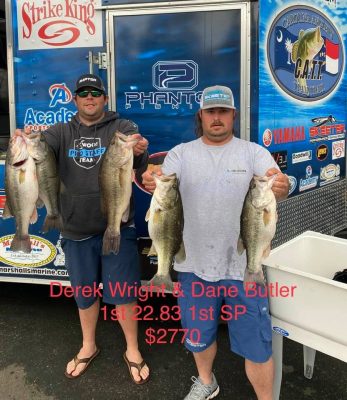 2nd Place went to Lucas Lobaugh & Preston Jacobs with a limit weighing 22.02 lbs worth another chunk of cash! $1,000.00!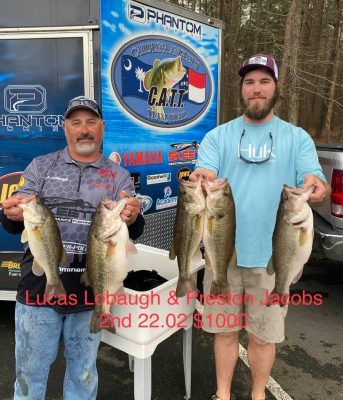 3rd and $1,255.00 went to Jesse Wise with a sack weighing 18.29 lbs! Jesse also weighed in the 2nd BF at 7.17 lbs!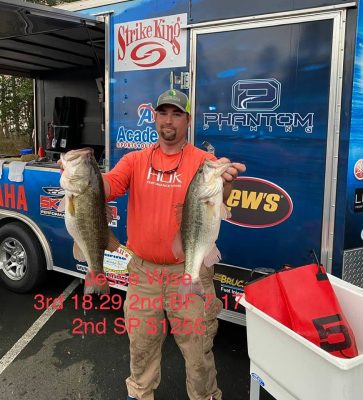 Mike & Jonathan Rhew 4th 17.01 lbs! $695.00!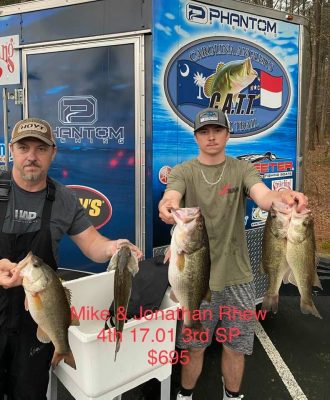 Taking 5th Dennis & Dalton Allen 16.00 lbs! $325.00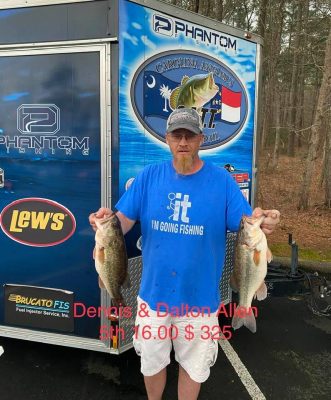 Coming in 6th David Farmer & Matt Deese 15.92 lbs! $260.00!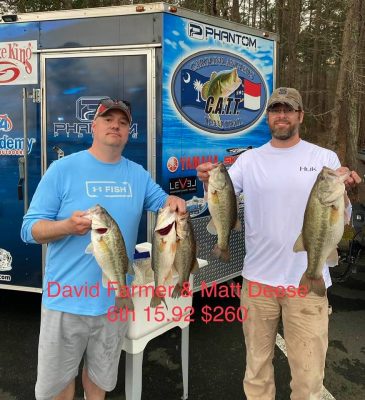 Todd Staker & Scott Woodson 7th 14.21 lbs! $200.00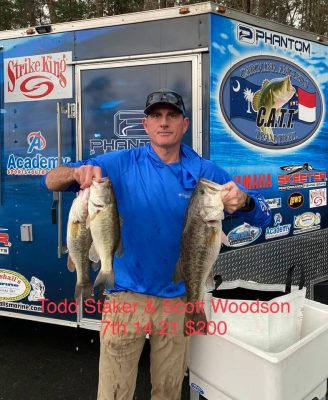 Jamie Olive & Rich Z took the last money sport with 13.41 lbs and brought in the 1st BF at 8.11 lbs! $460.00!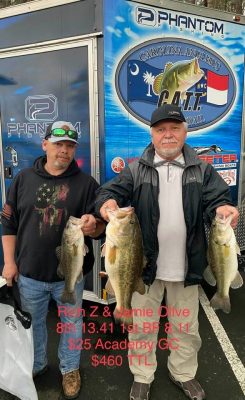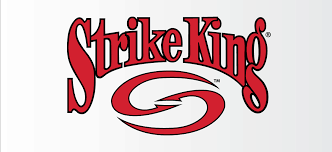 | | | | | |
| --- | --- | --- | --- | --- |
| 41 Teams | BF | Weight | Winnings | Points |
| Dane Butler / Derick Wright | 5.52 | 22.83 | $2,770.00 | 110 |
| Lucas Lobaugh / Preston Jacobs | 6.72 | 22.02 | $1,000.00 | 109 |
| Jesse Wise | 7.17 | 18.29 | $1,255.00 | 108 |
| Mike & Jonathan Rhew | 5.84 | 17.01 | $695.00 | 107 |
| Dennis & Dalton Allen | 0.00 | 16.00 | $325.00 | 106 |
| David Farmer / Matt Deese | 5.00 | 15.92 | $260.00 | 105 |
| Todd Staker / Scott Woodson | 6.06 | 14.21 | $200.00 | 104 |
| Rich Z / Jamie Olive | 8.11 | 13.41 | $460.00 | 103 |
| Dennis Reedy / Tommy Marrow | 3.65 | 12.72 | | 102 |
| Cole Harris / Chris Phinney | 5.65 | 11.28 | | 101 |
| Terry Amen / Casey Johnson | 0.00 | 10.21 | | 100 |
| Jerry & Robert Dean | 6.11 | 9.29 | | 99 |
| Todd Sumner / Mike Dinterman | 0.00 | 8.74 | | 98 |
| John McClelland / Eric Schell | 0.00 | 8.42 | | 97 |
| Blaine Brogden / Tyler Dunn | 0.00 | 8.09 | | 96 |
| Jeff Shaw / James Richmand | 0.00 | 8.01 | | 95 |
| Travis Watson / Brian Benish | 0.00 | 7.49 | | 94 |
| Nate Arrington / Dustin Hess | 0.00 | 6.63 | | 93 |
| Brandon Taylor / David Pearce | 5.09 | 6.57 | | 92 |
| Brian & Noah Howard | 0.00 | 5.49 | | 91 |
| Gary Johnson / Scottie Smith (sub) | 2.99 | 5.25 | | 90 |
| Ashley Ivey / Keith Norris | 0.00 | 4.05 | | 89 |
| David Newell / Christopher Moss | 0.00 | 3.92 | | 88 |
| Jeffery Brown / Ron Johnson | 0.00 | 2.32 | | 87 |
| Dean & D J Myslinski | 0.00 | 2.17 | | 86 |
| Tim Goad / Mark Williams | 0.00 | 1.96 | | 85 |
| Tim Parker | 0.00 | 1.77 | | 84 |
| Brad McLaurin / Mike Marchant | 0.00 | 0.00 | | 74 |
| Matthew Jones / Sonny Tindal | 0.00 | 0.00 | | 74 |
| Jordan & Mark Young | 0.00 | 0.00 | | 74 |
| Craig Leff / Thomas Scheffer | 0.00 | 0.00 | | 74 |
| Alec & Richard Lower | 0.00 | 0.00 | | 74 |
| Johnny Howard / Rick Sossoman | 0.00 | 0.00 | | 74 |
| David Bullock / Jimmy Hendreson | 0.00 | 0.00 | | 74 |
| Corey Herndon / Brady Trueheart | 0.00 | 0.00 | | 74 |
| Damon Brock | 0.00 | 0.00 | | 74 |
| Troy Searcy / Mark Lowe | 0.00 | 0.00 | | 74 |
| Roger Clary / Justin Rhew | 0.00 | 0.00 | | 74 |
| Arnold Hall / Josh Hart | 0.00 | 0.00 | | 74 |
| Josh Fletcher / Gary Vaughn | 0.00 | 0.00 | | 74 |
| Derek Lindaman / Joel Lloyd | 0.00 | 0.00 | | 74 |
| Total Entrys | | | $6,400.00 | |
| BONUS $ | | | $1,400.00 | |
| Total Paid At Ramp | | | $6,965.00 | |
| Old North 2021 Spring Final Fund | | | $650.00 | |
| 2021 CATT Championship Fund | | | $50.00 | |
| 2021 Old North Spring Final Fund Total | | | $1,800.00 | |
| 2021 CATT Championship Fund Total | | | $2,135.00 | |