Next Old North Qualifier is April 23rd at Jordan Lake!
We have several teams who need only 1 more Qualifier to be eligible to enter the Old North Final! There are 2 Qualifiers left so even the teams with 1 Qualifier in still have the opportunity to Qualify!
Spring Final $8,000 1st Place GUARANTEED!
Only enter 3 Old North Spring Qualifiers to be eligible to enter the Old North Spring Final
Fishing solo or with a sub counts toward a Teams Final Qualification
Teams May Use a Sub
You can fish the Old North Spring Final with your partner, solo or with a sub your team used in an Old North Spring Qualifier.
You may fish solo and you can Qualify solo for the Old North Spring Final.
NO NEW SUBS AT THE OLD NORTH SPRING FINAL.
2022 Old North Point Winners Fish 2023 Old North Spring Qualifiers Free!
By entering ONLY 2 of any CATT events you are eligible to enter the 2022 CATT Championship on Kerr Lake May 21-22! $10,000.00 1st Place!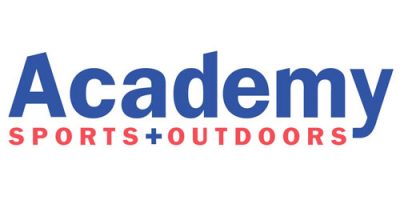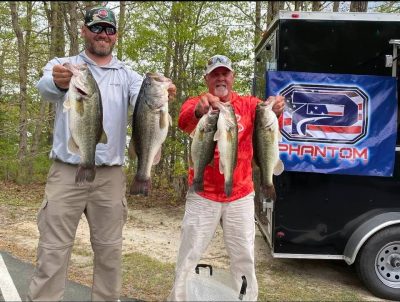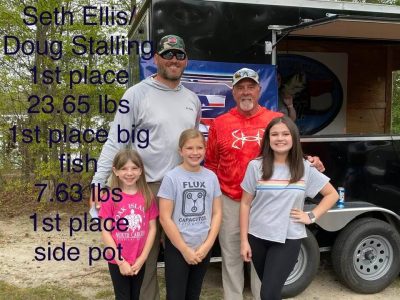 Seth Ellis and Doug Stallings made it 2 in a row on the Old North CATT Trail!! They brought in 5 bass weighing 23.65 lbs good enough for 1st Place and the 1st Bonus $ PLUS they weighed in the 1st BF at 7.63 lbs! All total Seth and Doug collected $2,339.00!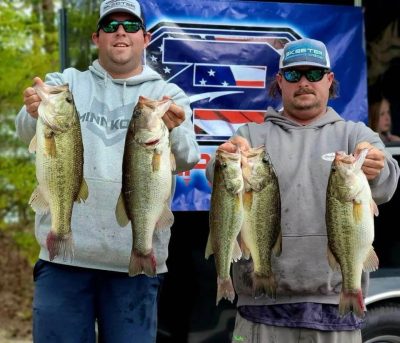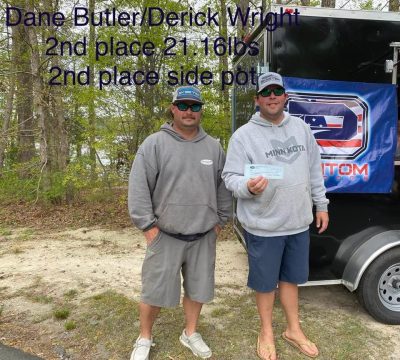 Dane Butler & Derrick Wright earned 2nd place with 5 bas weighing 21.16 lbs worth $1,075.00!
Johnathan & Mike Rhew claimed 3rd with 18.21 lbs!
| | | | | |
| --- | --- | --- | --- | --- |
| Team | BF | Weight | Winnings | Points |
| Seth Ellis – Doug Stallings | 7.63 | 23.65 | $2,339.00 | 110 |
| Dane Butler – Derick Wright* | 5.76 | 21.16 | $1,075.00 | 109 |
| Johnathon Rhew – Mike Rhew* | 0.00 | 18.21 | $565.00 | 108 |
| Dale Delaney – Mike Salguero* | 4.95 | 17.82 | $330.00 | 107 |
| Alec Lower – Richard Lower* | 5.90 | 16.21 | $351.00 | 106 |
| Tim Goad – David Howard | 0.00 | 14.84 | $180.00 | 105 |
| Brian Benish – Travis Watson* | 4.58 | 13.76 | $140.00 | 104 |
| Dennis Allen – Dalton Allen | 0.00 | 13.40 | | 103 |
| Bud Whitt – Spencer Moody* | 0.00 | 13.31 | | 102 |
| BrittonOquinn – Eddie Autry* | 0.00 | 12.22 | | 101 |
| Tony Stanley – Chase Stanley | 0.00 | 12.18 | | 100 |
| Justin Rhew – Roger Clary* | 0.00 | 11.93 | | 99 |
| Jeff Brown – Trey Hannig* | 0.00 | 11.84 | | 98 |
| John McClelland – Eric Schell* | 0.00 | 10.73 | | 97 |
| Clay Ausley* | 0.00 | 10.55 | | 96 |
| Terry Amen – Casey Johnson * | 0.00 | 10.48 | | 95 |
| Micheal Britt – Tommy Jackson | 0.00 | 10.45 | | 94 |
| Calton Hall – Jason suggs* | 0.00 | 10.38 | | 93 |
| Bryan Collins – Drex Harding* | 0.00 | 10.37 | | 92 |
| Roy Blackwood – Tommy Blackwood* | 0.00 | 10.31 | | 91 |
| Derek Humble – Neil Humble* | 0.00 | 9.80 | | 90 |
| David Hall – Chris Waggoner* | 0.00 | 9.73 | | 89 |
| Ronald Johnson – Zachery Johnson * | 0.00 | 9.29 | | 88 |
| James Davis – Dolores Davis* | 0.00 | 8.51 | | 87 |
| Rick Dunstan – Mike Farrell * | 0.00 | 7.64 | | 86 |
| Roby Wyatt – Mike Prytula * | 0.00 | 5.84 | | 85 |
| Timmy Blair – Jeremy Wright* | 4.32 | 5.78 | | 84 |
| Chris Sorrell – Dustin Hess* | 0.00 | 4.60 | | 83 |
| Ernest Howell – Elay'Ja Howell * | 0.00 | 4.58 | | 82 |
| Jordan Young – Mark Young* | 0.00 | 3.96 | | 81 |
| Mike Cole – Vincent Nettles | 0.00 | 2.58 | | 80 |
| David Farmer – Matt Deese * | 0.00 | 0.00 | | 70 |
| Johnny Howard -William Howard* | 0.00 | 0.00 | | 70 |
| Andy Williams – Hunter Williams | 0.00 | 0.00 | | 70 |
| Adam Boone – Matt Harrison | 0.00 | 0.00 | | 70 |
| Johnathan Holloway – Brian West | 0.00 | 0.00 | | 70 |
| Stacy Vasser | 0.00 | 0.00 | | 70 |
| Brad Staley – Josh Stafford | 0.00 | 0.00 | | 70 |
| Total Entrys | | | $5,320.00 | |
| BONUS $ | | | $950.00 | |
| Total Paid At Ramp | | | $4,980.00 | |
| Old North 2022 Spring Final Fund | | | $1,200.00 | |
| 2022 CATT Championship Fund | | | $50.00 | |
| 2022 Old North Spring Final Fund Total | | | $4,960.00 | |