Next Old North CATT is at Jordan Lake Aug 2 launching from Farrington Point!
Jamie Fajardo & Josh Hooks weighed in 5 bass at 30.51 lbs taking 1st Place worth $2,230.00! They also weighed in the 1st BF at 7.54 lbs!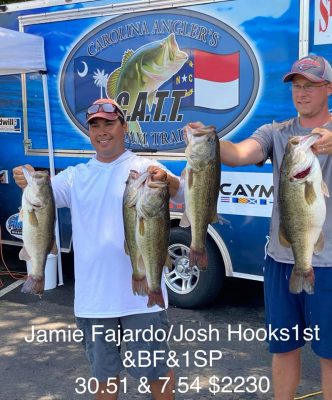 2nd Place Todd Sumner & Mike Dinterman! 25.95 lbs!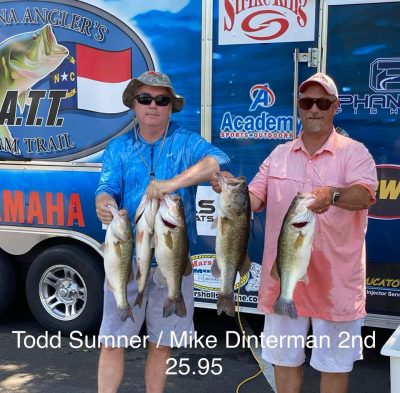 3rd Place Anthony Latta & Lee Williams 19.85 lbs!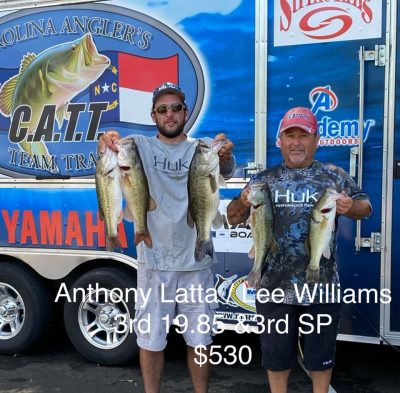 4th Place Mike Corbishley & Bryson Peed 18.97 lbs!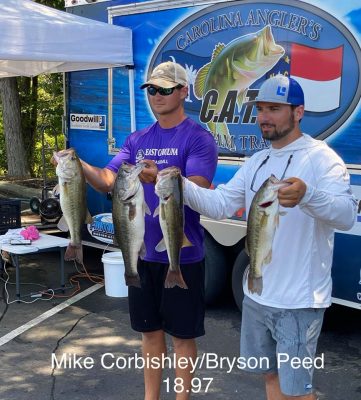 Check out the rest of the winners! 2020 CATT Championship is Nov 7-8 at Kerr! $10,000 1st Place! 
more info on the Championship click on the link below!
| | | | | |
| --- | --- | --- | --- | --- |
| 26 Teams | BF | Weight | Winnings | Points |
| Jamie Fajardo / Josh Hooks | 7.54 | 30.51 | $2,230.00 | 110 |
| Todd Sumner / Mike Dinterman | 6.05 | 25.95 | $1,040.00 | 109 |
| Lee Williams / Anthony Latta | 5.71 | 19.85 | $530.00 | 108 |
| Mike Corbishley / Bryson Peed | 0.00 | 18.97 | $250.00 | 107 |
| Jeff Hodges / Lyn Fox | 5.30 | 18.60 | $175.00 | 106 |
| Doug Stallings / Seth Ellis | 0.00 | 18.52 | | 105 |
| Todd Staker / Scott Woodson | 5.80 | 18.35 | | 104 |
| David Bullock / Jimmy Henderson | 5.92 | 17.02 | | 103 |
| Johnny Wilder / Kevin Cheatham | 6.75 | 15.80 | $75.00 | 102 |
| Jay Fogleman / Jeff Clifton | 0.00 | 15.66 | | 101 |
| Billy Bledsoe / Brian McDonald | 0.00 | 14.51 | | 100 |
| Thomas Sheffer / Craig Leff | 0.00 | 12.82 | | 99 |
| Rick / Elton Clements | 4.19 | 12.81 | | 98 |
| Dennis / Keith Allen | 0.00 | 12.53 | | 97 |
| Jordan & Mark Young | 0.00 | 11.62 | | 96 |
| Rich Z / Jamie Olive | 0.00 | 10.51 | | 95 |
| John Williams / Brandon Hendrix | 0.00 | 8.67 | | 94 |
| Josh Huff / Justin McBayer | 4.16 | 8.35 | | 93 |
| David Newell / Christopher Moss | 0.00 | 8.03 | | 92 |
| John McLeland / Eric Schell | 0.00 | 6.67 | | 91 |
| Tom & James Saywell | 0.00 | 6.42 | | 90 |
| Alex & Richard Lower | 0.00 | 4.65 | | 89 |
| Gary Johnson / Chris Inscoe | 0.00 | 3.09 | | 88 |
| Steve Ford / Jonathan Holloway | 0.00 | 0.00 | | 87 |
| Brandon Turner / Ron Johnson | 0.00 | 0.00 | | 87 |
| Jake / Gary Harris | 0.00 | 0.00 | | 87 |
| Scott Dunn / Stewart Adams | 0.00 | 0.00 | | 87 |
| Total Entrys | | | $4,160.00 | |
| BONUS $ | | | $950.00 | |
| Total Paid At Ramp | | | $4,300.00 | |
| Old North 2020 Spring Final Fund | | | $450.00 | |
| 2020 CATT Championship Fund | | | $50.00 | |
| 2020 Old North Spring Final Fund Total | | | $990.00 | |
| 2020 CATT Championship Fund Total | | | $4,075.00 | |