Next Old North is at Jordan Lake May 18th! Farrington Point!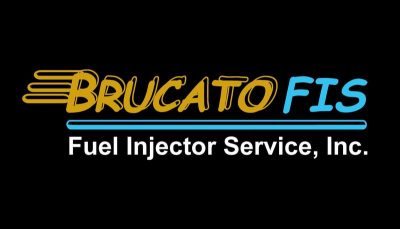 Keith & Dennis Allen are on a roll! This is the 3rd Old North Event in a row they have won! Almost $8,000.00 total in the past 3 Qualifiers!
Keith & Dennis weighed in 26.04 lbs at Falls to take 1st Place! $2,560.00!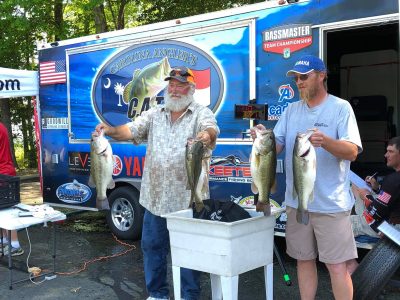 2nd Place went to Kevin Cheatham 7 Johnny Wilder with 5 bass weighing 20.68 lbs! $1,000.00!
Rich Szczerbala & Jamie Olive claim 3rd with 5 bass weighing 19.90 lbs! $575.00!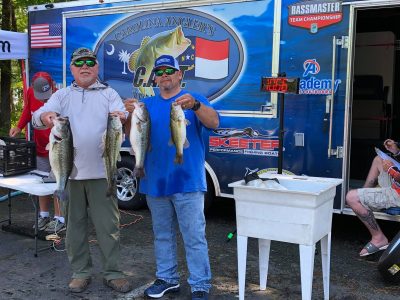 Mikey Anderson & Randy Black weighed in 17.80 lbs and the BF at 8.07 lbs! $1,079.00!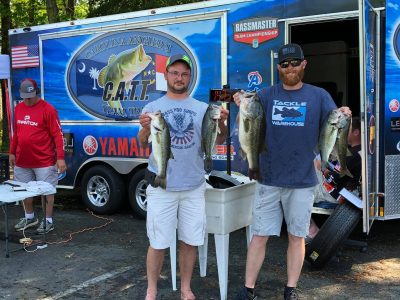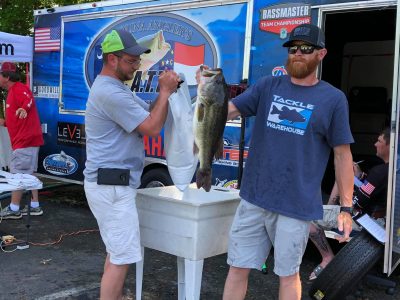 Chad Erickson & Stanton McDuffie 5th with 17.36 lbs and 2nd BF 7.38 lbs! $566.00!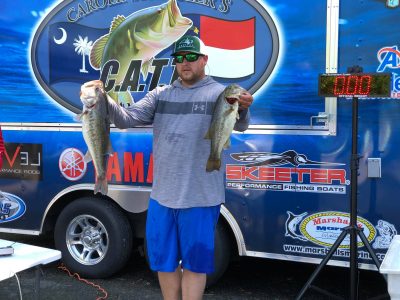 | | | | | |
| --- | --- | --- | --- | --- |
| | Big | Total | Total | |
| 38 Teams | Fish | Weight | Winnings | Points |
| Dennis & Keith Allen | 7.27 | 26.04 | $2,560.00 | 110 |
| Johnny Wilder / Kevin Cheatham | 4.91 | 20.68 | $1,000.00 | 109 |
| Rich Z / Jamie Olive | 6.32 | 19.90 | $575.00 | 108 |
| Randy Black / Mikey Anderson | 8.07 | 17.80 | $1,079.00 | 107 |
| Chad Erickson / Stanton McDuffie | 7.38 | 17.36 | $566.00 | 106 |
| Todd Staker / Scott Woodson | 4.80 | 16.62 | $220.00 | 105 |
| Brian Fritts / Bo Adams | 6.63 | 15.91 | $180.00 | 104 |
| Jonathan Holloway / Brian West | 4.59 | 15.89 | | 103 |
| Clayborn Cox / Mike Card | 6.00 | 15.60 | | 102 |
| Billy Bledsoe / Brian McDonald | 0.00 | 14.86 | | 101 |
| Rick Dunston / Josh Huff | 3.85 | 14.84 | | 100 |
| Jeff Brown / Ron Johnson | 4.67 | 14.72 | | 99 |
| Jay Fuhr / Tim Wiltfong | 4.36 | 14.07 | | 98 |
| Ben Cannon / Chad Craven | 5.17 | 13.94 | | 97 |
| Josh Hooks / Jaimie Fajardo | 3.47 | 12.36 | | 96 |
| Johnny Howard / William Howard | 3.63 | 11.95 | | 95 |
| Chris Inscoe / Mark Antonelli | 3.30 | 11.91 | | 94 |
| John McClland / Eric Schell | 4.11 | 11.31 | | 93 |
| Tony & Chase Stanley | 3.31 | 11.21 | | 92 |
| Matthew Fuhr / Brian Estes | 4.62 | 10.65 | | 91 |
| Hunter & Richard Petty | 2.28 | 10.15 | | 90 |
| Terry Amen | 0.00 | 10.06 | | 89 |
| John & Stephen Lasher | 0.00 | 9.44 | | 88 |
| Clay Ausley / Ken McNeil | 0.00 | 6.18 | | 87 |
| Jordan & Mark Young | 0.00 | 5.77 | | 86 |
| Mike Cole / Vinson Nettles | 0.00 | 4.30 | | 85 |
| Kyle Ronhor / Tim Cantwell | 1.26 | 1.26 | | 84 |
| Todd Sumner / Chuck Bolton | 0.00 | 0.00 | | 83 |
| Jimmy Hayes | 0.00 | 0.00 | | 83 |
| Patrick & Kevin Williams | 0.00 | 0.00 | | 83 |
| Jesse Wise | 0.00 | 0.00 | | 83 |
| Travis Kilby / Doug Moore | 0.00 | 0.00 | | 83 |
| Elvis Carter / Jimmy Coleman | 0.00 | 0.00 | | 83 |
| Jonathan & Nathan Canaday | 0.00 | 0.00 | | 83 |
| Ben & Paul Worthington | 0.00 | 0.00 | | 83 |
| Gerald Beck / Rodney Sorrell | 0.00 | 0.00 | | 83 |
| Steven Jacobs / K Choosakul | 0.00 | 0.00 | | 83 |
| Scott Smith / Tony Woodard | 0.00 | 0.00 | | 83 |
| Total Entrys | | | $5,920.00 | |
| BONUS $ | | | $1,150.00 | |
| Total Paid At Ramp | | | $6,180.00 | |
| Old North 2019 Spring Final Fund | | | $690.00 | |
| 2019 CATT Championship Fund | | | $50.00 | |
| 2019 Old North Spring Final Fund Total | | | $2,660.00 | |
| 2019 CATT Championship Fund Total | | | $5,185.00 | |