Next CATT Old North is April 6 at Shearon Harris!

Use PHANTOMCATT15 on your next order form Phantom Outdoors and earn 15% off!
Old North Final $5,000 1st Place GUARANTEED!
Must Enter 3 Old North Qualifiers to be eligible to enter the Old North Final
Fishing solo or with a sub counts toward a Teams Final Qualification
Check out the info for the 2019 CATT Academy Championship on Kerr June 1-2 1st Place $10,000.00! 
Click on "Divisions" at the top of the CATT Home Page!
Guys we pay the $50 side pot 3 places. Saturday we had 27 teams in the Side Pot = $1,350.00!
1st $640.00 2nd $500 3rd $210.00!
Dennis & Keith Allen have been with us since we started the Old North! Loyalty paid off for them Saturday with 5 bass weighing 22.37 lbs! They earned $2,100.00 for 1st Place and another $640.00 Side Pot money…Total Winnings $2,740.00!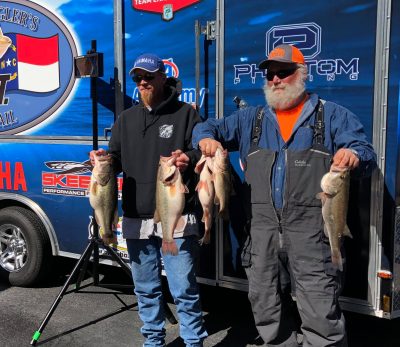 2nd went to James Shaw & James Richland with 3 bass weighing 20.63 lb worth $1,000.00! They also weighed in the 1st BF at 9.43 lbs and took home a total of $1,315.00!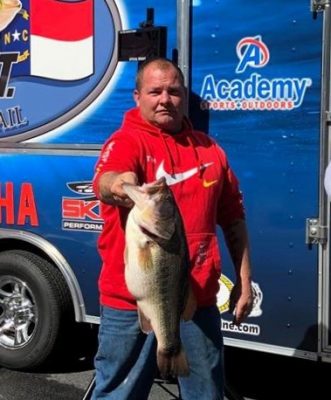 Jimmy Hayes & David Blanton claimed 3rd and $750.00 plus the 2nd Place Side Pot $500.00! Total winnings $1,250.00!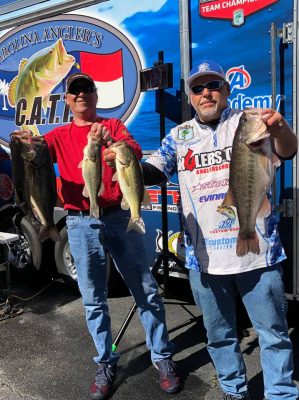 Brian McDonald & Billy Bledsoe took 4th with 19.76 and collected $560.00 plus the 3rd Side Pot worth another $210.00. All total Brian & Billy received $770.00!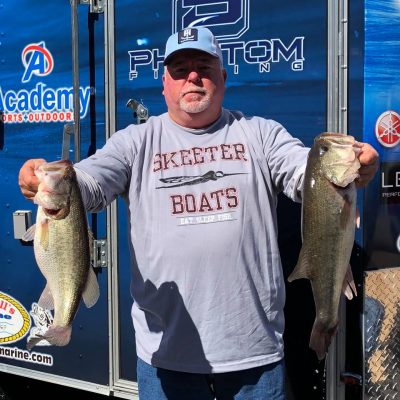 Chuck & Charles Stewart finished 5th with 17.99 lbs and claimed $435.00!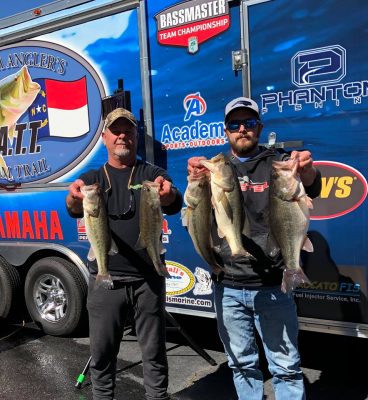 | | | | | |
| --- | --- | --- | --- | --- |
| | Big | Total | Total | |
| 46 Teams | Fish | Weight | Winnings | Points |
| Dennis & Keith Allen | 7.24 | 22.37 | $2,740.00 | 110 |
| Jeff Shaw / James Richmond | 9.43 | 20.63 | $1,315.00 | 109 |
| David Blanton / Jimmy Hayes | 6.67 | 19.94 | $1,250.00 | 108 |
| Billy Bledsoe / Brian McDonald | 0.00 | 19.76 | $770.00 | 107 |
| Charles & Chuck Stewart | 5.25 | 17.99 | $435.00 | 106 |
| Stump Bledsoe / Glenn Elliot | 7.72 | 12.56 | $335.00 | 105 |
| Mike Marchant / Brad McLauren | 7.17 | 10.67 | $275.00 | 104 |
| Johnny Wilder / Michael Harris | 6.52 | 10.59 | $215.00 | 103 |
| Heath Pait / Daniel Davis | 4.88 | 10.31 | $160.00 | 102 |
| Chuck Bolton / Ricky Parker | 8.14 | 9.65 | $135.00 | 101 |
| Zack Bedford / Sam McLamb | 7.68 | 9.53 | | 100 |
| Kyle Romohr / Tim Cantwell | 5.52 | 8.52 | | 99 |
| Dennis Reedy / Tommy Marrow | 0.00 | 8.11 | | 98 |
| Timmy Ferrell / Chad Pearce | 5.61 | 7.98 | | 97 |
| Garth Joyce / Larry Inmam | 0.00 | 7.51 | | 96 |
| Rick Dunstan / Josh Huff | 0.00 | 7.35 | | 95 |
| David & Randall Wilson | 6.40 | 6.40 | | 94 |
| Asley Ivey | 4.50 | 6.35 | | 93 |
| Randy Black / Mikey Johnson | 6.22 | 6.22 | | 92 |
| Alec & Richard Lower | 5.61 | 5.61 | | 91 |
| Richard & Hunter Petty | 5.15 | 5.15 | | 90 |
| Rich Z / Jamie Olive | 0.00 | 4.53 | | 89 |
| Mike Cole / Vinson Nettles | 3.73 | 3.73 | | 88 |
| Jeremy Sabo | 2.43 | 2.43 | | 87 |
| Jonathan & Nathan Canaday | 2.37 | 2.37 | | 86 |
| Tony Stanley | 2.01 | 2.07 | | 85 |
| Britt & Tom Kuchen | 1.75 | 1.75 | | 84 |
| Tom & James Saywell | 1.62 | 1.62 | | 83 |
| John McClelland / Eric Schell | 1.35 | 1.35 | | 82 |
| Terry Amen / Chuck Darden | 0.00 | 0.00 | | 81 |
| Jonathan Holloway / Brian West | 0.00 | 0.00 | | 81 |
| Todd Sumner | 0.00 | 0.00 | | 81 |
| Jeff Brown / Ron Johnson | 0.00 | 0.00 | | 81 |
| Jordan & Mark Young | 0.00 | 0.00 | | 81 |
| Evan Fleming / Matt Fuhr | 0.00 | 0.00 | | 81 |
| Todd Staker / Scott Woodson | 0.00 | 0.00 | | 81 |
| Patrick & Kevin Williams | 0.00 | 0.00 | | 81 |
| Brandon Atwood / Max Crouse | 0.00 | 0.00 | | 81 |
| Matt Dean / Bobby Houser | 0.00 | 0.00 | | 81 |
| Ben Whittenton / Paul Worthington | 0.00 | 0.00 | | 81 |
| Ben Cannon / Chad Craven | 0.00 | 0.00 | | 81 |
| John Sneed Jr. / Elisa Jernnigan | 0.00 | 0.00 | | 81 |
| Wesley Tucker / Zack Davenport | 0.00 | 0.00 | | 81 |
| Chris Inscoe / Mark Antonelli | 0.00 | 0.00 | | 81 |
| Cody Amen / Colin Ford | 0.00 | 0.00 | | 81 |
| Tony Woodard / Scott Smith | 0.00 | 0.00 | | 81 |
| Total Entrys | | | $7,200.00 | |
| BONUS $ | | | $1,350.00 | |
| Total Paid At Ramp | | | $7,630.00 | |
| Old North 2019 Spring Final Fund | | | $655.00 | |
| 2019 CATT Championship Fund | | | $75.00 | |
| 2019 Old North Spring Final Fund Total | | | $1,345.00 | |
| 2019 CATT Championship Fund Total | | | $4,155.00 | |