**Remember guys you have to enter 3 CATT Qualifiers to be able to enter the June 2-3 CATT Championship on Kerr. $10,000 1st Place! You can make your 3 by having fished any FALL 2017 CATT Trails and by fishing any SPRING CATT Trails—the 3 don't have to be in the same Division!
You only have to enter 1 Old North Qualifier to be eligible to enter the Old North Final!
Rain and cool air temps were waiting on the guys at Jordan but the fished didn't care! Next Old North CATT is April 21st FALLS Lake at Ledgerock! 
Dennis & Keith Allen took 1st with a sold bag of Jordan bass weighing 22.09 lbs! They weighed in the 1st BF at 7.20 lbs which was worth some cash and an Academy Gift Card! Add in the 1st BONUS $ and the Dennis & Keith took home $1,792.00!
2nd went to Tim Penhollow & KC Choosakul with 20.69 lbs worth $600.00!
Rick Dunstan & Josh Huff weighed in 5 at 18.79 lbs good enough for 3rd and $300.00!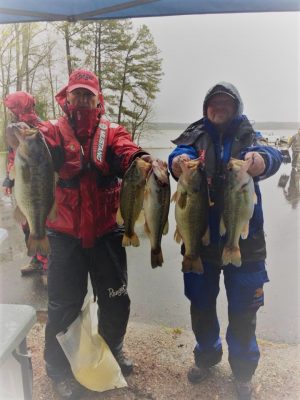 Charles Stewart with the 2nd BF 6.88 lbs!
| | | | | |
| --- | --- | --- | --- | --- |
| 27 Boats | Big | Total | Total  |   |
| Name | Fish | Weight | Winnings | Points |
| Dennis Allen&Keith Allen  1st BF & 1st BONUS $ | 7.20 | 22.09 | $1,792.00 | 110 |
| Tim Penhollow&KC Choosakul | 6.45 | 20.69 | $600.00 | 109 |
| Rick Dunstan&Josh Huff | 5.69 | 18.79 | $300.00 | 108 |
| John McClelland&Eric Schell   2d BONUS $ | 4.70 | 18.36 | $420.00 | 107 |
| Scott Woodson&Todd Staker | 5.15 | 17.87 | $200.00 | 106 |
| Charles Stewart&Toby Lawson   2nd BF | 6.88 | 17.77 | $78.00 | 105 |
| Jeremy Sabo | 4.77 | 16.42 | | 104 |
| Andy Williams&Hunter Williams | 5.35 | 16.38 | | 103 |
| Scott Smith&Lee Williams | 4.38 | 15.84 | | 102 |
| Billy Bledsoe&Brian McDonald | 3.18 | 14.28 | | 101 |
| Cullen Ports&Justis Bobbit | 5.35 | 13.24 | | 100 |
| Will Howard&Bryce McClenney | 3.13 | 11.75 | | 99 |
| Seth Ellis&Jamey Caldwell | 4.90 | 11.08 | | 98 |
| Greg Creech&Chris McDuffie | 3.85 | 10.82 | | 97 |
| Terry Amen&BryceOwen | 5.40 | 10.77 | | 96 |
| Ronnie Hatem&Josh Hair | 4.02 | 9.98 | | 95 |
| Steve Lasher | 3.20 | 4.94 | | 94 |
| Hal Blackwelder&David Wilson | 1.49 | 1.49 | | 93 |
| Charles Napier&Aaron Johnson | 1.23 | 1.23 | | 92 |
| Grady Lee&Jimmy Murphy | 0.00 | 0.00 | | 91 |
| Bryson Peed&Jonathan Jones | 0.00 | 0.00 | | 91 |
| Mark Lowe&Cliff Swann | 0.00 | 0.00 | | 91 |
| Johnny Wilder&Mike Harris | 0.00 | 0.00 | | 91 |
| Jordan Tilton&Zach Gulbronson | 0.00 | 0.00 | | 91 |
| Britten OQuinn&Jason Suggs | 0.00 | 0.00 | | 91 |
| Jesse Wise | 0.00 | 0.00 | | 91 |
| David Leonard&Brian Davis | 0.00 | 0.00 | | 91 |
| Total Entrys |   |   | $3,120.00 |   |
| BONUS $ |   |   | $630.00 |   |
| Total Paid At Ramp |   |   | $3,390.00 |   |
| Old North 2018 Spring Final Fund |   |   | $400.00 |   |
| 2018 CATT Championship Fund |   |   | $10.00 |   |
|   |   |   |   |   |
| 2018 Old North Spring Final Fund Total |   |   | $1,165.00 |   |
| 2018 CATT Championship Fund Total |   |   | $3,900.00 |   |